The delivery of Housing Services in County Louth has always been facilitated in an effective manner with a flair for innovation. Louth County Council Chief Executive Joan Martin writes.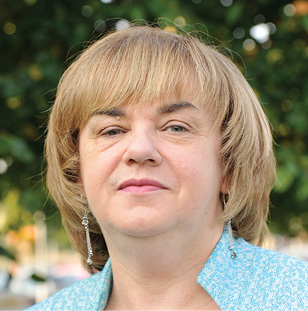 Although geographically the smallest county in Ireland, Louth is one of the parts of the country that has witnessed significant housing activity. Current social housing stock levels are over 4,500 units, including units provided by Approved Housing Bodies. Similarly, housing demand pre-recent Housing Needs Assessment was at 3,600.
The Housing Directorate is led by Joe McGuinness, Director of Service and has been given the tasking of delivering this service.
The provision of Housing Services in Louth has always been a key activity for the local authority and, in fact, prior to Local Government Reform the county operated as three separate housing authorities with the two towns of Dundalk and Drogheda holding the same significance as some county authorities. The Reform process provided an opportunity to create further efficiencies in process by creating a single housing authority. The methodology used in Louth was to effectively re-assign all the staff from the defunct Drogheda, Borough Council as the new Housing Department for the county, delivering all the housing functions on a county wide basis. All customer counter interfaces became effective housing counter sites providing basic information and receipting of applications and/or repairs requests. Although this was a significant training challenge it provided an opportunity for all procedures and processes to be reviewed without the burden of historic practises and habits. Where previously smaller housing staffs were providing multiple services in the overall housing arena, the new structure allows back office staffs to become expert in these services.
The changes put in place in order to comply with Local Government Reform and to deliver the service to the public is typical of the innovation that is used in Louth. This innovation extends to the delivery of capital projects. Some historic examples of this relate to the construction of the Great Northern Haven and the Public Private Partnership (PPP) of Gort na Mara.
Capital projects
In the case of Great Northern Haven, the remaining portion of a public sector campus was utilised for social housing. However, this concept was at an innovative level in that it was recognised that the best use of this site was for accommodation for the elderly. Rather than providing standard and typical accommodation for this cohort, it was felt that the lessons from Louth the first Age Friendly County could see the project being developed in a model that could capture the best of available technology and design and provide a learning outcome. The outcome was the delivery of a high tech 20-unit development in conjunction with partners in the Dundalk Institute of Technology and HSE among others. The value in the scheme is the aspects that can be replicated in other future schemes and it is now recognised that this scheme is a leader in its class.
The development of Gort na Mara as a PPP scheme, at a time when the economy was at its lowest ebb, provided an opportunity for social units to be provided on a Build to Lease model combined with making units available for first time buyers through the then newly provided Incremental Purchase Scheme. This scheme was delivered in 2012 and provided the appropriate tenure mix that facilitated the development of a viable sustainable community. The innovation of the local authority and the support and commitment of the Department of Environment provided the necessary ingredients for the success of this scheme. Again, similar to the Great Northern Haven the real benefit in such a success is the replication that can be captured in such schemes. This was later illustrated in a similar model in Boice Court, Drogheda and among a number of current schemes planned. The need for units for first time buyers is identified in Rebuilding Ireland and plays a pivotal role in a properly functioning housing market.
This concentration on innovative delivery continues with two unique projects that are underway, both of which can provide learning and expertise for colleague housing authorities. These relate to the undertaking of a conditional survey of our housing stock and the acquisition of vacant privately owned dwellings through the powers of Compulsory Purchase Order (CPO).
As indicated earlier, Louth County Council boosts a significant and ageing housing stock largely constructed in the 1970s and 80s. Maintenance has always been undertaken on a reactive basis with little or no planned maintenance. This is probably typical of any housing authority and, in reality, is driven by budgetary considerations rather than an aversion to a planned strategy. Louth County Council considered that in the interests of a fair treatment of all tenants, that a system would be designed that could capture the condition of our stock and provide the evidence for any investment in planned maintenance. A stock survey was designed through the iHouse computer package and involved all units being visited and each item of infrastructure being rated as REPLACE/SATISFACTORY/GOOD. This exercise is almost 80 per cent complete and will now allow the creation of specific bundles of work that will be easily procured. It is important also to note that this work provides an evidential base for any work procured.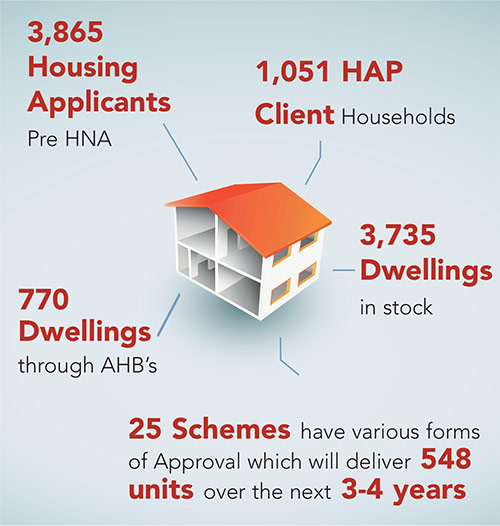 The commitment of Government through Rebuilding Ireland has given Louth another opportunity to showcase our innovation, in the concentration of ensuring maximum use of existing housing availability. The council quickly realised that there were a large number of privately owned dwellings in a vacant and sometimes run down state that could be used for social housing. These units were in areas where there were good infrastructure facilities availability of schools, retail and community facilities. In many cases these units were sources of anti-social behaviour and contributors to estate management issues. Again through the support of the Department of Environment, funding was set aside for a pilot project in this area.
These units were not available for purchase so they had to be acquired by other means and this culminated with the use of the CPO process. To date 22 units have been acquired with three allocated to tenants and the balance either being refurbished or having works designed. The project has been a great success with several positive consequences:
vacant dilapidated units brought into productive use;
no impact on the housing market as these units were not ordinarily available for housing purchase; and
the creation of housing construction jobs in the re-furbishment works.
A consequent outcome of this process is the number of units that have been brought back into used by owners and landlords who decided to commence works on their vacant units rather than fall foul of the local authority and again they are contributing to a normalisation of the housing market.
Louth County Council are proud of the innovation shown and will continue to rise to any challenge that the local authority may face.
Joan Martin is the Chief Executive of Louth County Council. 

Tel: +353 (0) 42 933 5457

Web: www.louthcoco.ie/en/