People
Leading the world: Jason Smyth interview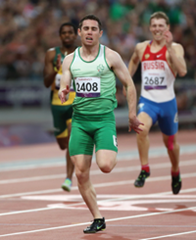 An excellent London 2012 performance confirmed Jason Smyth as the world's fastest Paralympian this summer.  The athlete recalls his achievements and shares his hopes for future success with Peter Cheney.
Crossing the finishing line twice to win gold, Jason Smyth symbolised Ireland's success at London 2012. His two medals count among the island's best hoard of gold since the games began and contributed to Ireland's most successful Paralympics since 1988.
Personally, those achievements fulfil years of hard work and dedicated support from family, friends and coaches.
"To be honest, they were unbelievable," Smyth says of the games, pointing to the high level of organisation. The roar of cheers around the stadium still resonates with him.
"For me, the most memorable moment was when you were standing at the start line and they go through the athletes and they read out: 'Jason Smyth, fastest Paralympian on the planet.' The whole place just erupts and the amount of support there that was for me was absolutely crazy."
Back in 2008, the support in Beijing was "fantastic" but seemed rather staged whereas in London, the crowd was clearly out to support the athletes and knew them by name. Winning two golds, standing on the podium and running the lap of honour were all fantastic moments. A home games, with family and friends present, added to the atmosphere.
"I think it has been the best Paralympic Games and I think that Brazil will struggle to match it," he added. "They couldn't, in my opinion, have done much of a better job and the key's going to be: 'Does the momentum continue?' because Paralympic sport has really come out of the darkness."
That question is an especially relevant one for Smyth as he searches for a new coach and training base, to prepare the way to Rio 2016. While very thankful for grants from Sport Northern Ireland and the Irish Sports Council, he sees a clear need for Paralympic successes to be treated as equals to Olympic triumphs.
"If I came home, doing as Usain Bolt did, winning the 100m in the Olympics, the awards I would get for that would be colossal: the amount of money you would make, the amount of support and sponsorship you would get," Smyth explains.
His level of support remained mostly the same after winning in Beijing but is still not enough to meet all his training needs. Stephen Maguire, his coach from the start, accompanied Smyth on his trips to Florida for training with Tyson Gay, second only to Bolt in speed. However, they no longer have sufficient finance for that and Maguire had to move on and find a different job.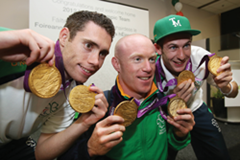 "It's very unfortunate because look how far I've come and what I've achieved. And it requires a lot more effort and work coaching me just because of my visual impairment," Smyth remarks. "Things are a little bit more difficult, and I've now got to look at where I'm going to be based and a new coach, and I've got to hope that things continue to go as well as they have."
Choosing the next coach will be a "massive decision" but he hopes that support will improve following the games' media coverage. Channel 4 "did a fantastic job to get the people aware of it."
Going into the 100m final, he knew that he was in a good shape. "It's nice to be able to go out and run a world record in the heats, and it filled me with confidence going into the final," he says.
"I knew I was quickest in there and I knew that I had to just make sure my race was right, execute my race, and thankfully I was able to do that. Looking back at the race, I had got them at the start really and it continued on. The race happened so quickly."
Long hours of sacrifice and training had finally paid off. "You put in work every year for things like world championships but the massive thing is every four years for the Paralympics," he continues. "To think, I train 11 months of the year, six days of the week for a 10-second race." Smyth adds: "It's all down to that one moment so you can imagine there's a lot of relief at achieving that. That was unbelievable and then you can just enjoy running round that lap of honour, and it was fantastic."
Six days later, his confidence for the 200m final was running high. Breaking another world record meant that "it really couldn't have gone any better."
Missing out on the London Olympics by 0.04 seconds was a setback but has increased his determination to achieve that in Rio 2016. Reaching his target of two golds in Rio would cap the same success in both Beijing and in London.
"It's really frustrating, for the amount of work and amount of sacrifices that I've put in to try and achieve in that but I firmly believe the best is yet to come," Smyth says. "I started into the sport quite late. I'm improving."
Jason Smyth
Class: T13
100m
10.46
200m
21.05