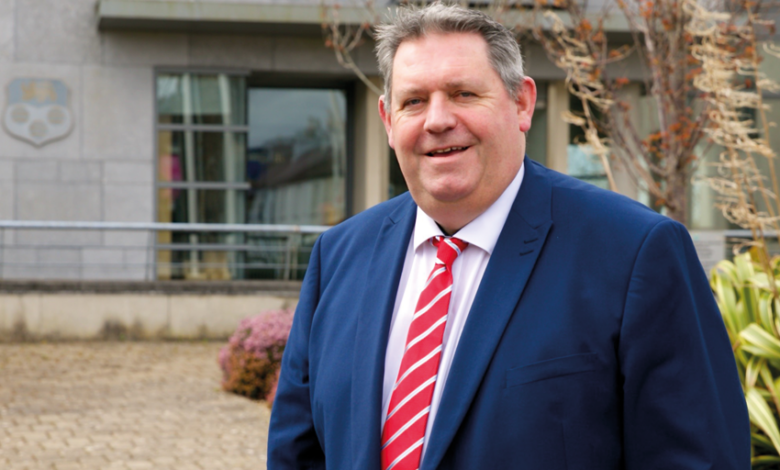 Lar Power, Chief Executive at Leitrim County Council, sits down in his Carrick-on Shannon

headquarters overlooking the Leitrim/Roscommon border, defined by the River Shannon, to discuss the local authority's efforts to develop the county.
Spanning 1,608km2 and encompassing 27 towns and villages, County Leitrim is "a place of unspoiled landscapes and breath-taking scenery", Power observes, adding: "I consider the county to be a destination, and each town and village as a sub destination."
Outlining Leitrim County Council's mission, he asserts: "Our role is defined by placemaking. Our collective focus, therefore, is ensuring that County Leitrim can reach its full potential on behalf of the people who choose to live, work, visit, and invest here."
Paying tribute to his "agile, dynamic, and committed" colleagues in Leitrim County Council, as well as the "excellent elected councillors", the Chief Executive insists: "The partnership between the county councillors and the staff is unrivalled and each policy we implement, or challenge we tackle, is informed by the overriding objective of propelling County Leitrim forward."
Capital investment
In spite of its relatively small geographic area and population, County Leitrim has "an ambitious and very aggressive" capital investment programme for 2022 until 2027. Totalling €387 million over six years and securing "full commitment of our elected councillors", the capital investment programme spans urban renewal, economic development, tourism, housing, flood relief, and transport infrastructure.
"While Leitrim County Council is not a wealthy local authority, the financial management of the county over many decades has been exceptionally prudent and the council has always lived within its means.
"Therefore, while we have embarked on an ambitious capital programme, we have collectively ensured that the county will retain its financial stability. Despite being required to make challenging financial decisions, the council, to its immense credit, has never shirked that responsibility," the Chief Executive insists.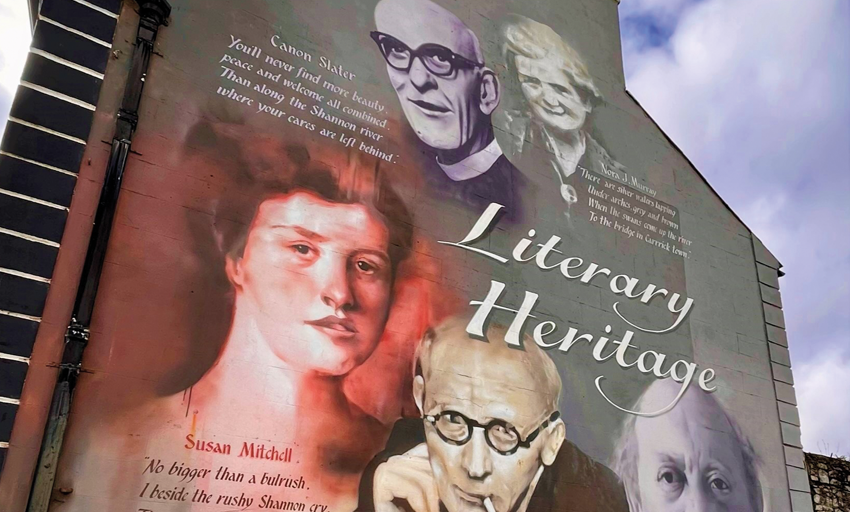 Regeneration
At the same time, Leitrim County Council has also embarked upon an extensive urban renewal programme throughout the county. "Our public realm investment in primary tier towns is aimed at encouraging town centre development, tackling vacancy, and increasing footfall, ultimately enhancing placemaking and unlocking private sector investment," Power details.
Several projects within this programme include a Urban Regeneration and Development Fund (URDF) investment of €10.24 million in Carrick-on-Shannon under Project Ireland 2040, the ongoing €3.3 million redevelopment of Ballinamore Junction railway buildings into a digital hub and youth space, a €2.4 million investment in Manorhamilton public realm, and a €3 million investment in Mohill public realm.
Connectivity
With three national primary roads – the N4 Dublin-Sligo, the N15 Sligo-Derry, and the N16 Sligo-Enniskillen – traversing the county, alongside the Dublin-Sligo railway line, which operates eight services in each direction daily and stops at Dromod and Carrick-on-Shannon – Leitrim is "well connected nationally".
"Each policy we implement, or challenge we tackle, is informed by the overriding objective of propelling County Leitrim forward." Lar Power, Chief Executive, Leitrim County Council
"From an international connectivity perspective, Carrick-on-Shannon, for instance, is just 40 minutes away from Ireland West Airport, with direct connections to the UK and Europe. It is only two hours away from Dublin and slightly over two hours away from Shannon Airport and Belfast International Airport. They are very important arteries of connectivity for us," Power remarks.
County town
Bordering County Roscommon at the Cumann na mBan Bridge over the Shannon, Leitrim's county town of Carrick-on-Shannon fulfils a regional function, with a population catchment pervading county boundaries.
"Carrick-on-Shannon is a beautiful town which serves as an economic and social hub for the wider north west region. Consequently, it is a town that punches far above its weight in terms of size and population and is the envy of many towns in Ireland," Power reflects.
"The county town is also a critical access point for the River Shannon. With around 130 cruisers for hire, Carrick-on-Shannon is the marina capital of the north west and each year, from the Easter weekend onwards, the cruisers become very active and remain hugely active, well into September."
Famously, Carrick-on-Shannon is a popular destination for hen and stag parties. "That is facilitated by rail connection, but people also come from the four corners of Ireland by other means and enjoy what this town has to offer at the weekend," Power explains, adding: "Groups engage in a range of activities, often relating to the River Shannon's water sport amenities, professionally delivered and managed. It is a very popular trip for people to make and that experience generates many repeat visitors."
Tourism
As such, the county's status as a tourist destination is a primary driver of the local economy. In 2019, pre-Covid, tourism in County Leitrim totalled approximately 250,000 visitors with a combined revenue of €77 million.
Indeed, having pioneered the concept, County Leitrim remains the only designated area in the Republic for slow adventure tourism. "What that means is that we want tourists to come to Leitrim and witness its unspoiled landscape and breath-taking scenery at a pace that allows them to fully absorb it.
"We suggest that individuals set down their mobile phones and take the time to enjoy where they are. As a gateway to the River Shannon, Carrick-on-Shannon is the river cruise hire capital of Ireland."
The county also boasts the first blueway of its kind in Ireland. Developed in partnership with Waterways Ireland, the Shannon Blueway enables tourists the opportunity to kayak, canoe, paddle board, cruise, walk, cycle, and fish along the 8.3km stretch between Drumshanbo and Leitrim Village.
Meanwhile, as the lead local authority driving the development of the planned Sligo to Enniskillen Greenway which traverses a highly scenic portion of the county, Leitrim County Council has an objective of utilising the disused Sligo, Leitrim and Northern Counties Railway (SLNCR) line to deliver a 75km long greenway between the two towns.
"Traversing the counties of Sligo, Leitrim, Cavan, and Fermanagh, it is a €40 million project with full government support at the very highest level," Power notes, adding: "Currently at route selection stage, the project will ensure cross-border connectivity while simultaneously unlocking the full potential of tourism assets in north County Leitrim."
Relocate to Leitrim
At the same time, tourism aside, Leitrim is home to several indigenous and multinational firms spanning MedTech, advanced manufacturing, and international financial services. Working in collaboration with development agencies such as Local Enterprise Office Leitrim and Enterprise Ireland, as well as IDA Ireland, Leitrim County Council endeavours to support indigenous and inward investment in the county.
As an optimal location to relocate and expand operations, including second site or satellite offices, Leitrim can offer employment with both indigenous and FDI employers operating on a global scale. The county also offers a portfolio of affordable office accommodation and access to graduates from the Atlantic Technological University (ATU) Sligo.
"Aimed at a range of employees across MedTech, advanced manufacturing, and professional financial services, our Relocate to Leitrim campaign outlines what Leitrim has to offer to domestic and international firms.
"In 2022, FDI employment increased by 6.3 per cent in the region and many companies including MCI and Vistamed are actively recruiting. Indigenous entrepreneurs, including King & Moffatt and Cora Systems, have also grown their operations into international companies of scale while headquartered in County Leitrim. As global industry leaders, they provide a diverse range of senior level roles in engineering, applied sciences, logistics, and supply chain management, offering competitive career progression opportunities.
Meanwhile, amid an investment €56 million in high-speed broadband infrastructure in the county under the National Broadband Plan, a network of nine digital hubs throughout Leitrim offers hot desk, co-working, and offices for those looking for seeking flexible work accommodation, including start-ups.
Carrick Business Campus
In addition, the 112,000ft2 Carrick-on-Shannon Business Campus, a turnkey office accommodation centre on the Dublin Road in Carrick-on-Shannon, was recently acquired by Leitrim County Council, with €7.2 million in support from the Rural Regeneration Development Fund.
Previously home to MBNA Corporation, the local authority is now investing an additional €3.4 million to deliver a state-of-the-art collaborative workspace for prospective SME and multinational tenants.
Already home to financial services firm, Avant Money, which employs 200 people, it is intended that the campus will provide a supportive ecosystem for firms deciding to locate themselves in Ireland's north west. Phase one of the refurbishment project incorporates a high-quality fitout of office workspace for 150 employees aimed at firms of more than 10 employees.
"Leitrim County Council was successful in securing the Carrick-on-Shannon Business Campus in November 2022," Power comments, adding: "We envisage that the campus will become a natural home for growing indigenous companies that want to relocate from an incubation space, such as The Hive. It will also be a hub for internationally trading companies."
University status
Just 25km from Manorhamilton and 55km from Carrick-on-Shannon, ATU Sligo is the preferred choice for third-level students from County Leitrim. With a talent pool of over 3,000 graduates per annum, the designation of university status to the ATU, which includes the campus at Sligo (formerly IT Sligo), is critical for regional development and inward investment in the north west.
"With collaboration between ATU Sligo and The Hive – Leitrim's Technology Enterprise Centre – already well established, work is ongoing to deepen the relationship and expand the ATU's offering into County Leitrim with the objective of cultivating the local talent pool and improving access to third-level education," the Chief Executive emphasises.
"Overall, Leitrim offers an unparalleled quality of life for people who choose to live here, while those who come to visit simply do not want to leave. Our vision is to secure as many resources as we can and sweat our existing assets to ensure that County Leitrim is optimally positioned for a very prosperous future," Power concludes.
Profile: Lar Power
A native of County Wexford, Lar Power graduated from UCD as an engineer in 1991. Following graduation, he entered the local authority sector, initially working for Wexford County Council, and subsequently in Waterford City and County Council, before moving to the north west and taking on the role of Chief Executive of Leitrim County Council in 2018.