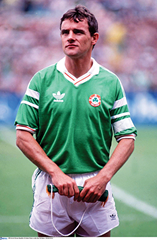 As Ireland prepares for Euro 2012, Stephen Dineen talks to former Ireland international Kevin Moran about his footballing career and player management in the modern game.
"It was all new for us, you know," Kevin Moran reflects on the glorious summer days of West Germany '88. "We went there with no expectations from us," he tells eolas.
"Jack Charlton did have a game plan. We knew what we had to do," he remembers. "He made it very simple and straightforward. It mightn't have been everybody's cup of tea. I think in some ways we could have done with a little bit more in terms of passing etc. But we knew what was expected of us and there was a lot to be said for that."
Moran played centre-half during Ireland's three games: the 1-0 victory over England, the 1-1 draw with the Soviet Union and the 1-0 defeat to the Netherlands. While the goals remain memorable, the other enduring memory is of how close Ireland was to getting to a semi-final. He remembers Wim Kieft's header, "which took an unbelievably wicked bounce and went in," with eight minutes remaining. A draw would have sufficed.
"I think they [the Dutch] felt they were gone, they weren't breaking us down. They weren't getting through us at all," he states.
The '88 championships had a major impact on Ireland, according to Moran. "It did galvanise the country, there's no doubt about it."
First capped for Ireland in 1980, Moran went on to play for the Republic in the 1990 World Cup, where again, even greater success seemed tantalisingly close. "It was unfortunate that we didn't play well, I felt, against Italy." He adds that "the one thing we never ever did, we never ever talked about, never ever even discussed among ourselves, [was] that we could win it." Moran adds: "But in saying that we still did extremely well."
A large part of Moran's professional career was spent at Manchester United (1978-1988). He was initially torn, however, about signing up for professional soccer, in part because of a successful Gaelic football career. "I was fortunate enough when I came along to play that Gaelic football was beginning to fly in Dublin." After first playing for Dublin in 1976, he won two All-Ireland medals (in 1976 against Kerry and in 1977 against Armagh) and a league final against Derry in 1976.
The first All-Ireland was the sweetest. "We were playing Kerry, we'd lost to them the previous year. I think all the players were hoping that this was the game that we would get: that Kerry would get through and we would get through," he remembers.
Moran believes that the Dublin and Kerry teams of the time "brought in a new sense of commitment and training that I don't think would have been there before." This "incredible" commitment, he believes, has now been replicated by all counties.
After the 1977 All-Ireland, soccer scout Billy Behan asked Moran, who was also playing soccer for Pegasus FC at the time, to do a two or three week trial at Manchester United. "He did ask me literally about nine months before that to go over and I said no to him initially."
Moran agreed to do a three day trial. United Manager Dave Sexton offered him a two-and-a-half year contract. A good job in accountancy and loyalty to his Dublin players complicated the decision. "In the end I decided to do it just for one reason," he states. "I had to go over and give it a try and see how it went."
His career with Manchester United included two FA Cup victories and a sweet 3-0 victory over Barcelona in a European Cup Winners' Cup quarter-final in 1984 that he still savours. Barcelona, a club with greats such as Maradona at the time, had won the first leg 2-0 at home. "It was some turnaround and I think it'll always be remembered for the atmosphere that was in Old Trafford that night, [it] was just unbelievable."
As well as Sexton and Ron Atkinson, Moran also played under Alex Ferguson at United. Moran had known Ferguson was "a very detailed and intense sort of individual, but there was a lot of fun with him," as with Archie Knox. "What I admired most about him," he says of Ferguson, "was that when he came in he wasn't looking to change everything straight away, quickly. He wanted to assess everybody he had there and take his time over it and make sure that he was going to get it right."
After finishing out his playing days at Blackburn Rovers in 1994 (the same year he retired from international soccer with 71 caps), Moran, along with Jesper Olsen and Paul Stretford, set up a sports management company, Proactive Sports Management. In 1996 he went for the job of Irish manager. "I went for the job then but Mick [McCarthy] just pipped me by one vote I think at the time." Moran still works in player management, as a soccer agent.
Whilst he agrees that top players' wages are now too high, he states: "You must remember it's not their fault." It is the result of the massive money from television filtering down to clubs and then players, Moran contends.
On the question of soccer finances Moran asserts: "I think clubs have got to say: 'Enough's enough, I haven't got money to pay that player or I haven't got money for that transfer fee.' They should never put themselves in debt. It's a business." Moran believes clubs are beginning to do this.
A problem for players, he believes, is media scrutiny. Moran, who issued damage claims against News Group Newspapers in April over alleged phone hacking, believes players must be "a lot more careful about how they behave, watch themselves," knowing "that they're in the public eye all the time." He adds: "They get well paid and it's a price that they've got to more or less pay for it, and I think a lot of them have very much come to terms with this."
As for Ireland's chances in the Euros: "I think if they go out with a relaxed attitude, the way we did in '88, you just never know what might happen." The relationship between Trappattoni and the players helps. "They believe in him, they believe in the system he plays and what he wants to do, and that's very very important."