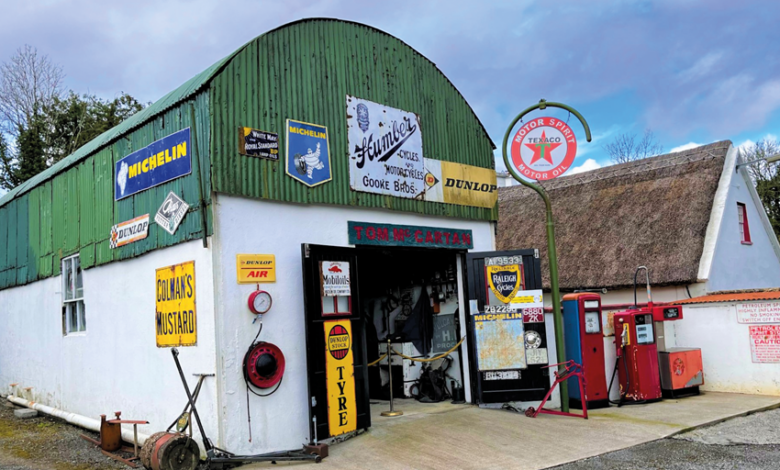 Situated in the heart of Leitrim's lake district, the Glenview Folk Museum offers visitors the opportunity to step back into the county's past. The museum's owner, Brian Kennedy, talks to Ciarán Galway and Odrán Waldron about his rationale for preserving his artefacts, Leitrim's tourism potential and natural beauty, and promotes the creation of a visitor centre exhibiting the life and works of the late John McGahern.
Located outside of Ballinamore, in the townland of Aghoo, Glenview Folk Museum is incorporated into a building, which was once a bailiff's house, one of three in the townland operating on behalf of Lord Lowther, who owned an estate in the area.
Brian Kennedy opened the museum "about 20 years ago" and explains his rationale: "I felt we were losing our heritage. That would have been a shame because young people deserve to have the chance to really feel the lived experience of their parents and grandparents. It helps them to understand where they come from."
Kennedy, who along with his wife Teresa, runs a guesthouse and restaurant adjacent to the museum, further explains his own personal passion for "the old ways", and the context which eventually culminated in his opening of the Folk Museum.
"I just love the artefacts; the heritage is very important to me," he says, adding: "There was a local priest here and he tried to get a Museum going in Ballinamore. I had artefacts that I was willing to donate to the museum. However, it never went further.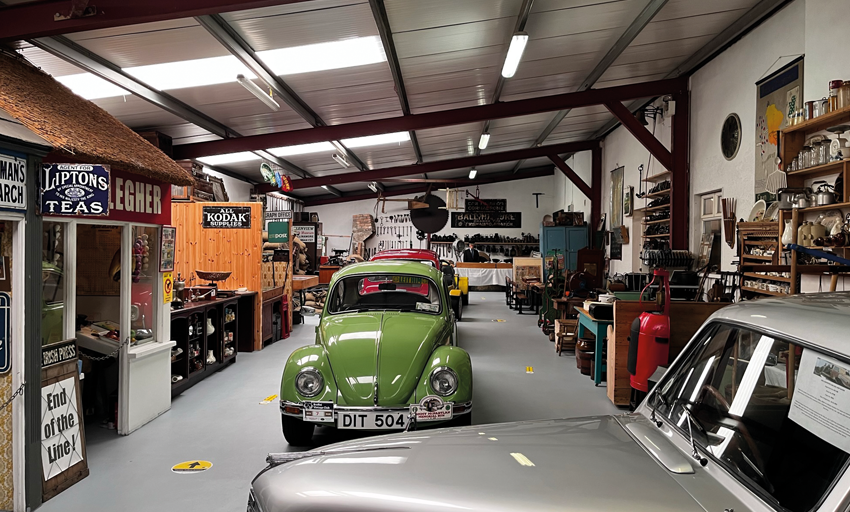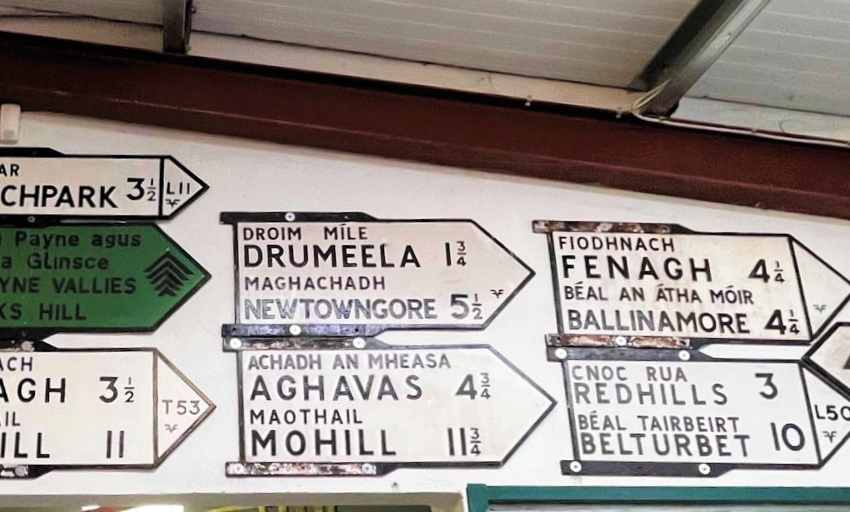 "That is where it initially started. I started collecting mostly agricultural tools and machines, but I quickly realised that I was leaving other interesting artefacts behind me. So, I decided that I would just collect everything that came along that I could afford to buy at the time, although it would usually be stuff that needed a fair bit of restoration."
Tourism in Leitrim
With his role alongside his wife Teresa, running the museum, guesthouse and restaurant, Kennedy is a local entrepreneur whose entire income is centred around an erstwhile booming tourism industry.
Historically, he outlines that their main source of business was from English anglers, although this has declined significantly in recent years. Kennedy rationalises: "The anglers changed from the older-style English angler to the more modern one. Similarly, there are now so many private lakes in England, stocking carp whereby anglers can get out of a car, and go straight to the lake without having to endure any hardships."
However, describing the county's natural beauty, Kennedy outlines how Leitrim has a special place in that it is "one of Ireland's most naturally unspoilt counties".
During the Covid pandemic, Leitrim had among the lowest number of confirmed cases in Ireland, "so when people went on their holidays in 2020 and 2021, a lot of them came to Leitrim".
"It is a place that they would never have previously thought to come to, but now they realise that there is so much going on in Leitrim," Kennedy reflects, adding: "The peace, the quiet, the friendliness of the people, all that has been recognised by an ever-greater number of people. Meanwhile, the natural beauty of the county cannot be overstated. We have the hills, we have the lakes, and the prominence of flora and fauna is significant. It is truly unique in that sense."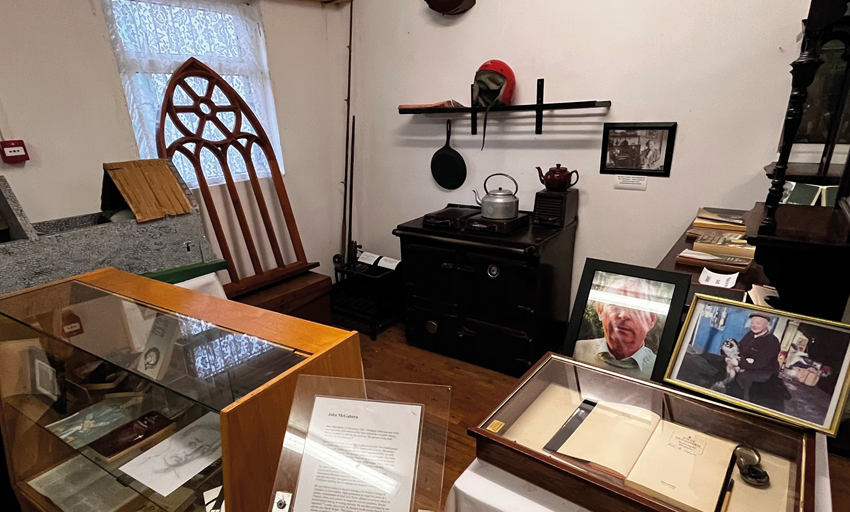 Preserving McGahern
Overall, the museum has several impressive collections, comprising 7,000 antique, historical, and novel items ranging from pre-famine Ireland to the recent past.
In keeping with Leitrim's rural history, there is an impressive array of farmyard equipment, a collection of horse drawn agricultural machinery, and a thresher which, Kennedy elucidates, "show the skill and ingenuity of the designers and builders of early industrial and farming equipment".
Another prominent feature is the museum's 'street scene', which contains several reconstructed shops and a pub, all of which are stocked with an assortment of period-accurate products and equipment. Included in this section are restored examples of transport including both horse-drawn and vintage motor vehicles. The museum also has an impressive collection of over 4,000 egg cups from all over the world, which were donated to Kennedy from two families in Dublin.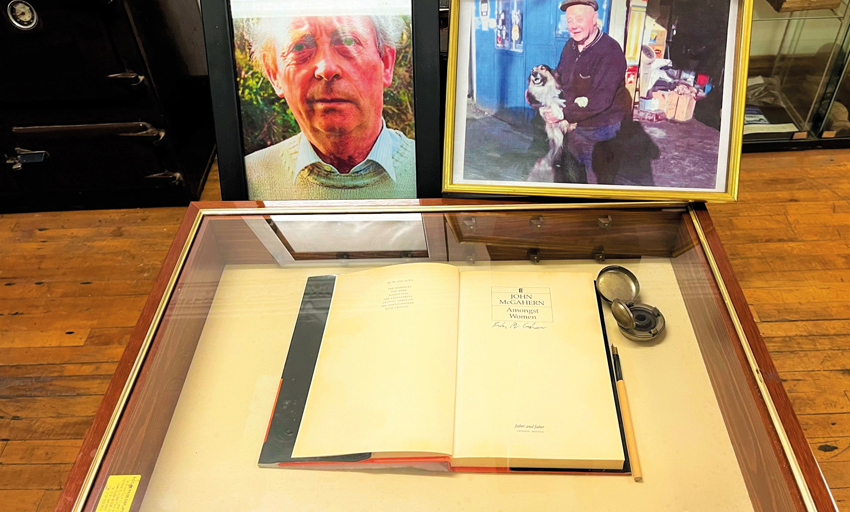 Kennedy tells of the latest additions to the museum, including highly prized items from the late author and Leitrim native, John McGahern, whose novels such as Amongst Women and That They May Face the Rising Sun have immortalised 20th century rural Leitrim life in literary form. A McGahern enthusiast, Kennedy promotes the legacy of the author, and says that his roots in Leitrim ought to be celebrated locally.
He tells of how visitors from far away, including Australian and American visitors to the museum, frequently ask him about the late author. "There could be so many things done in our community in Ballinamore, with McGahern weekends, festivals, and writers' weekends."
He further explains that, ideally, looking to the future: "There would be a serious focus on a McGahern centre in Ballinamore which would probably involve other areas in Leitrim that he was involved in.
"Considering the fact that he spent most of his life around here in Ballinamore, it would be lovely to see a visitor centre opened up – perhaps in the derelict courthouse building."