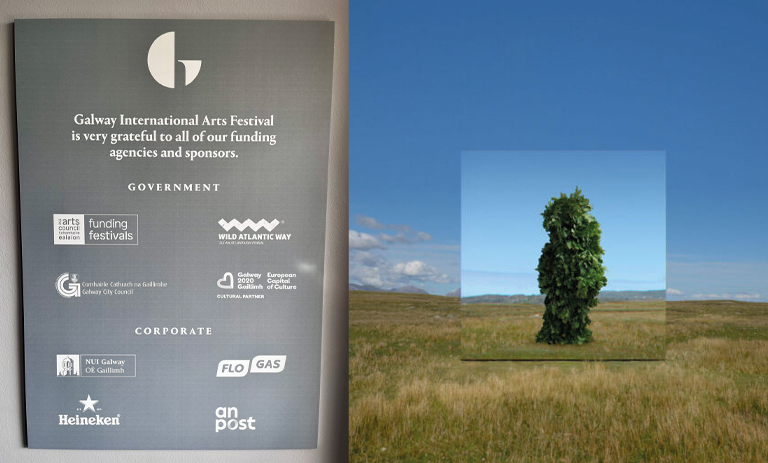 John Crumlish, CEO of the Galway International Arts Festival, talks to eolas Magazine about the operation of the festival, challenges for the arts industry from Covid, and his favourite parts of the job.
Crumlish is originally from Donegal, but having studied for his bachelor's degree in the University of Galway, then known as University College Galway, he returned to Ulster, studying for his master's at Ulster University and working in Derry, before returning to Galway city for a summer holiday and being "seduced by the arts scene in the city".
"I suppose you should say I ran away with the circus. It was the end of the '80s, and to see the can-do things in Galway at a time when the country was not at its greatest was eye opening, especially with the band scene which was starting to kick off.
"Nobody had ever seen the kind of work that the art festival was bringing in as there were not any venues at the time. It was a great place to be a really buzzing at the time."
Crumlish says that he could not get the city "fully out of my system" and references the Eagles' hit "Hotel California", saying: "You can check out any time you any time you want but you can never leave." "I think it's a welcoming city, since medieval time it was a trading town and as a result there has always been a very welcoming nature to the place. It is very seductive," he elaborates.
"When I started, there were not a lot of venues for the art festival, so we were forced to use pop-ups, which no one had heard of back then. Shows were always large scale, outdoors and with a lot of free work. Over the years, it has always been about 'what is possible' and always thinking big; Galway has always had that feel to it. We can take over the centre of town; it is our stage to play on whereas that cannot be done in Dublin."
Another identifying feature is that the arts scene in Galway is reflective of the city's proximity to Gaeltacht Conamara agus Árainn, with the complementary connection to Irish tradition, in addition to reflecting the international vibrancy of the city. It is in striking a balance here that Galway International Arts Festival strikes the balance of its existence in bringing the international to Galway, but also bringing Galway to the international stage.
"Our job is to provide the best possible art experience for as many people as possible. Whether you are from Oileáin Árann or Ottawa, there should be something in our programme which suits you."
"There is not a big problem of moving between from traditional arts to someone like [English electronic musician] Jon Hopkins, the festival is always multi-disciplinary. Our job is to provide the best possible art experience for as many people as possible. Whether you are from Oileáin Árann or Ottawa, there should be something in our programme which suits you."
This approach has helped the festival attract ever-increasing numbers, and its multidisciplinary offering of music, drama, art installations, political talks, literary readings and everything in between sees the festival attract "the culturally curious and tourists" alike.
"In terms of a usual year, just under half come from the west of Ireland," Crumlish explains. "Then it is equally split between the rest of the country and international market, particularly the USA and the UK."
The Arts Festival has been boosted by international exhibitions of works, such as Mirror Pavilion Leaf Work by the artist John Gerrard, in locations such as New York, Guangzhou, Sydney, and London, efforts which were outdoors and thus not stopped by the Covid-19 pandemic. Crumlish states that this has allowed the festival to develop relationships with high-profile artists both domestically and internationally. "That was a big change," Crumlish says. "We decided that we needed to get outside Galway and for longer than two weeks. We had realised that social media was going to become huge, and we needed things to talk about; these were cultural billboards."
The industry today faces a number of challenges, including, Crumlish states: "There have been a lot of people changing careers because of big companies in the city that are advertising well-paying jobs, people are moving away from their passions a looking after their first needs, paying their mortgages."
Galway also suffered uniquely from the pandemic and its associated lockdowns: designated the European City of Culture for 2020, the events and festivals planned withered to nothingness; one such victim was the 2020 Galway International Arts Festival, due to be "the biggest festival we had ever done".
He adds: "I cannot see costs and Covid changing that much between now and the 2023 festival and it is very hard to budget. There are problems around supply chains; we get stuff from all over the world and even domestically it is hard to find suppliers.
"The other thing is that we have all been in a holding pattern for three years, we have to tip toe to the future and accept that this situation might not change for the foreseeable future. The holding pattern is over. Next year we need to build on this year's success, and we want to revive the development work and projects that were stunted by Covid."