Issues
Business and the law: Develop a practical understanding

Amidst growing complexity, businesses now face unprecedented challenges in today's market. To stay competitive, a practical understanding of the relevant domestic and EU legislation is essential. Eimear Brown, the Dean at Ireland's renowned law school, King's Inns, gives us an insight into the highly sought-after law courses which assist many businesses in understanding and navigating the current legal issues that affect their day-to-day operations.
What does an institution founded in 1541 have to offer modern employers? As it turns out, the answer is: a wide range of cutting-edge courses imparting specialist legal knowledge and practical skills. In these difficult times, a skilled workforce is essential. The courses available at The Honorable Society of King's Inns (King's Inns) in central Dublin cover a broad spectrum of legal areas, an understanding of which will benefit those working in both the public and private sectors.   
Historically, the primary function of King's Inns has been the pre-qualification education and training of barristers in Ireland. King's Inns continues to carry out that function very successfully on the Barrister-at-Law degree course which can be studied over one year as a full-time course or two years as a part-time (modular) course. Part-time study allows people working across Ireland and beyond to qualify as a barrister without having to give up work. While the primary aim of the Barrister-at-Law degree course is to ensure that students possess the competencies required of a newly qualified barrister, many of the skills taught on this course are highly transferrable across different industries, including problem solving and oral communication skills. 
King's Inns also runs a very successful Diploma in Legal Studies programme, which is a part-time evening and weekend course that provides a route to an excellent qualification in substantive law for non-law graduates and for mature entrants who may never have had the opportunity to go to university. Graduates of this course are entitled to apply to sit the entrance examination for the Barrister-at-Law degree course in the same manner as university law graduates. The course offers students top-notch tuition, often in small groups, facilitating access to the expert teaching team and fostering an atmosphere of collegiality.
Diversity
King's Inns is proud of its culture of educational innovation in terms of the range of courses on offer, course design and delivery methodology, our diverse teaching panel of industry practitioners and in the use of e-learning software to allow students to participate in courses from a distance.
Over the past decade, King's Inns has expanded its programme of educational courses in order to increase access to courses teaching specialist legal knowledge and skills to a wider audience. Our goal is to make many of our programmes accessible to both lawyers and non-lawyers, and this goal is accomplished via our extensive range of advanced diploma programmes, which are open to people from a range of professional backgrounds. These very successful programmes provide key professional development to participants who wish to upskill or to fill a knowledge gap that is important to their organisation's goals or to their own career progression.
Some advanced diploma courses are of importance regardless of the sector concerned. After all, Data Protection Law and Applied Employment Law are areas that affect almost every business and public body. Social Media and Media Law is of increasing general importance in a society where nearly every business relies upon media for some aspect of its business, whether that be promotion or customer service or the direct provision of services.
Likewise, some courses attract a cross section of participants from different backgrounds. For example, our course in Public Procurement Law is of use to parties affected by the law from all angles, whether they are considering tenders or making them; Planning and Environmental Law is important to county councils and planning bodies on one hand and to engineers and developers on the other.
Specialism
Meanwhile, other courses are of particular importance to those working in a specific field, including Medical Law (attended by clinicians, hospital administrators and in-house counsel), Corporate, Regulatory and White Collar Crime (which is of particular interest to the Department of Finance, Gardaí and the banking sector), Immigration and Asylum Law (attended by representatives of NGOs, lawyers and civil servants), and Law and Education (which attracts principals, teachers of all levels and anyone involved in school administration).
Speaking of the course in Law and Education, Claire O'Connor BL, former teacher and now one of the course coordinators said: "This course provides students with the keys to unlock a pathway of lifelong learning in respect of the law. In practical terms students will be aware of the legal obligations underpinning their professional background and will develop a skillset in respect of the avoidance of litigation."
The advanced diploma in Legislative Drafting is an intensive course with a very limited number of places, focusing on the skills required to successfully interpret, critique and draft legislation. Typical students would be those seeking to upskill due to their involvement with the legislative process. For anyone wishing to work in the field of Irish legal translation, whether at home in Ireland or abroad in the EU institutions, our advanced diplomas in Lawyer-Linguistics and in Legal Translation provide an excellent training in the skills concerned.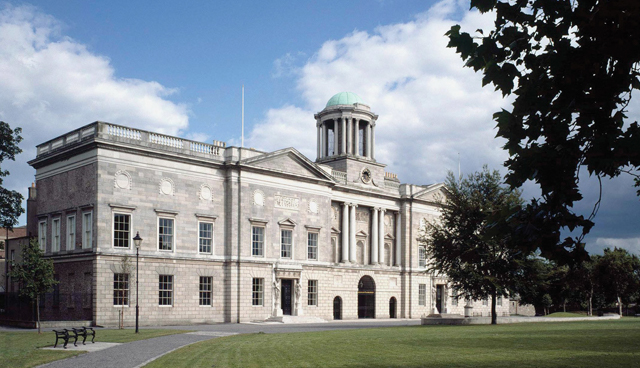 This past academic year, King's Inns debuted a new Advanced Diploma course in Quasi-judicial Decision-making, which included lectures by several very senior members of the judiciary, sessions on the use of interpreters and a workshop on unconscious bias by an international expert. The course also gave students the opportunity to participate in highly practical small group sessions, e.g. by running their own quasi-judicial tribunal hearing. Course coordinator Tricia Sheehy Skeffington BL notes: "The task of a quasi-judicial decision-maker is exceptionally difficult." By providing this course, King's Inns hopes to demystify the process.
Accessibility
King's Inns timetables all courses in a manner most likely to ensure that classes take place at times when busy professionals of all types will be able to attend. For some courses, this means lectures early on a weekday morning with an 0830 start; for others, it means the courses run in modules over a series of between four and six weekends.
King's Inns was an early adopter of e-learning technology, ensuring that most courses have been available via distance learning options for some years now. This technical capacity was of great importance this Spring, when the institution was required to pivot quickly in order to allow classes on several courses to continue as scheduled. Thanks to our use of lecture capture software and videoconferencing software for interactive tutorials, students continue to attend their courses. All students also have access to high quality course materials and to a range of online legal databases which are available on our Virtual Learning Environment.   
King's Inns will continue to anticipate the needs of the market in terms of course design and delivery, and as our history shows, we will continue to promote the importance of the rule of law in a modern democracy.
Anyone interested in enhancing their career and in learning more about the law should have a look at our website, www.kingsinns.ie/education. We are very proud of our courses, our teaching teams and our diverse network of graduates, and we think that many people will find at least one of our courses useful for their continuing professional development. 
Dr Eimear Brown, Dean of School
King's Inns, Henrietta Street, Dublin 1 Ireland DO1 KF59
T: +353 1 874 4840
E: info@kingsinns.ie
W: www.kingsinns.ie