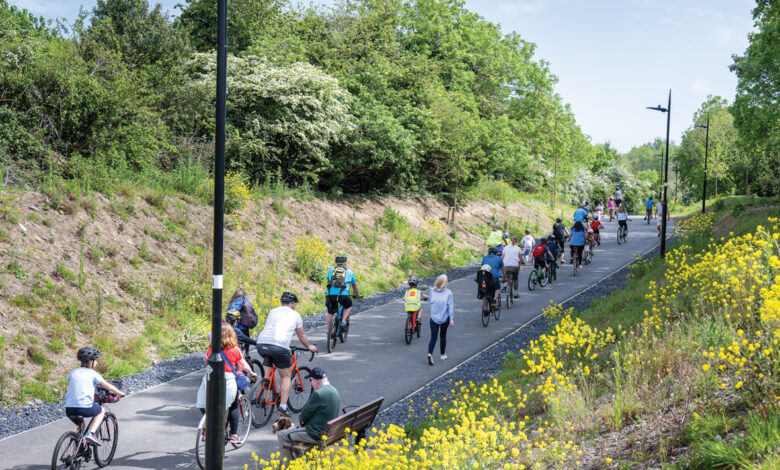 Mick Mulhern, Director of Land Use, Planning, and Transportation with South Dublin County Council (SDCC), speaks to eolas Magazine about the Cycle South Dublin plan and four elements of focus for the successful implementation of active travel infrastructure.
Mulhern begins by recalling his beginnings with the provision of active travel infrastructure and how the initial experience and difficulties encountered helped him and his SDCC team focus on four key elements to infrastructure planning. "I started on this just over four years ago, and, at that time, active travel was emerging as an idea, funding was starting to be made available, and there were good discussions about it, but we were struggling," he says.
"We had a small team, we did not have much money, and the projects that we were getting through were compromised to keep everyone happy. We got protests out on-site and we had one scheme where we had to stand the contractor down and pay the fees. It was a bit of a disaster at that point, and it was not really working for us. We asked what we were going to do differently and what we focus on now is the plan, the design, communications, and engaging leadership."
In focusing on developing a plan, SDCC produced Cycle South Dublin, a programme of work that served to address a previous challenge identified by Mulhern whereby small, unconnected projects would be completed, leading to a situation where "you might have world class infrastructure around a roundabout, but getting to that roundabout was a disaster".
"The idea was to create a programme over an eight-10-year period, so that over two council terms, people could feel like they have seen some real positive change," Mulhern explains. "We have set our vision, we have our mission, and this programme has been agreed by our council in April 2021. It has got 65 projects within it, and we have got 22 in the 'now', 21 in the 'soon', and 14 in the 'later' categories.
"All 22 projects in the now stage have been initiated, and by that, I mean they have got past gateway one. They could be at options stage, early design, they may have planning permission, they could be on-site, they could have been completed, or they may have been scrapped because we tried to take them forward and it became clear that there would not be support for them. We have now moved into the soon projects and in summer 2023, we are now in a position to appoint contractors for 11 new projects that could be completed over the next 18 months."
In terms of design, Mulhern breaks the projects down into two broad categories: transformational schemes, such as the 17km Dodder Greenway and the 6km Wellington Lane project in a "really built-up urban environment that is challenging to design"; and rapid schemes, such as a 1.4km project in Templeville that took 10 months to deliver and one in Avonbeg that took 13 months from conception to completion to deliver 1.5km.
Transformational schemes are "costly, time-consuming, and have big consultancies working on it with lots of engagement", while rapid schemes are "about taking road space, and trying not to impaction road capacity". "We do not go through planning for these projects, instead we go through Section 38, and the agreement that we have with our councillors is that where we are using section 38 powers we will still carry out informal consultation with the public and we will proactively engage with the councillors to finalise a design and then we crack on," Mulhern says.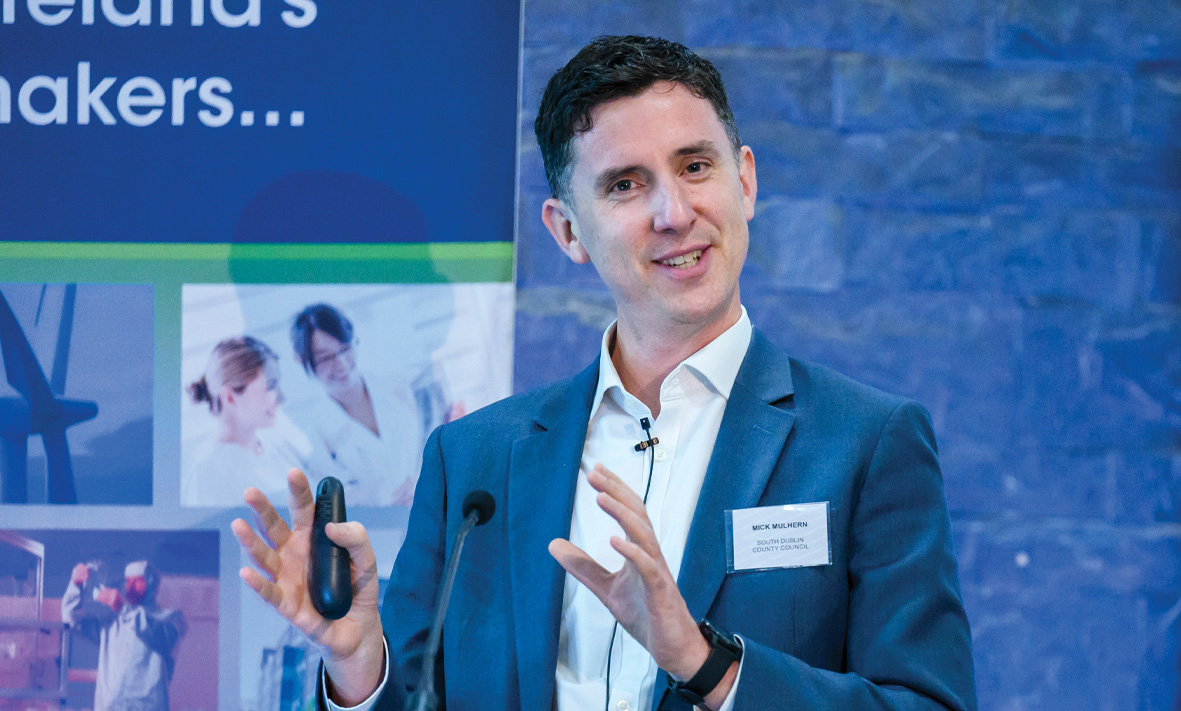 SDCC is also working on the D24 network, a national pathfinder project, with the Department of Transport. It is a project that has delivered considerable value for money, Mulhern says. "We are pretty much on target with 15 months of design and procurement and 15 months to complete all works on-site. This project will deliver 11km of well-designed deliverable, segregated cycling lanes at a total cost of between €6 million and €7 million. The NTA currently has a cost of €5.5 million per km for significant new build, so there is real value for money here. This will not work in every location because we have very wide streets in south Dublin, but a lot of this can be done elsewhere."
On communication, Mulhern points to SDCC's website, showing a map of the various active travel projects being undertaken that contains real-time information on the status of each project. "People can go on and see if a project is on-site, if it is has not commenced yet, etc," he says. "All that information is on the website, can be downloaded, and is interactive. We are building on this to create a more engaging platform for people. The network is there, and councillors can defend this when people ask why this is being done."
Questions around why projects are being undertaken are constant, Mulhern admits, saying that it is "incredibly difficult to get past the status quo bias" and points to protests in Clondalkin and Lucan around transformation plans. "That is negative, but we also have the positives," he says. "We are collecting more sophisticated data to show people. In Avonbeg, there was a reduction in average speed from 49km/h to 34km/h.
"Communications is one thing, and it is different to engagement. It is about how you get your facts out there to disprove misinformation but also disinformation, which are two different things. We do workshops now with local councillors, local schools, residents associations, sports clubs, and traders associations, showing people what areas they could control to influence design."
Concluding, Mulhern turns to the final part of the four-part process: engaging with leadership. "Compromise is key to all of this," he says. "Great schemes will sometimes not be approved but a little bit of compromise can go a long way and get our councillors into a much more positive space. Increasingly, more local authorities, with the help of the Department and the NTA, are working in this way, which is why we have been able to build up our pipeline of projects and we are ready to crack on and get the work done, and one important factor is that more funding be made available to meet the increasingly ambitious active travel programmes across all local authorities."