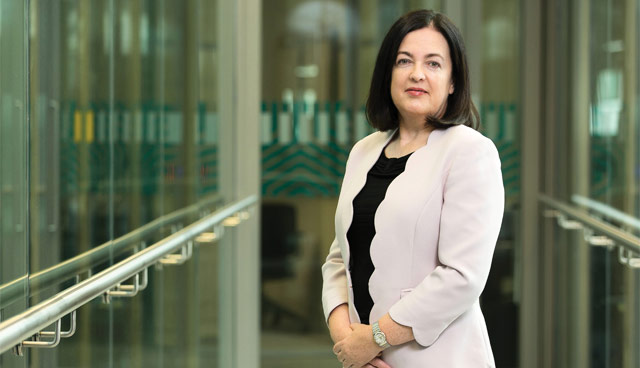 Jacky Fox is the Managing Director of Accenture's security business in Ireland, helping clients build resilience from the inside out so they can confidently focus on innovation and growth. Jacky is also vice-chair for Cyber Ireland – a national cyber security cluster that provides a collective voice to represent the needs and challenges of the cyber security sector across the country.
Why did you choose a career in cyber security?
I have always worked in the technology sector and spent much of the early part of my career working with the public sector in Ireland as it became increasingly computerised. Initially we installed personal computers, then we networked them together and then the internet came along which was designed for communications not security. This started our exposure to the ever-increasing attack surfaces that we are susceptible to today.
Society is now so dependent on information technology to provide essential services, but the potential impacts of IT disruption are wide and varied. This sparked my interest in security and is why I chose – after my career break – to specialise in cyber security, resilience and breach investigations. I have no regrets. It is a fascinating area where I get to meet people from all walks of life and help organisations to tackle interesting and complex problems.
Citizens have growing expectations for more and better digital public services. What are the key cyber security challenges facing the public service today?
It's important that security supports the provision of new and existing digital services from Government. Organisations, public and private alike, are presently facing two major challenges; keeping abreast of the increasing threat landscape and dealing with the growing shortage of skilled cyber security professionals to protect and defend our assets. Currently the global deficit is estimated to be three million people. Ireland is heavily reliant on our digital economy, as well as the investment technology giants have made here, so we need to get security right.
What can we do to deal with these challenges?
Dealing with cyber threats requires a multifaceted approach and it is important that government, academia and the private sector work together to tackle the problem. We need to work out how we can effectively share threat intelligence nationally, internationally and within business sectors.
We also need to monitor our networks for active threats and develop new tools utilising features such as artificial intelligence to automate security tasks where possible. The use of automation will free up our valuable cyber security professionals to develop strategies and perform the tasks we can't automate.
At Accenture, we help organisations to build a strategy in line with their risk appetite, implement security technologies and where required, we can run security operations for them also.
Traditionally cyber security is a male dominated profession. Do you see shifts being made in the sector to attract more women?
There are huge efforts being made globally to shift the dial on this. Recent (ISC) Women in Cybersecurity research puts the number of women working in cyber to be 24 per cent, up from 11 per cent in 2017.
In Ireland, organisations like Cyber Ireland and Skillnet are raising awareness and offering training programmes. Initiatives like Teen-Turn, which provides teenage girls with the opportunity to gain hands-on technology experience, should make a real difference over time. Accenture has set a global target to have a 50:50 gender balanced workforce by 2025 and this should certainly help.

T: +353 87 618 2618
E: jacky.fox@accenture.com
W: www.accenture.com
This article makes descriptive reference to trademarks that may be owned by others. The use of such trademarks herein is not an assertion of ownership of such trademarks by Accenture and is not intended to represent or imply the existence of an association between Accenture and the lawful owners of such trademarks.