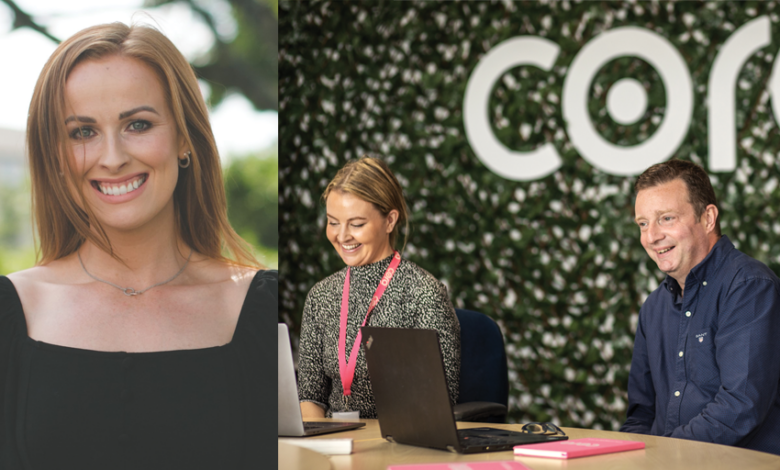 Susanne Kerins, Head of Marketing at Cora Systems, talks to eolas Magazine about the company's journey, how it has supported Leitrim people into work, and the task of running a global company from a north-western town.
Founded in 1999, Cora Systems provides enterprise project and portfolio management solutions to global organisations and government agencies, giving project managers and C-level executives "the control, governance, and insight to make better decisions". The rise in online systems, necessitated by the rise of remote working, has led to something of a boom in business for the Carrick-on-Shannon company, with Cora having experienced growth of 228 per cent last year, according to Kerins.
Despite over 180 staff based all over Ireland, Britain, Europe, and the United States, being headquartered in Carrick-on-Shannon's Mercantile Plaza is central to the ethos of the company and places it in the heart of the county town. "Our CEO, Philip Martin, has a huge sense of place here being from the region," Kerins says, adding: "His whole idea of setting up the company was about creating jobs in the local area. Philip is a huge promotor of the development of County Leitrim and is actively involved in the leadership of the County Enterprise Board, Leitrim Chamber of Commerce, and the IDA regional development programme. He has huge pride in this region, and he wants to see it grow. Our headquarters will remain in Carrick-on-Shannon; it will always be here and that is because we want to ensure that we continue to offer local people jobs and produce more and more jobs for the region."
Covid, Kerins explains, has acted as an accelerant for Cora, which already utilised "mostly flexible working patterns" prior to the onset of the pandemic. "The pandemic definitely opened up the talent pool for us, because it gave us a wider access to people from across the country and world. While we continue to provide jobs here in Leitrim, the Covid experience has broadened that path beyond the region."
With the effects of the housing crisis still being felt deeply in cities, Leitrim, Kerins contends that "Leitrim is a lot more affordable", further explaining: "The reduced cost of living is a huge thing that attracts people here. There is also the added benefit of moving back home to the county and having a better work-life balance."
Referencing the company's experience of "hypergrowth", Kerins outlines Cora Solutions' vision for the short to medium term. "In order to sustain our growth, we are planning on recruiting 200 new staff members by the end of 2024." If the company continues to expand globally, Kerins believes there may be a need to open additional offices in the United States and Europe but reiterates that "our home will always be in Carrick-on-Shannon".
Profile: Susanne Kerins
Originally from County Louth, Susanne Kerins studied marketing at Atlantic Technological University Sligo, and decided to stay in Sligo. After graduating, she worked for a Sligo engineering company for one year before beginning her career with Cora Systems.