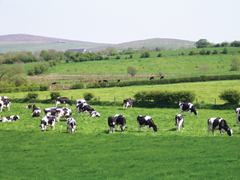 Richard Halloran looks at how the dairy farm squeeze is affecting Irish farmers.
The recent decision by Agriculture Minister Brendan Smith to close the REPS 4 Programme and to make further cuts in the disadvantaged area payments are just the latest in a long line of disasters to impact on Irish agriculture over the past 12 months. Last year's atrocious weather, the significant downturn in global food commodity markets and the current attempts by the authorities in Dublin to make fiscal savings have all combined to put farming deep into the red.
And the latest income figures confirm this extremely worrying trend. Average family farm income fell by 13.7 per cent to €16,993, according to the Teagasc National Farm Survey for 2008. Higher costs and a sharp decline in returns on dairy and tillage farms are the main contributing factors to the decline in farmers' incomes. Average family farm income, in real terms, has been lower in just one year out of the last 14 years.
The figures also confirm that 2008 was a particularly difficult year for tillage farmers, where incomes halved, and for specialist dairy farmers where incomes were down by 10 per cent. Incomes on beef and sheep farms continue to be low. These farms are predominantly part-time operations and, as one might expect, the operators virtually all have other sources of income.
The National Farm Survey revealed a 13.8 per cent increase in costs on farms, with the price of most farm inputs like feed, fertilizer, plant protection products and fuel all increasing. Overhead costs also increased last year. In 2008, Irish farmers were more dependent on direct payments for their income. Subsidies now contribute 31 per cent of farm output and account for 103 per cent of average farm income, the highest percentage ever.
Other key highlights of the survey include confirmation that average family farm income (FFI) on full-time farms fell by 14 per cent to €37,590, whereas average FFI on part-time farms dropped by 5 per cent to €7,580. Incomes on specialist dairy farms dropped by 10 per cent to €45,732 while incomes on tillage farms halved to €19,380.
Average suckler farm income in 2008 was €7,700 while sheep farms generated an average income of €9,600. Significantly, just a quarter of total farms had an FFI of over €25,000.
Of even greater concern for Ireland's farm leaders is the fact that the income squeeze on dairy farms has continued into 2009. Irish Farmers' Association (IFA) President Padraig Walshe told eolas that the European Commission has the power to act more aggressively on behalf of European dairy farmers. He confirmed that Brussels can and should make much more proactive use of export refunds.
"There remains a comprehensive range of market control measures which the Commission can use," he stressed.
"Obviously, we want intervention to be used in ways that will have maximum impact on the EU's commercial milk market. But there are other forms of support that can be brought to bear. One is the introduction of schemes which will encourage the greater use of skimmed and whole milk powders in animal feeds, bakery products and confectionery. There is also a requirement on each member state government to guarantee export credit insurance schemes."
The IFA leader, however, does not favour a cut in milk quotas as a means of getting to grips with the challenges facing the EU dairy sector at the present time.
"Any shortfall in EU output would simply encourage greater levels of imports from countries such as New Zealand and the United States," he further explained.
"Besides, it would take at least two years for any form of quota cut to have a meaningful impact on EU milk output. Dairy farmers need help now."
Padraig Walshe concluded: "The European Commission has made a big mistake in thinking that milk and other food commodities can be managed within a wholly market driven environment. This may work for the likes of oil and steel. The reality is that family owned farms constitute the bedrock of European agriculture. Businesses of this kind cannot survive the boom and bust fluctuations that characterise the world's commodity markets. Farms need a controlled environment in which to work and it's up to Brussels to deliver this for them."
Meanwhile the scale of the debt now building up on Irish farms – particularly within the milk sector – is now becoming apparent. The highest ever investment in new farm facilities took place in 2008, encouraged by grant aid available under the Farm Waste Management Scheme, with a massive €2 billion invested in new buildings, machinery and other on-farm facilities. This came on top of a €1.4 billion investment in 2007 and brings the cumulative investment by Irish farmers in new facilities to €4.5 billion in the three-year period 2006 to 2008.
Nine out of 10 dairy farmers invested new capital in their businesses last year, while half of cattle and sheep farmers have upgraded their facilities. The average gross investment per farm in 2008 was €19,480, equivalent to 115 per cent of the average farm income and the highest level recorded in the National Farm Survey series. These investments have led to an increase in farm borrowings in 2008, up by a total of €500 million on the previous year. The largest increase in borrowings took place on full-time specialist dairy units.
The reality is that farmers' investment decision over the last three years will continue to impact on income levels in future years, as loan repayments and depreciation contribute to the higher cost levels.
But just how much financial pressure is building up at farm level? Two milk producers from different parts of the country told eolas their stories.
Paul Ruane farms near Athenry in Co Galway. He has a spring calving herd of around 100 cows.
"Last month I received 21.5 cent per litre for my milk. In reality I need 25 cent to cover all my outgoings. At the present time there is €5,600 of borrowings on every milking cow within the herd. Over the past couple of years I have built a new slurry store and cubicle house. The first project was a must do because of the Nitrates Directive: the new shed allowed me to invest for the future and was eligible for grant aid.
"I now face the prospect of waiting for many months until the outstanding grants are paid. Meanwhile all of the contractors were paid before last Christmas courtesy of a loan taken out from the bank."
Paul continued: "When the credit crunch hit, I had no option but to restructure my repayments with the bank. This took about four months and, of course, entailed more fees. At the present time, I am just about managing to stay afloat. But it really is touch and go. I am trying to put off paying for feed, fertiliser and other inputs for as long as possible. But this can't last forever. If things don't improve within the next year, I won't survive. At that stage, everything will have to go."
Brian Rohan, from Shanahoe in Co Laois, related a similar experience. "We need a better milk price now otherwise there will be no future in dairy farming," he stressed.
"The banks are being reasonably flexible, allowing farmers to restructure payments on existing debt. But they will not consider making additional finance available. Farmer confidence for the future really is at an all time low."
Thankfully, Irish farmers have received some respite, courtesy of the excellent weather experienced by the entire country throughout June and a welcome fall in fertiliser prices. But most producers view this as a small chink of light in a sky filled with ever deepening storm clouds. What they need more than anything else is a sustained period of viable farmgate returns.
Tags: Business