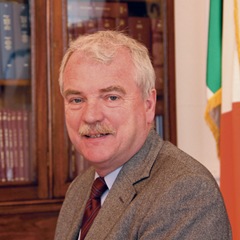 Continuing eolas' series on the independents in the 31st Dáil, Finian McGrath discusses his priorities for Dublin North Central with Meadhbh Monahan.
Coming into politics "through the voluntary door" has meant that issues such as disability, disadvantage and job creation are close to Finian McGrath's heart.
The 57-year-old former primary school teacher was first elected to Dáil Eireann in 2002 as a member of the Independent Health Alliance and has been returned in the two subsequent general elections.
He was persuaded to enter politics after electioneering and working closely with former Dublin Central Independent TD Tony Gregory. He was a full-time volunteer with the Simon Community, and is former chairman of the Dublin branch of Down's Syndrome Ireland. In 1999 McGrath was elected to Dublin City Council where he attracted considerable local support for his opposition to the Dublin Port Tunnel and the proposed infill development of part of Dublin Bay.
A widowed father of two, McGrath feels "very energised" at being part of a 16-member Technical Group which has secured the same speaking rights as Fianna Fáil and Sinn Féin.
"This term it's very refreshing. The fact that there have been massive changes and I'm a member of a group which has 16 members gives a great boost and a great lift," he tells eolas.
It is "a great honour" to get elected three times in a row and McGrath admits that when his support dips and the polls swing towards other parties he often worries that he is "going to get hammered at the next election." However, he "loves the day job" and strives to work hard and conduct "honest politics."
When asked what honest politics is, McGrath responds: "I feel very strongly that there's a perception that all politicians are not honest. It really cheeses us off." He refers to the "beautiful tributes" paid to Garret FitzGerald and Brian Lenihan but is annoyed that these come "after the poor guys are dead."
"About less than 5 per cent" of the current TDs are "corrupt", according to McGrath. However, the consensus is "that we are all liars, crooks and scoundrels." He contends that "the vast amount of people get on with it and try to do their best for the country."
McGrath tries to "come up with solutions". Referring to his 2007 deal with Bertie Ahern (where he supported the Finna Fáil-Green-PD coalition after securing a deal for a 34-bed cystic fibrosis unit at St Vincent's Hospital), he says he received negative feedback for that decision. However, he insists that "eventually it's being built; it's in the bag."
According to McGrath 'the high-moral ground wing' argue that he shouldn't have had to make such a deal. He admits: "I would have done a deal with the devil to get that unit done." He wasn't doing it "to get a junior ministry, to become chairman of a committee or to get 20 grand in my back pocket," and contends that if he achieves nothing else in his political career he will be happy to see the unit finished. McGrath subsequently withdrew his support for the Fianna Fáil-led government in October 2008 over its decision to withdraw automatic medical cards for the over-70s and further cuts to education.
Technical group
Leadership of the technical group is shared between McGrath, Shane Ross and Joe Higgins.
It's going "absolutely brilliantly," according to McGrath. "Everyone was writing us off and saying that within 24 hours there would be a split but there are 16 TDs with everyone coming together, respecting each other's views and yet we have the same clout as the big parties in Leaders' questions, priority questions and legislation." McGrath believes that "it's worth sticking together for that alone." The group disagrees on some issues but "that's politics; that's life," he concedes.
The whip is Catherine Murphy (see eolas issue 5, page 8). "She doesn't whip us into line like the parties. She facilitates the meetings with the Government and opposition whips," McGrath explains.
He chairs the group and when Murphy reports the upcoming issues and legislation to him, McGrath tells the others to "vote with your conscience and get on with it." Other TDs are envious of the technical group's freedom, McGrath believes.
"Some TDs often agree with another party's legislation but they can't vote for it and that's why we really get up their noses," he laughs.
The main issues affecting his constituency are jobs, poverty, housing and the health service. He is annoyed by the consensus that politicians are 'out of touch' with reality.
"I was in my clinic last Friday morning and I was dealing with people with disabilities, people with housing problems, people who are poor, people who are disadvantaged, people who are trying to get citizenship in this country; they are all modern issues," he states. He feels that he is "very much having a conversation, every day, about the real issues."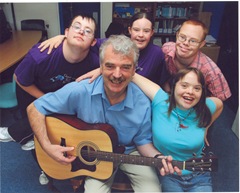 Jobs
He has an election team of 137, garnered from local small businesses, community groups, residents' associations, disability groups and football clubs. "That's my network," he explains.
The creation of a jobs creation strategy has been one of his recent initiatives. "Rather than give out about the Government and the EU-IMF deal, my organisation in Dublin North Central do things locally," McGrath states.
Referring to Finance Minister Michael Noonan's call on 23 June for people to shop locally, McGrath says: "Long before Michael Noonan suggested [that], we asked everyone over 55 in Dublin North Central, who have a few bob but are afraid to spend it, to spend an extra €20 at their local shop, butchers or chipper to bring money into the local domestic economy." McGrath received "a fantastic response from local businesses."
He and his team are also trying to get Dublin City Council to lower its rates for small businesses and shopkeepers "because they are going to the wall."
He points out that "when you are talking to a small businessperson, the three issues that come up immediately are energy costs, insurance costs and commercial rates." McGrath argues that, "by giving them a break, they won't lay people off."
Special needs
The Government's decision to cut 237 special needs assistants has made McGrath "hopping mad." He counter-acts the Government's economic argument (that it wants to reduce services by 10 per cent) by the argument that those 237 people are low-paid workers who will go on the dole and could qualify for a rent supplement, medical card and, ultimately, "are going to cost the state more money."
His emotional argument is that: "Taking away services for children with special needs is wrong." He adds: "If you want to save money and take hits, you can target TDs' salaries or expenses, but cutting SNAs for children with special needs should never ever be an option."
The technical group met with parents of children with special needs, and during Leader's questions on 28 June McGrath said: "I and other members of the technical group decided to listen very carefully to their views and to campaign actively on their behalf.
"Why is the Taoiseach cutting services for children with special needs? Does he understand the upset and hurt of many parents of children with a disability?"
He asked the Taoiseach if he would reverse the cuts and he said that he wouldn't.
Enda Kenny stated: "The last Government decided in December 2010 to cap the number of SNAs at 10,575. There are currently 10,802 posts, which is 227 over the cap that has to be reached by the end of 2011. As the 10,575 cap must be met by the end of the year, that reduction will take place. I assure the House that the existing level of SNAs in special schools will be maintained."
On health reform, McGrath is impressed by Health Minister James Reilly. "I get the impression that we have a Minister that knows what he is talking about, which is good for the country."
McGrath's political objective is a universal health service, "rather than dishing out money for private health insurance."
He adds: "The real challenge is that [Reilly] has to do something about the A&Es. We could talk for ten years about health reform but if he doesn't do something about the A&Es in the next 12 months, I think he's going to be in serious trouble."
Overall, the Government is doing well "perception wise". In reality, "they haven't actually done anything yet." McGrath predicts that "when they make the decisions about making the changes we can judge them better." He admits that it "got off to a great start" with the Queen and Obama visits and contends: "That's politics; you get a break and you go with it."
Finian McGrath TD
Political achievements:
• Securing a 10-bed cystic fybrosis unit in Beaumont hospital.
• Receiving assurances that the 34-bed unit at St Vincent's will be completed by 2012
• Formation of the technical group
Cuba has been of interest to the TD, who has visited the country and seen how "they are being hammered by the embargo by the US."
He adds: "I know there are differences between Cuba and the US, but I think the USA are overreacting to the situation on the doorstep and the infrastructure in Cuba has gone to the wall." Despite the black market which has developed, McGrath believes that "it is a beautiful country with lovely people who are gradually changing, but just need a helping hand."
In 2005 he was a contestant in 'You're A Star' Charity Special, raising thousands of euro for Down's Syndrome Ireland and subsequently winning over potential voters in the next election.
His wife Anne died in November 2009 and he now juggles his political career with looking after his two daughters: Caoimhe and Clíodhna (who has Down's Syndrome).
In his spare time he likes to play soccer for Marino over-40s and play the guitar.
Tags: Issues