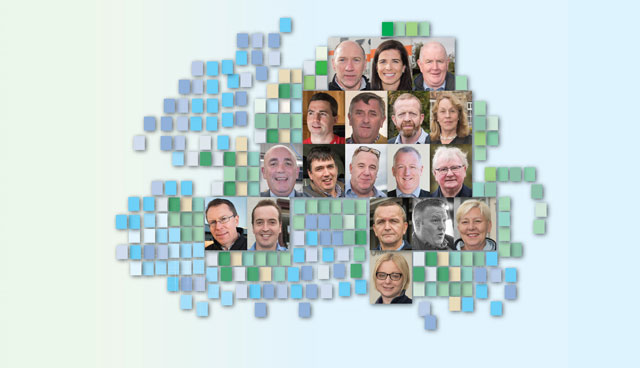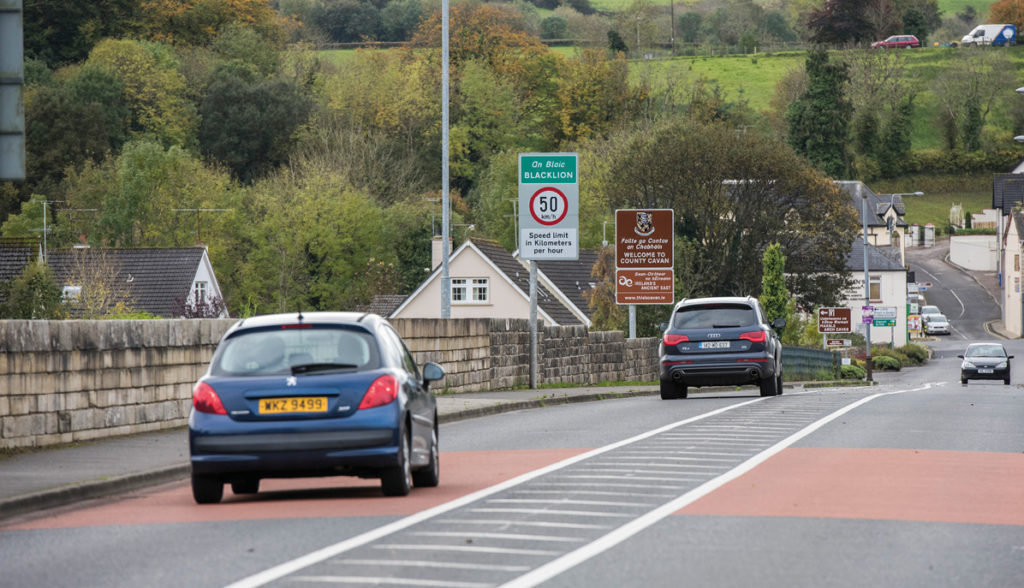 In October, over a period of two days, eolas Magazine traversed the cartographer's line for 499km between Carlingford Lough on the Down-Louth border to Lough Foyle on the Donegal-Derry boundary. With Brexit informing the rationale, an effort was made to avoid a clichéd report on a topic to which innumerable journalistic hours and column inches have already been devoted. As such, it was decided that the border region in its entirety should be encompassed, simultaneously ensuring greater authenticity.
This 'line' was established as interim solution to 'the Irish problem', intended by London as provisional demarcation for the partition of the island (under the Government of Ireland Act, 1920). However, as the centenary of the decision by the Parliament of Northern Ireland to secede from the Free State on 7 December 1922 swiftly draws near, few would have predicted the longevity of this arrangement. Today, the border is the most obvious reminder of what has went before, emblazoned on the map by centuries of socio-political upheaval and ancient trauma.
All along the journey, perspectives of a broad cross-section of society were collated to illustrate the narrative of a community of people living under the shadow of a more recent decision taken in London, which threatens to once again destabilise their routine existence: Brexit. Farmers, hauliers, hoteliers, commuters, educators, historians, clergy, 'Troubles' victims, health professionals and business people each unpacked their analysis.
Previously, customs checks existed along this frontier from April 1923 until the implementation of the European Community's single market on New Year's Day 1993. Today, the border has achieved an unprecedented level of permeability with an estimated 300 crossings between north and south (compared with 137 on the EU's entire eastern frontier), not including 'desire line' style crossings which fall outside the official planning sphere.
Indeed, the Joint Oireachtas Committee on the Implementation of the Good Friday Agreement has reported that some 177,000 lorries, 208,000 vans and 1.85 million cars cross the boundary on a monthly basis with 30,000 people crossing daily. The crossing points themselves range from a web of grass-lined bóithríní to the N1 primary road on the main Dublin to Belfast corridor.
An historically neglected population, to outsiders the region may seem like an obscure and distant concept. Within the national consciousness, the town of Crossmaglen, for instance, is cloaked in an almost mythical layer of folklore. Likewise, still, the border region remains a periphery consideration for the Dublin and London governments.
However, barely an hour away from Dublin (at its closest point) thousands of quite ordinary individuals, by an accident of geography, pursue lives which require them to cross the invisible frontier in order to work, shop, socialise, benefit from education and access healthcare as a daily reality.
Arbitrarily mirroring Norman county boundaries as opposed to topographical barriers, urban centres the length of the border have, over the decades, subsequently been riven to varying degrees from their natural hinterland. Throughout its evolution, customs posts, unapproved roads, travel permits, permanent vehicle check points, and militarised watch towers (present until 2006) imposed by the border's existence have come and gone.
Yet, a sense of socio-cultural interconnectedness has prevailed. Presently, the border exists almost solely on a lofty geo-political plain. On the ground, while omnipresent, it is virtually unmarked and as such, where feasibly possible, is subconsciously if not wilfully ignored by the average border dweller.
Indeed, while in the past, its presence caused much aggravation to local communities, now it can prove difficult for outsiders to detect the subtle changes which identify the point of transition between jurisdictions. Even at the height of the recent conflict this was evidenced in the frequency of unwitting border incursions by both Irish and British security forces.
While the very existence of the boundary is disputed, it is the publicly expressed wish of all major participants in ongoing Brexit negotiations that there should be no re-emergence of the erstwhile border alluded to by Seamus Heaney in The Frontier of Writing: "So you drive on to the frontier of writing where it happens again. The guns on tripods; the sergeant with his on-off mike repeating data about you, waiting for the squawk of clearance."
Whether the status quo can be preserved is yet to be seen. Several recurring themes were unearthed by the excursion including ambiguity, anxiety and outright opposition. One interviewee described the current state of confusion as being akin to "looking into a ball of smoke". Amidst the uncertainty, life continues, now under the contemplative gaze of the EU and the British and Irish governments.
Writing from the border
eolas Magazine's 'Voices from the Border' project commences in the coastal village of Greenore, County Louth on a drizzly October morning; the surrounding splendour of the Cooleys and the Mournes concealed by a thick layer of greyness, complemented by the dark, rolling waves battering the shore.
Owen McQuade, Ciarán Galway and David Whelan write.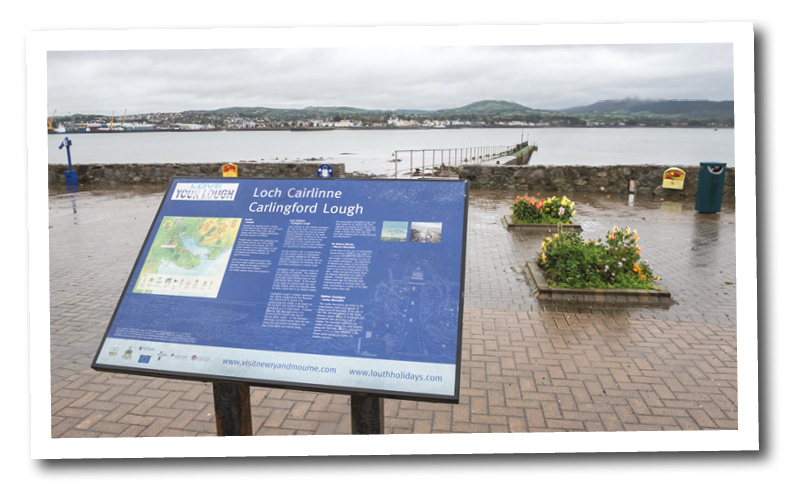 Carlingford Lough
County Louth
At the Greenore port offices, Pamela Houston, the Chief Executive of the Carlingford Scenic Ferry (which operates between the village and Greencastle, County Down) discusses the newly established venture within the context of Brexit.
"There's a whole broad spectrum of users. We have visitors, commuters, local businesses, farmers, schools and colleges. In our first two months of operations we carried 70,000 passengers. When we first considered it, we wondered which way it would split down, but it was almost 50/50 to the last person," Houston reflects.
"The two areas have seen a huge economic boost. It's opened the Cooleys and the Mournes and if you're in either the Mourne coastal route or the Cooley peninsula then you've now doubled your marketplace. There are numerous cases of companies which are now pursuing business on the other side of the lough."
On Brexit, Houston is unruffled: "We always knew Brexit was on the horizon when we were starting the business and I think there's still so much uncertainty. Nobody really knows what Brexit is going to bring. Obviously, we want to ensure that it has as little impact on our business as possible. I suppose all the border communities feel the same. We don't want to go back to a hard border or anything like that. I think there's ways and means and we hope that the governments and the EU can find a solution along the way."
In Carlingford, beneath the shrouded silhouette of Slieve Foy, several local businessmen pursue their daily ritual of meeting in McKevitt's Village Hotel. Even against the backdrop of the Brexit decision and the subsequent devaluation of sterling, Brian McKevitt maintains: "Carlingford's tourism business has been better this year. We've probably had our best year ever that I'm in the business."
Discussing Carlingford's relationship with the North, and Newry in particular, he outlines: "I would have said that in the pre-1921 era, and even up to 1930 – my mother and father would have been educated in the North – we would have looked to Newry as our market town. But in the 1940s and 50s, the imposition of travel restrictions and stupid politics seemed to get in the way. After the war, our whole focus changed to Dundalk. Now, post-1998, it's fairly even again. There is a currency border, but at present there is no other border."
Turning to business, while not exercised in any great measure, McKevitt concedes: "In terms of suppliers, there will be an adjustment, but I don't know if it's an impactful adjustment. We do use some northern suppliers, but tend to shop locally if we can – it's easier from a VAT point of view. Though, some of the suppliers in Newry, if they know your VAT number, don't have to charge you VAT."
Bemoaning the uncertainty that Brexit has created for business, he concludes: "If the British Government and European Union cannot decide on the contingency plans that they should make, how are we to know.
At Flagstaff Point, high above Warrenpoint, Omeath and the natural border which divides them at the mouth of the Clanrye – the disputed waters of Carlingford Lough upon which a Royal Navy vessel once idled – the sun begins to burn through the mists nestled among treetops lining the slopes of the valley below. There, Pauline Mulligan, an Omeath shopkeeper unpacks her assessment of Brexit.
"Despite the fall in the exchange rate after the Brexit vote, we have just had a very busy summer – there are definitely a lot more tourists about this year than last year." When asked if a hard border would impact on her business: "Been there and done that." Proceeding to outline that she would not want a return to a hard border, the owner of the iconic Omeath gift shop will not lose sleep over the issue: "There is nothing we can do to change that if it happens."
The family-owned shop has changed little in its 65 years. "We've been through the best of times and the worst of times. During 'the Troubles', there was a permanent British Army checkpoint at the [Victoria] lock gates and you could spend two hours getting through it." In addition to the checkpoint, many of the minor roads were designated as 'unapproved', "though they couldn't close them all… Still, I wouldn't come over the Flagstaff Road on my own. The soldiers came out of a ditch one night and stopped us and kept us a long time until another car came along."
On a more positive note, the shopkeeper does see an opportunity: "If the border comes back, there would be the opportunity for duty free shops on the border."
County Armagh
Navigating the web of border roads between northernmost Louth and south Armagh, by Jonesborough, Forkhill, Silverbridge, and onwards to the village of Crossmaglen, vivid yellow protest signs warn drivers: "If there is a hard border, this road may be closed from March 2019". Once one of the most heavily militarised areas of western Europe, the British Army finally left the area in 2007 and, aside from a huge PSNI surveillance structure which continues to keep watch on local inhabitants from high above, the village has returned to the relatively relaxed rhythm of border life.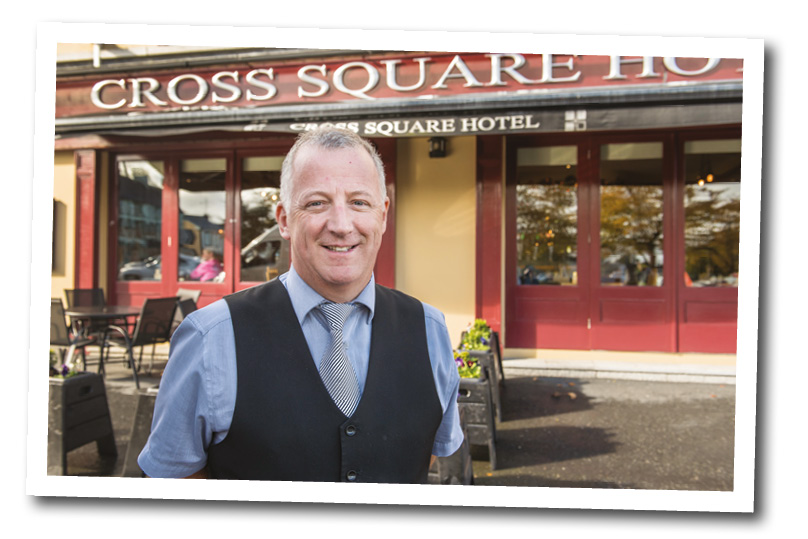 Gerard McMonagle
"What we would like to happen is that things remain the way they are. We don't want a hard border or a border of any sort, because we're on the very edge of it here, where we have four routes directly into Crossmaglen from Monaghan and Louth,"
As such, Gerard McMonagle, manager of the Cross Square Hotel outlines his opposition to any change which could disrupt what has become normality. "What we would like to happen is that things remain the way they are. We don't want a hard border or a border of any sort, because we're on the very edge of it here, where we have four routes directly into Crossmaglen from Monaghan and Louth," he says.
From a business perspective, McMonagle is striving to attract customers from both north and south. "This last 12 months we've had a lot of bus tours which will stop on their way from Dublin to Belfast for either an overnight stay, lunch or an evening meal. It would be very disheartening if we lost this business, because it's only now that Crossmaglen is starting to improve after years of conflict," he explains.
"Being so close to the border, we have six people living in the South who are employed here. Also, we have about 30 per cent of our food suppliers based in the South. That's an ongoing concern, that if something does happen in relation to a hard border, it will affect everyday trading."
From a social perspective, local people often venture to Newry, but they travel as regularly to Dundalk, Castleblayney or Monaghan town, especially for nightlife. Likewise, "A lot of people travel from the South to see where the Crossmaglen Rangers GAC come from and where it all started," he proudly notes.
Summarising his position, McMonagle states: "You drive from north to south without even knowing you've crossed the border and that's the way we would like it to stay. Nobody wants to go back to checkpoints or a hard border where you have to stop and be searched."
Up the street, along another length of Cardinal Ó Fiaich Square, the McNamee family have been craft bakers for the past 70 years. Today they employ 30 staff at a bakery in the village and across three shops: one in Crossmaglen itself, one in Carrickmacross, County Monaghan and one in Dundalk, County Louth. The company also has a wholesale business selling into both the UK and Republic of Ireland, as well as Europe and the US (where its craft breads are available in Irish shops in Boston, Chicago and Philadelphia).
Cathal Short
The current proprietor, Michael McNamee, likens the cross-border operation to the automotive industry in Britain, where parts are imported and the cars assembled and then exported. "A customer will come into our shop in Dundalk and order a birthday cake. That order will be taken by a girl who lives in the North but works in Dundalk. She will take a deposit in euros and fax the order back to here in the bakery in the North. My bakers come in during the night and will make the cake. We have four bakers. All foreign nationals – you can't get a baker in this country, but that's another story – two of them are Lithuanian and two are Croatian. Two live in Northern Ireland and the other two in the South. They will make the cake with ingredients from all over. Irish wheat flour, Northern Irish butter and milk, sugar from England, French flour, fats from Belgium etcetera. A lot of the ingredients are from Europe and some further afield, such as Canadian wheat. That cake will be picked up by our driver the following morning and he lives in the North and drives over the border to deliver the cake to the shop in Dundalk. The euros that the customer will use to pay for the cake will come back across the border to our head office here in Crossmaglen. We have bank accounts in both euro and sterling. We will make up a lodgement and these euros will go back across to our bank account in the south.
"Although that all sounds complicated, it is relatively straightforward and that happens every day and every night of the week; without borders, controls or tariffs.  If there are tariffs or restrictions to people's movements, that will ultimately generate a cost and that will be suffered by the business and ultimately the customer."
Later, local businessman and Border Communities Against Brexit (BCAB) advocate Cathal Short showcases the permeability of the border and in a journey of less than 20 minutes we traverse the border no less than a dozen times, including via a botharín not recognised by Sat Nav. Often, the only way for an outsider to determine transition between jurisdictions is by subtle changes in road surface. In many places, the crossings are unmarked by any defining feature at all. Similarly, dozens of farms and houses skirt the border, sometimes the dwelling itself firmly located on one side while the only means of access for a vehicle lies in the opposite jurisdiction.
"There's now a whole generation that grew up here without knowing what a border means or what checkpoints are; it's alien to these young people. If they start putting up customs posts or creating any type of delay, there's an impact upon people's lives.
"If the UK pursues new trade deals, which could bring in hormone-fed beef, chlorine-washed chicken and things like that, the EU will not allow anything which will contaminate their food-chain. How is this going to be policed? There will have to be a hard border. That means road closures," Short wearily submits.
The former Crossmaglen Rangers all-Ireland winner is unambiguously assertive about the BCAB campaign: "What we are campaigning for is special status for the North and the 1.8 million individuals living there, each and every one of which is entitled to an Irish passport, which in turn means EU citizenship. What protection will these 1.8 million citizens of the EU receive outside of the jurisdiction?
"We want the border to be moved into the Irish Sea and customs checks performed in ports and airports, leaving the island as it is within the EU single market and the customs union. With special status, people can also remain British if they so choose."
Lamenting the increasingly common interpretation that Brexit has turned into a green and orange issue, or an identity issue, Short questions: "How many people are employed in agri-food in the North, 100,000? People are sleepwalking into this. They don't appreciate the consequences of it."
"There's now a whole generation that grew up here without knowing what a border means or what checkpoints are; it's alien to these young people. If they start putting up customs posts or creating any type of delay, there's an impact upon people's lives."
County Monaghan
As cross-border as imaginable, the Carna Transport haulage firm is dually located in administration offices in Castleblayney, County Monaghan and a main site outside Keady, County Armagh. "The worst-case scenario is a hard border," says Director Bronagh Hughes.
Carna's Kevin Maguire concurs and notes: "From our point of view, it's a disaster waiting to happen for a lot of people. It has already affected us in that sterling has plummeted. We receive a lot of income in sterling and that means our profit has dropped. Further on down the line, there will be hold ups both in Dover and here, meaning that wages will rocket –  the drivers will still need to be paid. We'll be fighting a losing battle to cover costs and you can see customers refusing to accept that rate. It's frightening from a transport perspective."
Employing over 200 people from both sides of the border, Hughes emphasises the uncertainty of Brexit and suggests that many people are "burying their heads in the sand about it and thinking 'hopefully it won't happen'.
"I think the worst-case scenario is that customs stations go up along the border. You would expect them in Dover and the Channel ports in England, but we might be able to get around that by going direct out of Rosslare Europort and into France. We are shipping some stuff via that route at present, but there would have to be larger and more regular sailings," details Maguire.
"An extra half hour of delay could be the driver's spread completely finished and they won't be allowed to do that extra half hour; some of our delays are that tight that the driver is driving to their last minute to get to their destination," adds Hughes.
Maguire relates the negative impact the border had growing up in its shadow in nearby Cullaville and the positive changes which have occurred in the areas since the early 1990s. "It would drag us back to the dark ages," he argues. "It's not history that we want to repeat," agrees Hughes.
Parting, Maguire emphasises the resilience of border people in the face of decades of neglect: "We've always had to fight for everything we have here."
Each day, Niall McVeigh, a St Mary's College Belfast-trained teacher and Enniskillen native commutes from Fermanagh to fulfil his duties as principal of Castleblayney College.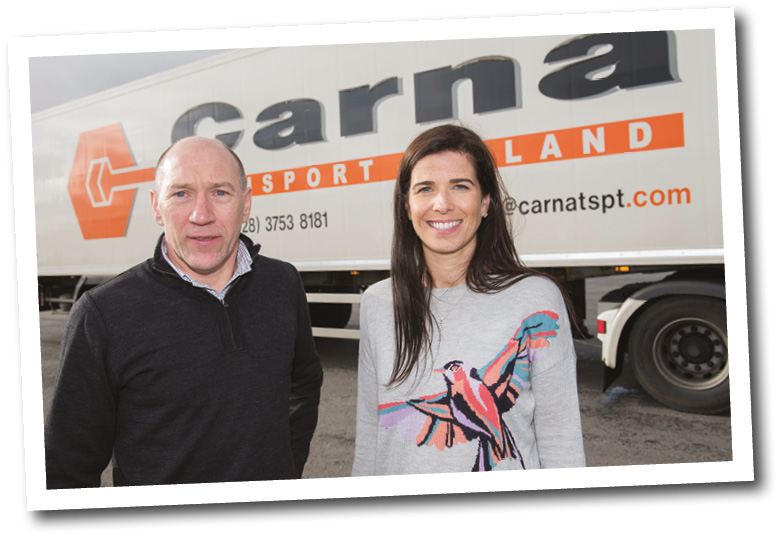 Kevin Maguire and Bronagh Hughes
"I think the worst-case scenario is that customs stations go up along the border. You would expect them in Dover and the Channel ports in England, but we might be able to get around that by going direct out of Rosslare Europort and into France. We are shipping some stuff via that route at present, but there would have to be larger and more regular sailings,"
"Although much has been made of the business and economic impact of a hard border, there is also an important social cohesion element. My family has always straddled both sides of the border with my grandfather's side of the family in Ederney [County Fermanagh] while my grandmother was from Ballyconnell [County Cavan]," he explains.
"When I was young, we lived in Pettigo [County Donegal] and went to school in the North. That was not uncommon as northern schools were better resourced back then. This is not the case now as schools in the South are well resourced, with state-of-the-art campuses like our own. Although there is not much cross border mobility for pupils at secondary school there are clear pathways for our pupils to study in the North at third level. The National Qualifications Framework has the broader strokes of measuring where the leaving cert is in relation to A Levels, but more work needs to be done to raise the awareness of this."
While McVeigh highlights two Fermanagh localities (Derrylin and Brollagh) in which children are travelling for more than an hour to the nearest school in the northern jurisdiction rather than attending a school much closer on the other side of the border, he acknowledges that cross-border commuting is more common for staff: "A number of staff at the school live in Crossmaglen and travel across the border daily to and from school". These represent a small portion of the 13,000-daily cross-border commuters and the educator knows of at least one other school principal in neighbouring Cavan who also lives in the North.
"There is a danger with a hard border that a mindset will develop in the South that the North has nothing to do with them; that would be unfortunate from a social cohesion perspective. Things are also now much more interconnected than when I was growing up and the big issue for us as teachers is to give those who we teach the skills for such an interconnected world. With the prospect of a hard border the outlook is in danger of becoming much more insular," McVeigh concludes.
"There is a danger with a hard border that a mindset will develop in the South that the North has nothing to do with them; that would be unfortunate from a social cohesion perspective."
In Monaghan town, a mere 15 minutes journey from Aughnacloy [County Tyrone], several export companies represent the lifeblood of the local border community. One of these is Combilift, a specialist forklift and straddle carrier manufacturer which has become a global leader in its field. Martin McVicar, co-founder of the business is forthright: "The Brexit vote in June 2016 was not the result that Combilift would have wished for. The reality, of course, is that we're in the situation that Brexit of some sort is going to happen now."
The UK market accounts for 25 per cent of Combilift's business so the outcome of Brexit is anticipated to have a significant consequence. "This creates a lot of uncertainty, not just for us as a business, but for our customers and consumers in the UK who are going to be more cautious about decisions to invest," asserts McVicar.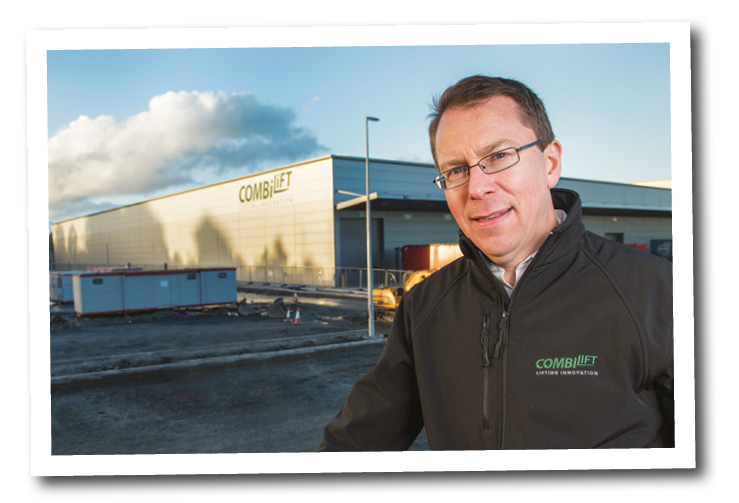 Martin McVicar
As a border employer, McVicar expresses concern for the 52-people employed by Combilift who traverse the boundary on a daily basis. "I know everyone is on the same page with regards to the free movement of people in Ireland, but is there going to be a difference with the free movement of employees and on top of that, where are these employees going to pay their taxes and their social security? There are a lot of unknowns there as well," he emphasises.
"It's very hard to put a contingency plan in place when you don't know what the final outcome is going to be. We're not adding to our supply base in the UK currently for that reason. We're diversifying and buying more of our raw material either in the Republic or mainland Europe to avoid the potential of having duties on these components.
"For Combilift, exporting to 75 countries around the world, we are trying to grow our business in all markets. The UK is number one and the US is number two and even without Brexit, our goal was to grow in the US and for it to become our number one market. At this stage, this has been accelerated. But much of our focus in the last year has been to grow our sales in mainland Europe where we don't have currency fluctuation and there's more consistency in the market. So, we have invested in putting additional sales people Europe, namely Germany and France."
Established 19 years ago, the company has recently invested in a green-field factory site costing in excess of €45 million, and while Brexit is a concern, Combilift is investing to grow.
Allocating around 7 per cent of turnover into research and development McVicar strongly believes that for companies to continue to grow and thrive in the UK market, they need to develop a more innovative product for which they can charge a higher price. "A higher premium helps to counteract currency fluctuation and tariffs, so I think more resources should be allocated to encourage companies to invest in R&D.
"There are R&D tax credits, but in my opinion, these are more geared towards larger companies that have a lot of administration. Smaller SMEs are not structured to claim tax credits efficiently. I don't see it as a way of inducing companies to pursue R&D."
Confident that there will always be a market for Combilift's innovative products to save our customers warehouse space, McVicar suggests: "We're on the doorstep of the UK and we'll be better catered to grab the opportunities in the UK. Providing that the economy there doesn't go into a downturn."
Just outside the hilly border town of Clones, past the home of the GAA's Ulster Final fixtures at St Tiernach's Park, itself only a 1.5 km from County Fermanagh, Eamon Fitzpatrick runs a fuel and hardware business. While half of Fitzpatrick's fuel yard is in the South, currently the only entrance to the site is via Lacky Road which is in the North. The yard is literally bisected down the middle by the border.
"The border is a big concern at the minute. Best-case scenario, I would be hoping that Theresa May will run her day and it'll be short enough. If that happens and there's a new government then maybe there'll be another referendum. Worst-case scenario is a hard border and if it's hard enough then business is doomed," declares Fitzpatrick.
Lamenting the conflicting media reports reflecting the opposing British and European standpoints, he notes: "My biggest concern here at the minute is that we're accessed via a northern road. I may have to take a road in from the south, which I can do, but at a big expense. To that end, is there going to be compensation for any convenience caused to businesses like my own or are we going to be out of pocket? No one can get any certainty about what is going to happen, how it's going to happen and in what timeframe it's going to happen.
"I have 20 employees working for me on my pay roll north and south. Are the governments prepared to let businesses like this close? I'd rather not be going down the road of talking about compensation and instead work away as it is, but everyone has a limited cash flow."
Outlining his ardent opposition to a hard border, Fitzpatrick rationalises: "My worry would be that if a hard border was implemented then there would be a potential for trouble and there are opportunists who are waiting to take advantage in order to make profit."
Following a round-the-world backpack trip in 2014, Colm Connolly and his girlfriend (now wife) returned to Ireland and, spotting a gap in the market for Irish beef protein snacks, subsequently established Rucksnacks. As such, the Connolly's now have a foot in two different businesses: one a beef farm and the other protein snack production. "When the referendum happened, we were obviously hoping for a 'no' vote and that it would happen. We were devastated when it did, because it brought so much uncertainty to both businesses," outlines Connolly.
Brexit has presented a significant headwind for the nascent snack venture. "Every time someone either from the UK Government or from the EU comes out with a statement, it doesn't clarify anything. So, we're not ignoring the UK market, including the North, but we're reluctant to pursue it. A secondary effect has been the fall-off in the exchange rate. We are now less competitive because of the higher costs in Ireland," he explains.
"We've put everything on hold. It's very difficult to mitigate so we're keeping any risks to a minimum. I'm exploring other markets beyond the UK with the aim of diversifying, because while the product is very popular in Ireland, it's better known overseas in places such as Germany."
Initially partnered up with the College of Agriculture, Food and Rural Enterprise's Loughry Campus in Cookstown, County Tyrone to develop the product, Rucksnacks worked on the technical side for over a year before launching. "We were always going to reach a stage where we would have to leave that programme. In early 2017, I made the decision to establish our own production. The decision to locate it was difficult. However, I thought about it and we moved production to Ballybay, County Monaghan. It's worked out well so far.
"We've put everything on hold. It's very difficult to mitigate so we're keeping any risks to a minimum"
"I'm dealing with suppliers in the North and the South – we're continuously crossing the border every day. I know the price at which they are delivering these goods, such as packaging material, to me, and I'm conscious that that relationship could end if costs become unworkable," Connolly warns.
Business aside, the Connolly's grandparents came from Roslea [Fermanagh] and: "I would have a lot of friends and relatives from across the border and my wife is from the North so to us there's no such thing as a border. There's a potential loss of connection to family or friends – if something happened that made travel more difficult then you're likely to be more reluctant to do it, that's the simple nature of these things," he concedes.
There are few scenarios which most eloquently reflect the challenges of border life than the relationship between clergy and their border-transgressing parishes which, for historical reasons, generally reflect towns and villages in their proximity. Take their accounts for example, the parish must operate bank accounts both north and south in order to pay bills and also process the collection monies. In such parishes, there is a long-standing quip made in relation to the necessity to obtain an elusive bi-currency coin-sorter.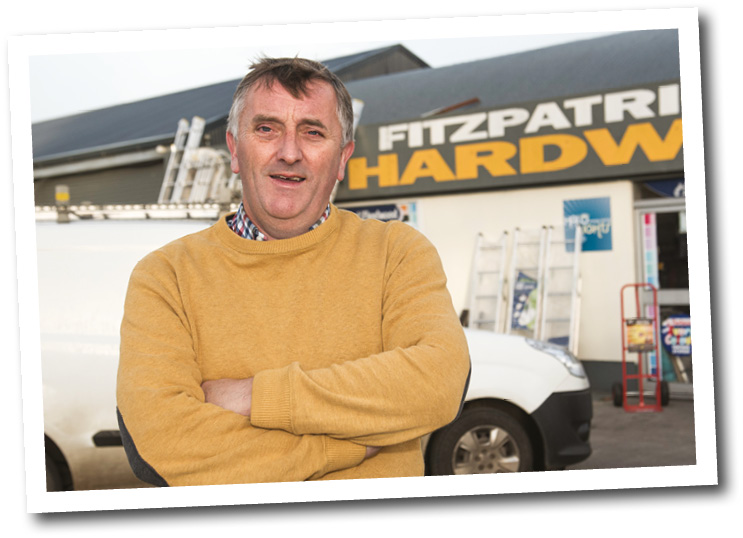 Eamon Fitzpatrick
The shifting demographics of the Catholic Church have dictated a new way of working for rural and border parishes, mainly in the form of clustering (usually three parishes will cluster and provide support and cover when necessary). During 'the Troubles' era, militarised checkpoints hindered movement between north and south, though as Father Dick Mohan of the Parish of Clones explains, people learned to be practical with regards to the border.
"Those in London and Belfast don't understand real border life; they believe a simple line can be drawn. It was the same when Ian Paisley talked about building a wall at the border. The reality is that there are houses, businesses and farmlands that straddle the border. Our way of life dictates that we regularly cross the border and while we don't want to see the return of any obstacles to that, harder border won't end that necessity to travel.
Colm Connolly
Fr Mohan highlights some of the practicalities of working in his cross-border community. The parish incorporates three chapels: Scared Heart (Clones) and St Alphonsus (Connons) are in the south, though the geography of Connons means that it is only accessible to via the north, and St Macartan's (Aghadrumsee), in the North. Travelling to either of the other two chapels from his base in Sacred Heart requires him to cross the border at least three times.
For Father John Chester, the parish priest of Roslea, which traverses the Fermanagh-Monaghan border, incorporating Magherarney and Smithboro, County Monaghan, there are both practical and symbolic concerns.
"A dividing border was 'normalised' during 'the Troubles'. People in border communities became used to it but those from further afield were petrified of it. 'Normalisation' wasn't a good thing, it compounded separation of the parishes. Any hardening of the border again carries with it a symbolism and a memory of a time that people here don't wish to return to.
"In my parish, I'm witness to depopulation, an ageing community, a brain-drain and commercial decay. Our community does not need further hindrance."
The Connons area has been the subject of global media interest since Article 50 was triggered. A cursory glance at the mapped border quickly flags up the precarious position of an anomalous loop of territory. The loop, formally referred to as 'the Drummully Polyp', is a section of County Monaghan virtually engulfed by County Fermanagh and can only be accessed by road via Northern Ireland. To navigate in any direction means to cross the border numerous times.
Comprehending what any hardening of the border would mean for local farmer John Connolly and his neighbours isn't that difficult. During 'the Troubles', most of the small byways around the area were blocked or cratered by the British Army meaning that travel to nearby Clones or Newtownbutler resulted in a 15-mile roundtrip and up to several hours clearing checkpoints.
"The practicalities of implementing border checks in this small area alone are difficult to fathom. The farming community will find it especially difficult, as will the wider community. Here we're not northern and southern farmers, we're neighbours and crossing the border is a way of life for business and socially. Those in London, Dublin and Brussels might not fully understand the implications of a hard border but I can't leave my land in any direction without crossing the border."
"I think there are several dimensions to fears over any hardening or change to the current border status"
Eileen McManus, a clerical officer in Monaghan County Council, lives less than 10 km away from Clones in Newtownbutler, County Fermanagh. She, like many others, commutes the border on a regular basis and has concerns around practicalities which she believes are being overlooked by Brexit decision-makers.
"I think there are several dimensions to fears over any hardening or change to the current border status. On one hand, there is a lot of concern around fears of isolation and separation. For instance, I live in Fermanagh but my work, social life and the social life of my children are in Clones. If there is any restriction on the freedom of movement then our way of life would be affected. Integration of our border communities has been advantageous for all and there is a risk of that work being undone.
"A further dimension is those niche challenges often not recognised by those not living in a border community. There are situations we've all learned to live with and services have adapted to meet needs." McManus highlights that despite living in the North she has a southern phone, as the network is stronger. Her children attend after-school activities in the South, but are educated in the North. And while her GP is in the North, the closest hospital is in Monaghan.
"A further dimension is those niche challenges often not recognised by those not living in a border community. There are situations we've all learned to live with and services have adapted to meet needs."
She adds: "I work in the South and I'm paid in euros, so my child benefit is collected from the South. The current rate is €425 a month, but in the North, that would be around £180-200. That's a significant difference to our family income and it's those types of concerns which are at the forefront of peoples' minds in border communities."
Former Mayor of Monaghan and long-standing councillor Pat Treanor, reinforces that any physical division or separation would be detrimental to cross-border communities and their way of life.
"We have spent so long improving movement and rebuilding the community that now it is disappointing, concerning and angering for people that the prospects of decisions being made in Brussels, London and Dublin are going to ignore what we have achieved and drive us back to where we were in the past."
Pointing to a joint position paper issued by the Irish Central Border Area Network (ICBAN), a long-established cross-border partnership dealing with interests of mutual concern for communities on both sides of the border and all-party inclusive, he says that there is broad agreement that no change to the current status quo should be advocated.
"The hard border was detrimental to this area and a lot of work has gone in to building it back up. However, this is still a disadvantaged area and as a result we want to encourage further EU investment to support local business and communities. This is why we can't see any change to the current status of the border," he concludes.
"The hard border was detrimental to this area and a lot of work has gone in to building it back up. However, this is still a disadvantaged area and as a result we want to encourage further EU investment to support local business and communities. This is why we can't see any change to the current status of the border,"
County Cavan
A chance encounter outside Swalinbar, County Cavan and scarcely a dozen metres into the North introduces us to Dessie McManus, a former publican in the village and erstwhile PRO of a local community organisation intent on reopening border roads closed by the British Army during 'the Troubles'. With a wry smile, McManus recounts the efforts of local people (commemorated by an adjacent monument to 'the border busters' at the formerly unapproved crossing) in this game of cat-and-mouse.
"We were involved here with local concerned farmers and business people trying to keep these roads open during the years of 'the Troubles'. There's talk now of roads going to be closed again, but I can't see that happening. I don't think the locals would allow it. They've gotten so used to this lifestyle now of freedom of movement and the border really doesn't exist for people around here.
"Most people would think there's a sort of economic unity that has been developed over the last 10 or 15 years, with cross-border trading for most businesses, especially in the agricultural sector. A lot of the agri-food produced in the six-counties is processed in the South. A hard border would just be unbelievable. People could not believe that we'd go back to that after more than 20 years. It would be totally unforeseen."
A single bridge offering passage across the Belcoo River, a waterway which simultaneously connects Lower and Upper Lough Macnean and separates the settlements of Belcoo [County Fermanagh] and Blacklion [County Cavan], represents one of the more distinguishable border crossings. However, to the local community, the bridge, rather than emphasising the border, is crucial to connecting the two areas over the 100-metre span of river. A quick observation provides a sense of the completeness of this integration. On the northern side, a local park hosts numerous southern registered cars, their owners taking advantage of the closest facility to walk their dogs. On the southern side, there's a similar mix of northern registered cars outside of homes. It's simply a way of life.
In McCann's Spar and Post Office in Belcoo, owner Eugene's father used to operate a similar service on the southern side. The absence of a duplicate service is in keeping with how the area operates: with an invisible border mentality. While undoubtedly residents are conscious of currency fluctuations when purchasing big-ticket items, for day-to-day activity, convenience often wins out and whether resident in the North or the south, McCann's is their local shop.
Having lived through 'the Troubles', Eugene is adamant that no one wants a return of a hard border and says the onus is on the British Government to follow through on their pledge to a soft border and cause no inconvenience.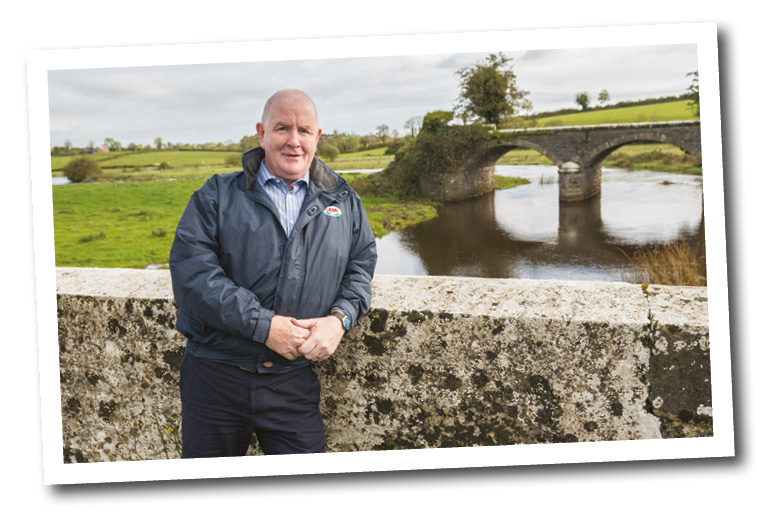 John Connolly, Connons
Any change to the freedom of movement of people would damage his levels of southern custom and any trade as a result of passing tourism. He also has concerns around tariffs and standards. Any change here could jeopardise his efforts to utilise local suppliers, However, like many, his main sentiment around Brexit is one of uncertainty. "It's impossible to know what the future holds because I don't believe the decisionmakers know. I don't want to see any change, nor am I preparing for change. To create a contingency plan without any direction is an impossible task."
Standing on the bridge, Lisbellaw's Fr Joe McVeigh, a leading figure within in the Border Communities Against Brexit campaign, outlines growing fears for the younger generation within border communities.
"Before the Brexit referendum we had reached a stage where the border was invisible and border communities were beginning to thrive again. I remember, and many others do too, the hard border and how harmful that was to local community and local parish, especially our young people. I want to see young people stay in Fermanagh and build their lives here but Brexit is causing an anxiety as to whether this can be the case. Inward investment in border communities will be non-existent if a border exists again."
County Donegal
Pettigo, County Donegal, bisected by the Termon River and bordering Fermanagh, holds the unique status of being 'the only village in Ireland which is directly divided by the border'. A legacy of the peace process is the recently opened Termon Complex, on the edge of the riverbank. The multi-million-euro part sports complex, entertainment venue, meeting place and general community hub has greater integration on a cross border cross community basis as its ethos and was funded by local councils both sides of the border as well as by EU money.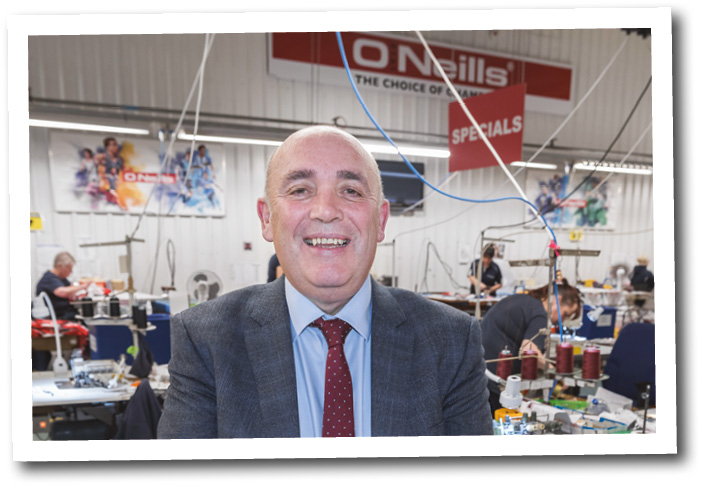 Kieran Kennedy
Membership of the gym facility alone in the complex exceeds the estimated population of Pettigo, highlighting the level of usage by those in the surrounding townlands further south and in the North. Natasha McGrath, Community Development Officer for ADOPT (The Association for the Development of Pettigo and Tullyhommon), says: "There can't be a hardening of the border, this area is crippled as it is. We've just begun to turn a corner in terms of building up the local facilities and the economy through greater collaboration. This area is heavily reliant on an open border and the free flow of goods and people. We've had a hard border before and some of us remember it all too well. We've worked hard to mitigate the damage that came with a hard border and we need decision-makers to look at the real effects anything other than an invisible border would have on this area."
Offering an alternative perspective is Ken Funston, who acts as Advocacy Service Manager of the 1,000-strong South-East Fermanagh Foundation victim's group, which incorporates members from both north and south as well as Britain and Europe. On Brexit, Funston asserts: "The reality is, as a victim's group on the border, I can't see it impacting us in any way. Is it a particular pressing point within our minds? I would say not. There are more serious things to consider including truth, justice and their well-being. The issue of the border and Brexit is there, but personally I don't think it really worries people that much.
"I think a lot of the scaremongering is coming from the EU-side rather than the British-side. The reality is that I don't think the EU Chief Negotiator [Michel Barnier] really has an understanding of the border here or the number of crossing points there are. There will never be a closed border between Northern Ireland and the Republic; it's impossible."
In 1984, Funston's older brother (a former member of the UDR) was shot dead by the IRA on the family's farm in the townland of Lowery near Pettigo. He, himself a former British soldier and RUC officer, describes how his family were originally "all Donegal people who moved to the North in the late 50s, before I was born, to get a better farm and also because my father thought that the education would be better".
As the conflict worsened, especially in the early 1970s, "it got to the stage where you started to become wary about going into the South and then it started to divide the people. I was recognised in the village as a northern Protestant and relations started to change and cool towards me in the mid-70s and it got to the stage where I stopped going across the border. That's the reality. It didn't feel safe anymore," he explains.
"The reality is that you should be able to go freely into Donegal town and socialise there just the same because it's a local hinterland, but during the 70s, 80s and 90s, very few people from this side of the border would have travelled to socialise in the South. It has thawed slightly, but in the bad old days, wouldn't have socialised around the border towns; if they did it might have caused them problems."
Today, Funston is unconcerned with the status quo and observes: "The border, in theory, doesn't exist at the moment. There's nothing other than a sign saying either 'welcome to Fermanagh' or 'welcome to Donegal', if even. The border cannot be sealed. That's the reality of it."
However, he has no regrets about his decision to vote to leave the EU, rather he is more certain than ever that he made the right choice. "The main reason for me personally is EU decadence. For instance, the Commissioner for Agriculture is an unelected, failed politician from the South who earns more than the Taoiseach and the Prime Minister put together." In short, Funston resolves, it will enable Britain to "take back control of our waters, our own finances and legislation and honestly, I could go on all day with my views on it".
"The reality is that you should be able to go freely into Donegal town and socialise there just the same because it's a local hinterland, but during the 70s, 80s and 90s, very few people from this side of the border would have travelled to socialise in the South. It has thawed slightly, but in the bad old days, wouldn't have socialised around the border towns; if they did it might have caused them problems."
County Tyrone
Strabane, the second largest town in Tyrone, sits on the east bank of the River Foyle across from Lifford, the county town of Donegal. Headquartered in the town is O'Neills Irish International Sports, the largest sportswear manufacturing company in Ireland. Managing Director Kieran Kennedy voices three major concerns in relation to Brexit.
"The first is the free movement of people – almost 50 per cent of the 580 members of staff employed here in Strabane are from Donegal and cross the border on a daily basis. So, anything that would affect their freedom of movement would be a major concern.
"Our second concern relates to delays on the border in trying to get our goods across. Due to the complexity of our supply chain, our garments and the components to make them could cross the border maybe eight times through the manufacturing process. We are a vertical, integrated company so we undertake the majority of processes in-house.
"We buy in yarn either from the Far East or Europe. It then comes in through the Port of Dublin, crosses the border at Aughnacloy and is delivered to Strabane. When the yarn arrives, it is knitted into raw fabric and then crosses the border to our dye plant in Dublin. Following the dyeing and finishing process, the finished fabric is then sent back to Strabane where the fabric is either cut and sewed into garments or cut, printed and made into garments. About 50 per cent of the garments we produce are printed and about 50 per cent of the printed garments are sent back to Dublin to be produced. Once produced in Dublin, the garments then come back north where they are warehoused and will maybe cross the border again for distribution.
"The third issue that we have concerns with relates to tariffs and duties. If our products are crossing the border up to eight times and if there were tariffs and duties applied each time they crossed it would be a major headache for us. A further problem we have is the uncertainty and trying to make plans and attempting to formulate strategy for the next few years; if the British Government doesn't know, then what chance have we got? The unknown factor is a major concern."
While Kennedy concedes that it is extremely difficult to mitigate for changes that are impossible to predict, O'Neills do have ideas and have actively considered the option of moving warehousing and distribution to Lifford. "At the minute, the talk is all about a no deal. Maybe they will do special status for Northern Ireland; we hope that's the case. Best case scenario we will remain within the customs union, there will be no border, no restriction to the freedom of movement and no Brexit. That's what we hope for," he suggests.
Across the town, with a catchment area spanning both sides of the border, Michael Devlin editor of the Strabane Chronicle highlights that Brexit has been a constant of peoples' discussions since the referendum result was revealed. The paper, based in the North is sold and carries adverts for southern clients, while some of their staff make the short daily commute.
Aside from the daily cross-border transactions that are currently taken for granted, Devlin outlines the potential detriment to strategic investments currently in the pipeline. EU funding has been a major player in plans to revitalise Strabane and the surrounding areas. One major project in particular, the Riverine Project, is awaiting Peace IV funding allocation to kick-start the multi-million pound plans to revitalise physical links between Strabane and Lifford.
The project is seen as a catalyst and it is believed further expansion plans such as the Three Rivers project, a vision to transform land between Lifford and Strabane with a hotel complex, a wildlife centre, an employment park, a learning campus and a sports centre.
Devlin says: "There are some doubts about that funding. While the outlook is still largely positive that it will be realised, it's obvious to see why there might be some hesitation in investing in a project that links the two towns when the shape of the future border is uncertain.
"The current uncertainty and the eventual outcome will ultimately have an impact on investment decisions for this area going forward. Strabane and the surrounding towns have long been in need of investment and it's difficult to see anyone advocating a position that might jeopardise that."
Conclusions
'Voices from the Border' does not masquerade as a comprehensive study of border life, rather it seeks to reflect the opinions of local people at this particular moment in time, within the context of a decision taken by the British electorate following what essentially boils down to an internal Tory party wrangling.
Our journey uncovered several interwoven themes prevalent among interviewees across the 500-km boundary. Ranging from explicit and outright opposition to a passive preference for the status-quo, pro-Brexit sentiment was anomalous. Currently, there is a genuine and deep-seated fear that the British decision to exit the EU will cause significant disruption already fragile nature of border life.
While the resilience of people in the border region is undisputed, much anxiety flows from the most commonly encountered phrase of the project: uncertainty. The fog of Brexit has descended, and poses a significant obstacle to any attempt at implementing a mitigation strategy. 'Business dislikes uncertainty' and by its nature, border business dislikes Brexit.
It has become increasingly apparent that the concerns associated with the border on the island of Ireland were, at best, neglected or, at worst, wilfully ignored by decision-makers in London. As things stand, there has not been enough progress on the issue from an Irish or a wider European perspective.
'Things fall apart; the centre cannot hold'.