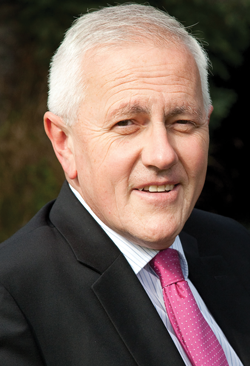 Pierre Eymery, Managing Director of Veolia Water Ireland, considers the challenges and implications of Irish Water for the water industry in Ireland.
The Irish water industry is at a crossroads. The recent report by PwC for the Department of the Environment has recommended that a public utility – Irish Water – be established with statutory responsibility for all aspects of water service delivery in Ireland. Irish Water will take control of the assets currently owned by the local authorities and assume operational responsibility for their operation. The mission of Irish Water will be to provide an integrated approach to the provision of water services across the country and generate the funding required through a universal domestic water metering program.  The resultant revenue will be used to fund capital and operational expenditure for water services while meeting ever increasing compliance requirements.
Veolia Water welcomes this decision which, if executed properly, will facilitate the provision of national infrastructure, essential for attracting foreign investment, and provide citizens with better water services.
There are significant legislative, administrative and operational hurdles to be cleared during this time including asset transfers, organisational design of the new utility and implementation of a metering and billing programme.
Despite significant investment in water services in the last decade there is still massive capital investment required in water infrastructure. The EU Water Framework Directive, which has been transposed into Irish law, sets challenging targets for the water industry and the cost of compliance is likely to run to several billion euro between now and 2027.
We believe strongly that the new utility will need to take advantage of expertise and knowledge from the private sector especially companies with international experience. Private operators have played a key role in the improvement of the Irish water services offering in the last decade, as demonstrated by the value for money report by the Department of the Environment in relation to the Water Service Investment Programme (2007- 2009). The Design Business Operate model should still be used and even expanded to permit private financing to facilitate greater infrastructural investment in the water industry. Private operators could bring further value if they were offered the possibility to bid for the operation of existing water and waste water plants. Moreover, expanding the scope of outsourcing to water networks and sewers would bring further savings and efficiency gains.
The core expertise in the design, construction and operation of treatment works is concentrated in a number of private contractors, operators and consulting engineers whose technologies and experience will be fundamental to carrying out the sustainable management of our water resources in the future.  It is essential that this sector remains in good health through continuing investment in the industry during the transition period to a fully functioning Irish Water.  This will be a challenge in a period where key personnel, responsibilities and funding sources are not fully defined.
Veolia Water has a long and successful track record of offering Design Build Operate and finance services internationally, working as partners with public utilities to provide compliant water services and to deliver economic and operational efficiencies. The majority of our existing contracts in Ireland have 15 or more years to run and Veolia Water will be present to continue to work effectively with its clients and Irish Water to deliver these services.
As a key player in the Irish market in the last decade, we can offer our global experience, expertise and technologies to continue to be a market leader in the Irish water industry.

Veolia Water Ireland
IDA Industrial & Business Park
Purcellsinch, Killkenny
Email: pierre.eymery@veoliawater.ie
www.veoliawater.ie