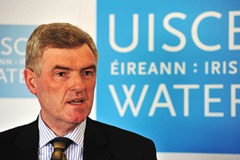 Irish Water Managing Director John Tierney talks to eolas magazine about safeguarding Irish water infrastructure and investing in its future.
Every city, town, and village in Ireland has a story that begins with water. With every improvement in water services came an improvement in the health and prosperity of the people. Water has shaped our landscape, dictated where we live, protected our health and fuelled our economic development.
Safeguarding our water supply has been a key to our success in the past and will be key to our success in the future. Through the local authority system, water services have constantly evolved to meet the needs of the people of Ireland. The formation of Irish Water is yet another transformative step in how water services are provided.
However, there has been a significant decline in investment in water services. Capital investment fell by 50 per cent from peak to 2011 and based on Exchequer provisions, would fall by a further 30 per cent from 2011 to 2014 if no action was taken.
This reduction in investment, paired with the predicted increase in population (a potential 14 per cent rise in population in 15 years according to the CSO) and the effects of climate change, means that action needs to be taken. The starting point for Irish Water is not to fix something that is broken but rather to build on what has gone before to safeguard our water services.
The values of Irish Water are:
• Responsibility;
• Expertise;
• Efficiency; and
• Integrity.
Having worked in the Local Authority sector for almost 36 years, these are values that I recognise very well. They are the very values that have kept the water flowing for over 130 years in fair and foul weather, in times of economic boom and bust.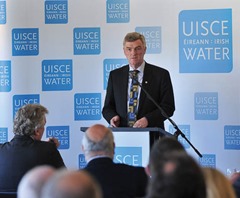 Central to building Irish Water is the role that 34 Local Authorities will play. By ensuring that the expertise from Local Authorities is central to Irish Water's delivery of service, Irish Water will emerge and with it a new industry will be developed that we will all be part of.
Building Irish Water will take people of talent, expertise and experience. I can say with certainty that these are qualities that Irish Water will have in abundance through the partnerships we will establish with Local Authorities.
Irish Water must bring the people of Ireland on a journey from being citizens who are in many cases unaware of their water consumption, to understanding that they are consumers of a resource, to accepting that we must all pay directly for this resource. Changing perceptions about our water resource among the general public is going to be a big challenge for us – and we won't do it overnight.
We have to change how people think and act in relation to water. We have to instil a sense of ownership and pride in this national resource. We have to develop an understanding of how water is produced and transported, how we treat waste water and, above all, we have to gain acceptance for the re-introduction of charges.
Regulation
First and foremost, Irish Water is a regulated utility that will ultimately become a self-funding entity to lift the burden of funding water services from the Exchequer. This means that we must attract two revenue streams – one from customers (through domestic and non-domestic billing) and another through investors in our capital programme.
To get to where we want to be, we need to demonstrate that we are managing our business in an efficient and focused manner; that we are making the assets work for us; and that our investment plans are sound.
Managing the assets and investing in the system is another key building block of Irish Water. The benefit of having a national utility is that Irish Water can take a national perspective when it comes to development and investment. The first thing we need to determine in putting any investment plan together is an understanding of the current state of the assets and how are they operated.
We must carefully consider all of the competing priorities that will exert influence on the decision-making process around capital investment, namely:
1. The need for compliance;
2. The need to manage assets and mitigate risk; and
3. Future development potential.
It would not be prudent to invest our entire capital budget in the early years meeting just one of these objectives. The key, we believe, is balance and that is what we hope to achieve with the support and input from all stakeholders.

The future of Irish Water
We value water as a precious natural resource on which the quality of life depends. Through responsible stewardship, efficient management and strong partnerships, Ireland has a world-class water infrastructure that ensures secure and sustainable water services, essential for our health, our communities, the economy and the environment.