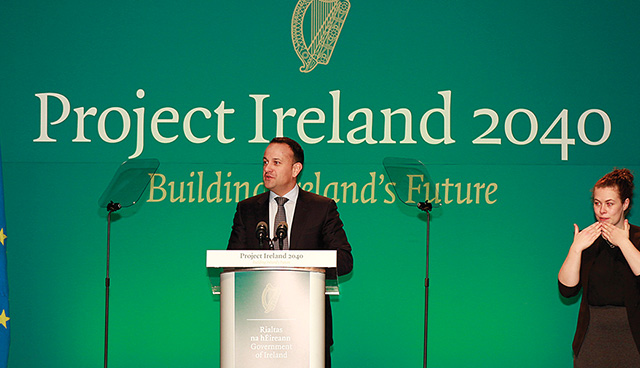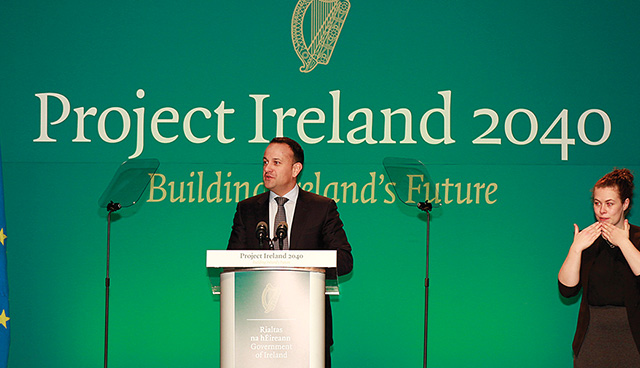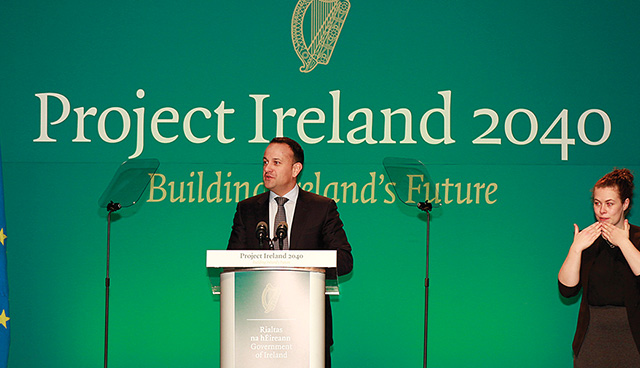 After three years of development, the National Development Plan and the National Planning Framework were published together as a disruptive shift from the planning status quo. Together the two documents constitute Project Ireland 2040. Amid much Strategic Communications Unit choreography, eolas attended the launch at IT Sligo.

The NPF, we are told, does not "provide every detail for every part of the country". Instead, it is a 'framework' intended to guide development and investment through a shared set of national objectives and principles. It is then left to the three regional planning bodies and the 31 city and county councils to take a lead in refining these into more detailed plans.
The alignment of these strategic planning documents with a capital investment plan, the National Development Plan, is regarded as "a radical break with the past".
Repeatedly described as a 'flexible' document to guide public and private investment, the NPF "sets in train a process by which more detailed planning documents must follow: spatial planning, infrastructure planning, social and economic planning". The stated ambition being to establish a common vision under 10 National Strategic Outcomes (NSO).
The Government intends to turn the Ireland 2040 ambitions into a reality through:
• the development of a region-focused strategy to manage growth;
• the integration of the 10-year National Development Plan;
• the strategic use of State-owned land;
• an increase in environmentally-focused planning at a local level; and
• codifying the framework in law through an independent Office of the Planning Regulator.
In terms of planning, Ireland is divided into three regions: the Northern and Western; the Southern; and the Eastern and Midland Regional Assembly areas.
Within these, there are five cities which contain populations of more than 50,000; Dublin, Cork, Limerick, Galway and Waterford. The Government aims to target these cities for 50 per cent of Ireland's growth up to 2040, with towns, villages and rural areas encompassing the remaining 50 per cent. The NPF's ambition of ensuring that the four secondary cities can successfully compete with Dublin and become regional economic engines, is an urban one, firmly focused on attracting FDI.
However, emphasis on the five cities provoked concerns that other areas were being neglected in the draft Ireland 2040 plan. As such, Sligo and Athlone are identified as regional centres for the Northern and Western and Midlands regions respectively. Similarly, following criticism of the dearth of cross-border plans in the draft, the links between Letterkenny and Derry in the North West and Drogheda, Dundalk and Newry are also recognised for their regional importance.
Acknowledging past mistakes, which have "allowed the country to sprawl and develop without a coherent plan", the central tenet of the NPF is rebalancing growth in the State away from its current Dublin-centrism. On disproportionate growth in the Eastern and Midland region, the NPF document states: "We cannot let this go unchecked and so our aim is to see a roughly 50:50 distribution of growth between [that region], and the Southern and Northern and Western Regions, with 75 per cent of growth to be outside of Dublin and its suburbs".
While acknowledging that Dublin is at the apex of national growth, is suggested that further potential can be unlocked through the proportional development of the rest of the country. This would also ease the increasingly unsustainable pressures placed upon Dublin's existing infrastructure.
A total of €3 billion allocated to a competitive Regeneration and Development Fund to support this objective. Regional and local authorities, as well as other agencies, will be able to bid to leverage investment. €2 billion of the fund will be allocated towards urban regeneration and the remaining €1 billion towards rural regeneration, ensuring that smaller towns and villages will not compete with the cities for funding. However, all towns with a population over 10,000 people will be placed in the 'urban' bracket.
Alongside the objective of balance is concentrated growth. In an effort to stem urban sprawl, the Government targets the delivery of two-fifths of new housing within infill and brownfield sites within cities, towns and villages. The State, through its various bodies retains landbanks in these urban environments. The NPF indicates that a new national Regeneration and Development Agency, with compulsory purchase powers, will be established to work alongside local authorities in utilising this land. Outside of the cities, this means capping the prevalence of 'bungalow blight' by reducing one-off dwellings. Councils will be encouraged to concentrate development in rural towns and villages, unless there is a proven "social and economic need".
A potential for significant EU fines also requires the Government to address the fact that Ireland has a higher-than-average carbon-intensity per capita. In supporting efforts to transition to a low carbon and environmentally sustainable economy, the NPF outlines an ambition to harness "our country's prodigious renewable energy potential", strategic planning of the cities through Metropolitan Area Strategic Plans and the introduction of a new planning process manage marine areas and land-sea interfaces.
In accordance with the NPF, the three regional assemblies will prepare their own Regional, Spatial and Economic strategies by 2019. County and city development plans will then correspond with these to ensure that a shared vision is applied locally. Implementation will be scrutinised by a new Office of the Planning Regulator (OPR), created under legislation underpinning the NPF.
Any failure to prepare for the indicated growth of an additional one million citizens is regarded by the Government as a failure "in our responsibility to future generations of Irish men and women, that responsibility is to ensure their prosperity and happiness in an ever-changing world".
If a regional rebalancing does not occur, the ESRI projects:
• continued urban sprawl, mostly outside of cities and larger towns;
• stagnation of inner city and older suburban areas;
• cities outside of Dublin growing at an ineffective pace;
• continued population shift to the east coast;
• greenfield development which is detrimental to the environment;
• longer commuting distances;
• social disadvantaged perpetuated by geography;
• further rural decline; and
• a haphazard approach to planning for infrastructure and climate change.
Overall, the strands of the NPF as a strategy must be implemented symbiotically. This means effectively managing growth in Dublin as the nation's capital in a way which is proportionate to the three regions and four other cities. Simultaneously, Ireland's rural fabric must not be neglected and any growth that does occur must be channelled into existing footprints as far as is realistically possible.
The 10 National Strategic Outcomes
1. Compact growth: careful management of existing public landbanks and brownfield sites to create attractive places for people to live and work while preventing sprawl.
2. Enhanced regional accessibility: ensuring that all urban areas have a high-quality accessibility to Dublin and their respective regions.
3. Strengthened rural economies and communities: sustaining a crucial economic driver – and a key component of Ireland's identity –  through improved connectivity, access to broadband and economic opportunity.
4. Sustainable mobility: ensuring that cities and towns enjoy quieter and environmentally sustainable public transport fleets by moving away from carbon intensive propulsion.
5. An economy supported by enterprise, innovation and skills: building regional economic engines and diversifying local economies to enhance the ability of places to attract talent and facilitate enterprise and innovation.
6. High-quality international connectivity: investment in ports and airports to mitigate the challenges of Brexit and enhance national competitiveness.
7. Enhanced amenity and heritage: investment in public spaces and amenities and integration with natural heritage to offer a high quality of life and enhance a sense of place.
8. Transition to a low-carbon and climate resilient society: development of new energy systems and transition grids to harness a considerable renewable generation potential and move towards an environmentally sustainable economy by 2050.
9. Sustainable waste, water and resource management: conserving and enhancing the quality of Ireland's natural resources which are critical to future national economic wellbeing.
10. Access to quality childcare, education and healthcare: providing a range of quality services within a community to ensure stability, quality of life and enhanced competitiveness.