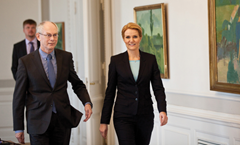 Denmark is presiding over the Council of the European Union, at a critical time for the euro, although it is not itself a member. The country sees itself as an honest broker amid the crisis, and wants to make Europe more responsible, more dynamic, greener and safer.
Responsibility essentially means financial discipline. Denmark has kept a prudent budget and, on its watch, the first European semester (a review of national budgeting) will be completed. It is seeking progress on the Basel 3 standards for banking reform on negotiations on the EU's 2014-2020 budget (the Multiannual Financial Framework).
The 'more dynamic Europe' is based around a stronger single market, especially in the digital sector. Key priorities include lowering roaming prices and removing regulatory barriers in e-commerce, public procurement, and the re-use of public sector data.
On environmental policy, the Danes want to 'green' agriculture, fisheries and transport, although opposition is certain. They are keen to make progress after the failed Copenhagen conference and are seeking more funding for EU R&D and energy programmes. Former Danish Climate and Energy Minister Connie Hedegaard is now the European Climate Action Commissioner.
Lastly, a safer Europe would involve a framework for investigating cross-border crime, improving the Schengen system's efficiency and helping to finalise the Common European Asylum System.
Denmark wants the EU to "speak with one voice" in international negotiations but yet steers clear of closer integration. Its four opt-outs (monetary policy, defence, justice and home affairs) are based on referendums in 1992, 1993 and 2000. The Danish krone is, though, pegged to the euro through the Exchange Rate Mechanism.
Its first female Prime Minister, Helle Thorning-Schmidt, took office in October and heads a three-party minority government of socialist and liberal parties. She has strong European credentials, as a former MEP, supporter of euro membership and wife of Stephen Kinnock, son of Neil.
However, Thorning-Schmidt is weakened by her parliamentary numbers at home and an apparent shortage of allies abroad. Just five of the 27 heads of government are socialists, and she was dismissed as an outsider by Nicolas Sarkozy at the December European Council.
That is the paradox. A presidency brings the prestige of hosting high profile conferences and raises a country's profile in official circles. However, most Council meetings still take place in Brussels. The most important decisions are always taken by the separate European Council (a summit of heads of government), chaired by its own President, Herman Van Rompuy.
Denmark will be succeeded by Cyprus on 1 July and the Irish presidency takes office on 1 January 2013.