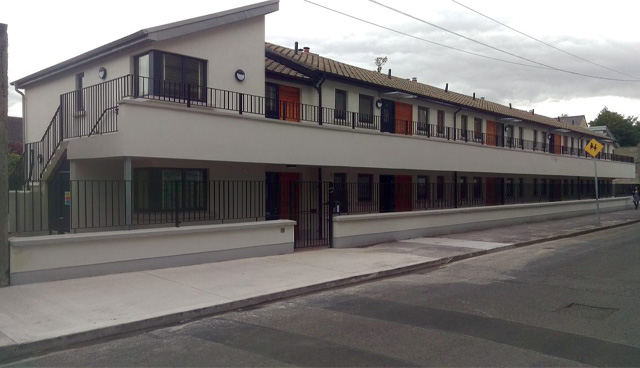 The clock is ticking on climate change. Countries across the world have felt its effects and, for Ireland, that impact has often been devastating, from severe flooding to life-threatening storms, writes John O'Connor, Chief Executive of The Housing Agency.
The threat of rising temperatures and even more devastating weather events in the coming years present a huge challenge to which the world must rise. Ireland has a responsibility to play its part, and indeed, as a relatively prosperous nation, we can take on a leading role in this climate revolution.
Launched last year, Ireland's Climate Action Plan states that our carbon emissions need to fall by 24 per cent by 2030 from 1990 levels. The plan intends to further cut these emissions by 80 per cent by 2050, with the aim of becoming carbon neutral.
A key role of The Housing Agency is to act as a centre of knowledge and expertise on housing. To do this, it is important we look to the future, and foresee challenges that may arise in our goal of striving for appropriate, sustainable housing that meets the needs of all. Addressing the challenge of climate change must be central to future decisions on how we plan and design where we live.
The focus to date has been on reducing the energy use of new buildings through, for example, increasing insulation standards and providing energy efficient boilers. The recently introduced Near Zero Energy Buildings standard refers to buildings with a very high energy performance that require 'nearly zero' energy to heat and power.
As well as addressing the energy performance of new buildings, many more measures are critical in addressing climate change. These include:
retrofitting our existing housing stock;

reducing the impact of the embodied carbon used in construction; and

ensuring we create good places for people to live in sustainable locations, close to public transport, schools, shops, recreational facilities and, ideally, workplaces.
Retrofitting our existing housing stock
The Climate Action Plan proposes banning the installation of oil-fired boilers from 2022 and gas boilers from 2025.
It has also set an ambitious target of retrofitting 500,000 existing homes and improving their performance so they have a Building Energy Rating (BER) of B2.
The Climate Action Plan has committed to design a new delivery model for retrofitting, based on grouping large numbers of houses together to achieve economies of scale. The coordination and cooperation of local authorities, approved housing bodies and other important stakeholders will be crucial to achieving these goals.
Reducing embodied carbon
As much as 40 per cent of energy consumed goes directly or indirectly to operating buildings and this increases to 50 per cent when you add embodied carbon – the energy and emissions from materials and construction.
Measures such as the Home Performance Index, an Irish Green Building Council initiative which aims to provide a label for quality sustainable residential development, examines homes under a broad range of performance indicators, including environmental, economic, health and wellbeing, quality assurance and sustainable location.
Recommended actions to reduce embodied carbon in housing
Ensure that the upgrade/adaption of existing buildings, such as vacant homes, is favoured as a more carbon efficient alternative to new build, whenever there is a viable choice.

Limit use of carbon-intensive materials (such as plastics and foam insulation) and choose lower carbon alternatives.

Where possible, re-use and recycle materials and use materials with high recycled content.

Maximise structural efficiency and avoid complicated structures.

Minimise waste through, for example, using modular construction.

Adopt Universal Design principles to enable homes to be adapted as needs change.

Move towards third party certification of sustainable quality standards (such as the Irish Green Building Council's Home Performance Index).
Sustainable placemaking
Key to sustainable housing and communities is the issue of density and compact growth.
In 2017 transport accounted for almost one-fifth (19.8 per cent) of Ireland's greenhouse gas emissions. Long commutes are having a major impact on our country's carbon footprint. While moves to electric vehicles are welcome, reducing our reliance on private cars by locating homes close to public transport and essential amenities will improve quality of life while contributing to a sustainable future.
High-density, sustainable homes, coupled with the facilities and infrastructure residents require in their daily lives, can lead to the regeneration of existing towns and cities to places with a better, more climate-friendly quality of life.
Approach to sustainable placemaking
Provide homes to meet the actual household size of households. In reality, this means providing more homes for one- and two-person households.

Consult with the local community from the outset.

Provide homes at sustainable densities (a minimum 34 per hectare), appropriate to the location.

Prioritise developments within close, safe walking distance of public transport, shops schools and other services.

Provide good walking and cycling infrastructure.

Seek to enhance the biodiversity and quality of open public spaces and green areas.

Create a sense of place with well-defined streets and community spaces.

Ensure places can be enjoyed by all – the young, families, older people and those with special needs.
The long term — climate resilience
Any future measures to offset climate change must also acknowledge the need to adapt to the anticipated impact of future weather events, particularly for those homes along our coasts that could potentially be at risk from extreme flooding.
Clearly, such climate risk must be taken into account when future planning decisions are made. Current and future home builds must be climate-resilient, and their location and method of construction will be crucial to determining this.
If acted on decisively, this, and the above measures such as building homes in the right places, reducing embodied carbon and enhancing biodiversity where possible, can help us achieve thriving sustainable communities for years to come.
John O'Connor is Chief Executive of The Housing Agency, whose role is to promote the supply of housing to meet current and future housing needs and demand. It does this by building expertise and expert knowledge on housing, supporting housing policy development and implementing effective housing programmes in collaboration with others.
T: 01 656 4100
E: info@housingagency.ie
W: www.housingagency.ie