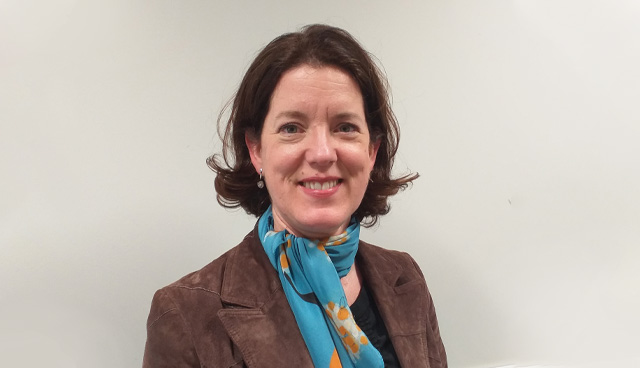 Transport infrastructure and services are central to facilitate mobility and accessibility for all citizens in Ireland and to underpin and encourage social and economic activity. Transport intersects with many other sectors of our society and economy and plays an important role in supporting the fabric and well-being of our communities and our environment, writes Rachel Cahill, Head of Financial Management and Sustainable Mobility Lead for TII.
The industry is in the midst of a period of great change and it is evolving at an unprecedented pace, with many agencies struggling to fully understand the emerging trends which are disrupting the sector such as the digital revolution, the sharing economy, automation, artificial intelligence, the Internet of Things, big data and analytics as well as significant social, demographic and cultural changes.
Additionally, a lot has been written about the climate crises and the ecological crises and transport and mobility leaders and decision makers are waking up to the role they play – both as a contributor to these crises (e.g. in terms of pollution) and as a facilitator and force for positive change.
For instance, much of the debate within the industry is now questioning how sustainable is the current transport industry and what needs to change going forward to create a much more sustainable sector?
There are also a host of changes rippling through the sector today as transport operators and service providers leverage new technologies and create new business models and new partnerships. In many ways this makes the transport and mobility industry a very exciting place to work today. It can also lead to confusion and inaction however, as decision makers try to decipher the hype from the reality which can make it challenging to develop and deploy longer term strategies and plans which will make a real impact.
Within the context of sustainability and sustainable transport, which has many layers, the need to tackle climate change is arguably the most urgent issue and this is why the Government set out their vision within the 2017 National Mitigation Plan to migrate to a low carbon society. In this regard it is clear that the transport sector, which is responsible for emitting approximately 20 per cent of greenhouse gases and is the second largest emitting sector (after agriculture) in Ireland, has to make significant improvements if it is to contribute towards delivering on national emission targets.
At an international level, there is increasing pressure on all organisations to implement plans to meet the commitments of the United Nations 2030 Agenda for Sustainable Development and to implement the Sustainable Development Goals (SDGs). These much-publicised Global Goals represent a globally accepted perspective on "what better looks like" and provide direction for everybody. This translates to governments developing plans and mandating public and private sectors to face up to sustainability issues and embed sustainability principles into core business activities.
In Ireland the Government's 2019 Climate Action Plan calls for every public body to adopt a mandate for climate action and for "every network which supports our lives – energy, transport, telecommunication, public service, waste management" to adapt rapidly.
According to the International Transport Forum (ITF) "climate change cannot be stopped without decarbonising transport" as it is one of the main sectors responsible for climate change. However, for a myriad of reasons and in contrast with other sectors, it has not yet succeeded in significantly reducing its carbon intensity.
Internationally, organisations like the World Bank and the ITF have highlighted that transport emissions have grown faster than those of any other sector over the past 50 years and are projected to grow massively as transport demand grows unless we can tackle this challenge.
This means, in simple terms that without efforts to decarbonise transport, Ireland will struggle to meet national emissions targets, even if we make substantial progress in other sectors.
Against this backdrop, the Department of Transport, Tourism and Sports (DTTaS) launched a comprehensive public consultation process to review Ireland's sustainable transport and mobility policies and the concepts and principles generated by this review will be crucial to the choices we make as a country on the journey ahead.
TII's Current Approach to Sustainability
In response to increasing calls to address sustainability principles in the development of transport infrastructure, TII adopted a Sustainability Statement in 2018 with a commitment to embed sustainability principles at all levels of the decision-making process within the organisation. Sustainability is now one of the critical strategic objectives of TII's Statement of Strategy 2019–2023 and has been nominated as the corporate theme for 2020.
The Sustainability Statement introduced economic, social and environmental parameters into the planning and construction of transport projects through guidelines and environmental impact assessment. It also played a key role in supporting TII's Energy Initiative Management Committee (EIMC) who have been implementing a programme of energy efficiency projects in line with the National Energy Efficiency Action Plan (NEEAP) which has set energy targets for public agencies.
TII also recently commenced a workstream to develop a Sustainability Implementation Plan to ensure that current and future sustainability actions are fully understood and applied consistently across TII. The principles of the Sustainability Implementation Plan will align with the UN SDGs and will provide the foundation for the development of all future sustainability initiatives as well as providing a platform for stakeholder engagement and reporting.
The Sustainability Statement and the Sustainability Implementation Plan will together form the foundation and guidance for TII to play a greater role in leading the change to sustainable and decarbonised transport as it will guide and energise our staff to continue to promote sustainability across all activities relating to the road and light rail network.
Additionally the new Sustainability Implementation plan will guide the ongoing work in developing environmental standards, and ongoing contributions to national and international sustainability research initiatives with the Conference of European Directors of Roads (CEDR) and the Transport Research Arena (TRA).
The primary delivery goal is to transform ideas from aspiration into real and tangible outputs. Actions that show substance and concrete quantifiable results are more important than ever, and critical to TII's success will be the organisation's ability to apply innovative and creative thinking to the future of sustainable transport. Some of the more interesting workstreams include the following:
1. Carbon Assessment Tool: TII has developed a comprehensive carbon assessment tool to assist in planning and implementing transport projects.
2. Roadmap to Low Carbon: To better understand the pathway to a carbon neutral future, TII began to develop a model of our own carbon footprint in 2019 which involved quantifying TII's carbon footprint across three pillars or categories: i) operational emissions, ii) embodied carbon emissions from asset delivery and iii) emissions in use (i.e. from use of the transport infrastructure).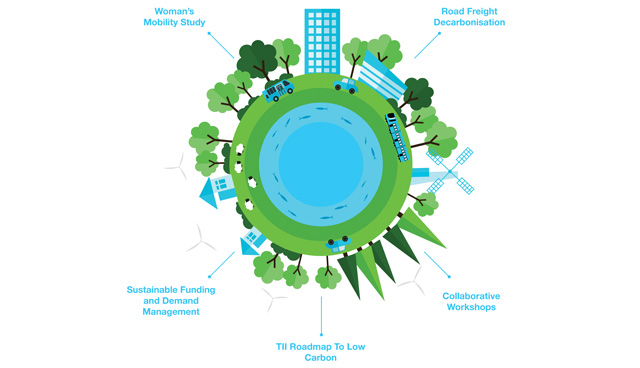 The first phase of this Carbon Benchmarking project is focussed on:
collating existing data and information across all three pillars;
establishing a basis of calculating the current emissions profile of each; and
developing a consistent 2016 baseline and a trend to 2019 for TII's carbon emissions.
Once the baseline has been established TII will then be in a position to consider a range of interventions and assess the various options through scenario analysis and assessment. This will identify a sensible Roadmap of short, medium and long-term options.
3. TII are also conducting a Study on Decarbonising Road Freight Transport in Ireland to better understand freight flows and logistics to identify the most efficient and effective decarbonising measures over the medium to long term. TII is actively engaging with the Road Freight industry to understand pathways to reducing emissions from road freight, which accounts for a significant proportion of transport emissions (up to 25 per cent). As part of this TII are conducting a series of collaborative workshops to identify and co-design effective, rapid and affordable interventions the industry believe will have a meaningful impact.
4. Another equally significant and innovative workstream is TII's Study to Better Understand Women's Travel Patterns and Needs in Ireland. Transport is often seen as gender-neutral, providing benefit to all equally. However, a growing body of international research highlights that this is not the case. Women and men have different needs, constraints and expectations for using transport. For a long time, women's needs have been 'lost' because they have not been measured. The core finding of all existing evidence is that women are responsible for a disproportionate share of the household's transport burden while at the same time having more limited access to available means of transport. In addition, safety is the biggest issue for women when travelling and this impacts how they travel, how often they travel, when they travel and if they travel at all. These concerns collectively limit and obstruct women's freedom of movement.
In 2014, the United Nations Commission on the Status of Women found a male bias in the planning, provision and design of transport systems and this study, which is the first of its kind in Ireland, will help identify the patterns, problems, constraints and issues associated with women's mobility and the resultant social, societal and economic repercussions of gender bias within the transport system.
At a time when we need people to switch from their cars to more sustainable forms of transport, understanding the travel patterns and needs of women form a critical part of the overall sustainability and decarbonising transport agenda.
Next steps: creating the conditions for success
As a public service agency, TII recognises the challenges facing the Irish transport system are vast, complex and intricate and cannot be solved by one transport agency in isolation.
Communication is the foundation of collaboration and therefore, TII is focussed on developing a collaborative approach involving government, academic and industry partners in pursuit of common goals. This collaboration will develop through innovation work streams and collaborative workshops and pilot projects. TII will create a broad platform for dialogue with other stakeholders, to co-design solutions for the future.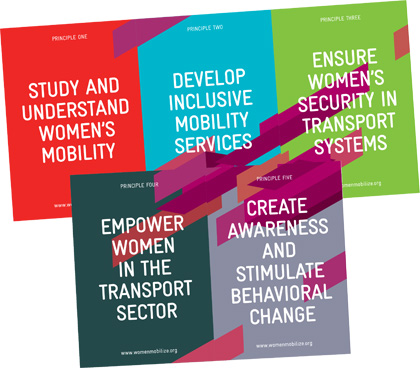 Success will be enabled through:
Collaboration – establishing a pathway to a sustainable and resilient transport ecosystem requires input from a broad range of perspectives, both internal and external. Therefore, TII recognises the need to create a broader alliance. This will be facilitated through workshops, seeking to align different aims and objectives, identify challenges, develop interventions and highlight opportunities in relation to sustainable transport and mobility in Ireland. In addition, TII are reaching out to the international community with the support of DTTaS including the ITF to leverage global guidance and best practice. 
Governance – the OECD have noted that good governance can be an important enabler for managing fast-paced change and TII is currently introducing new governance models to provide more effective portfolio management capabilities which will be necessary to deliver the themes through a coordinated and consistent approach.
Innovation and research – innovation and research must be harnessed in order to urgently adapt how we work and TII, in tandem with many public agencies, are working on encouraging a more innovative culture across the agency, using more agile methods to successfully drive change and to create a better future. TII are also actively supporting transport and mobility research across a broad range of activities and are seeking opportunities to collaborate with other agencies and to leverage Science Foundation Ireland's state of the art research capabilities.
Gathering data on the transport network, asset base and user profiles – to be able to make better evidence-based investment decisions and interventions;
Training and education – the journey ahead will not be possible unless we recognise the first part of the journey is an education process; to understand this concept we call sustainability and to build what the experts call "core foundational knowledge". With this in mind, TII are supporting academia to encourage more courses focussed on sustainable transport and mobility and are actively seeking education partners to deliver training on transport decarbonisation.
Studies and pathways – TII will collaborate and fund specific studies to review and assess options and levers for promoting more sustainable transport and decarbonising transport across Ireland.
Conclusion
TII facilitates mobility for millions of customers every year by public and private transport modes. As a public agency TII can facilitate and promote existing and emerging sustainable modes and influence user behaviour by adapting our transport network and services through a better understanding of our customer's needs.
TII is mobilising and stepping up to engage with Government and other transport agencies and stakeholders to support the deployment of more innovative, sustainable and resilient transport infrastructure and services. Now is the time to join the conversation and be a part of Ireland's change to low carbon sustainable transport and mobility.
Rachel Cahill
TII Head of Financial Management and Sustainable Mobility Lead
T: 01 6463677
E: rachel.cahill@tii.ie
W: www.tii.ie