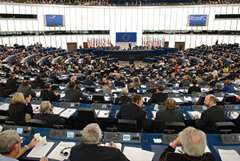 eolas looks at the make-up of the new European Parliament.
Looking across Europe, at first glance only the Green grouping had a good election. The European People's Party (EPP) remains the largest designation in the Parliament and the now Progressive Alliance of Socialists and Democrats (S&D), which has replaced the Party of European Socialists (PES), did not benefit as it may have been expected to after an anticipated revolt against centre and right parties.
That revolt did not appear, although in Ireland the Labour Party did buck the trend, returning three MEPs: Proinsias de Rossa, Alan Kelly and Nessa Childers. However that may more likely have been for being an alternative from Fianna Fáil.
Although Sinn Féin had cause to celebrate in the North, with Bairbre de Brún topping the poll, it was a different story here.
The United Green Left – Nordic Green Left (GUE/NGL) could have feared losing one seat after Mary Lou McDonald was not re-elected. However her victor in Dublin Joe Higgins, of the Socialist Party, is also her successor in the grouping, so he is filling McDonald's seat in more ways than one.
The Union for Europe (UEN) grouping merged with the former Independence/Democracy to form the euro-sceptic Europe of Freedom and Democracy (EFD) group. Fianna Fáil Members now sit in the more liberal
ALDE group where independent MEP for the North West Marian Harkin also sits.
Fine Gael contributes four Members to the reformed EPP grouping. The former European Democrat (ED) wing of that grouping no longer exists after the UK Conservative Party withdrew to form its own European Conservatives and Reformists (ECR), which now has 55 members.
The Parliament which took its seats in Strasbourg on 14 July does not look too dissimilar from that which sat from 2004; in spite of that expected backlash against the EPP, the group lost only four seats. It gained most strength from Germany, which elected 42 MEPs to it. Italy and France returned 35 and 29 respectively to the group.
The PES had hoped to capitalise on perceived losses to other groups but instead lost 56 seats. It has since merged with the Italian Partito Democratico to form the Progressive Alliance of Socialists and Democrats, otherwise known as S&D.
That group also draws its largest contingent from Germany, which returned 23 MEPs; the UK Labour Party returned 13 Members to the grouping.
The Greens, who had pointed to their proposed group as the one to watch, were proved right. The Green-European Free Alliance increased its seats from 10 to 55. Smaller nationalist parties such as Wales' Plaid Cymru and the Scottish National Party also sit in the group.
Twenty-six Members remain unattached. Among them is the northern Democratic Unionist Diane Dodds.