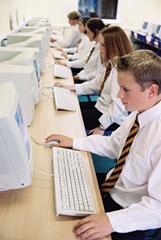 The Government and the IT industry have begun implementation of the Smart Schools=Smart Economy ('smart schools') policy which is based on the theory that Ireland will regain its competitiveness and prosperity through investing in ICT for schools. Meadhbh Monahan reports.
A government report into ICT in schools, undertaken in 2008, concluded that "a lack of sufficient and sustained investment over recent years has resulted in inadequate and aging ICT equipment and inadequate broadband in schools."
Ireland is placed 20th in a list of 30 OECD countries with fewer than one computer for every 10 students.
In light of this and under recommendations from a joint industry advisory group established by the Education Minister, five ICT strategies will be implemented from 2010 until 2017.
These are:
•the creation of a virtual learning environment (VLE);
•professional development of teachers;
•implementation of ICT planning and multi-annual budgeting;
•growing digital content;
•enhancing broadband for schools.
In addition, the Department of Education and Science, along with the National Centre for Technology in Education (NCTE) and ICT Ireland (the representative lobby group for the high tech and knowledge sector), has been instructed to operate a co-ordinated programme which will "advise, guide and support" ICT infrastructure development in Irish schools.
The programme has been tasked with developing schemes such as: work placements for unemployed ICT and teaching graduates to develop digital educational content; recognition programmes for teachers who reach certain standards in ICT related courses; in-company training for teachers; industry recognition for schools who reach certain targets for integration of ICT; and an ICT Ireland and NCTE co-ordinated mentoring programme for the ICT industry to act as advisors to teachers.
In November 2009 the Government pledged to provide a €150 million, three-year package to provide laptops for every classroom in the country. The plan is to use these laptops, software and a digital projector for internet access and online learning.
The 'smart schools' document states that the laptop initiative will "substantially close the current infrastructure gap." Its authors recommend that after three years an annual budget of €30 million should be provided to "support, rolling replacement and enhancement of the service."
In December, work began on the co-ordinated mentoring programme with the announcement that 20 graduates of technology or teacher training college courses will get work placement positions in Microsoft Ireland where they will work with the NCTE on tasks aimed at supporting the integration of ICT into teaching and learning. The graduates will be employed under the Government's graduate back-to-work programme and therefore will be able to retain their social welfare entitlements.
Many organisations want to see the smart schools policy work. Forfás (the national policy advisory body for enterprise and science) claims: "Ireland's future competitive advantages are likely to be in internationally trading sectors such as software, high-technology manufacturing and financial services." It points out that these sectors depend on "advanced telecommunications infrastructure and an ICT-literate population."
ICT Ireland believes that a decisive investment in ICT in schools will support the teaching and learning of science, technology, engineering and maths subjects which have recently been in decline. The lobby group warns: "Over time this decline will threaten the existing knowledge-based businesses in Ireland which depend on a workforce that is skilled in key technology-related subjects."
John Kennedy is one of the founders of Digital 21, a partnership of leaders from some of Ireland's top technology companies, who want to take action on the digital economy. He says: "Today's kids are digital natives who converse on mobile phones, social networks and video games." Kennedy adds: "Tomorrow's workforce is expected to be digitally literate, adept at sciences and maths and have the ability to cut through their way through oceans of data." If the Government and the ICT industry do not equip young people with these abilities they are "effectively failing the economy of tomorrow," according to Kennedy.
Welcoming the graduate scheme, Paul Rellis, the Managing Director of Microsoft Ireland, said he was looking forward to working with Minister O'Keeffe and to playing his part in "helping to ensure that our children have the right skills set to build Ireland's smart economy."