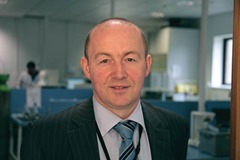 Brendan Murray, Managing Director of Environmental Laboratory Services, explains the value of accreditation as Ireland seeks to meet its Drinking Water Directive obligations.
Operating since 1998, Environmental Laboratory Services (ELS) Ltd is the leading drinking water testing laboratory in Ireland, drawing on its strength as a provider of independent accredited testing services for compliance with the EU Drinking Water Directive. Its growth stems from a dedication to excellent service, an unparalleled emphasis on quality and reliability, and a clear understanding of the needs of its customers. Through an R&D programme over the last three years, ELS has invested heavily in personnel, expertise and infrastructure.
The laboratory, as Managing Director Brendan Murray explains, offers Ireland's most extensive accreditation in this field, a nation-wide reach and a good track record in innovation.
Water is becoming a commodity and the State's investments in water services must, in turn, prove that they present value for money. The testing of drinking water must also stand up to scrutiny and reach the common international standard as required by the Environmental Protection Agency. This standard, namely international standard ISO17025, is the general requirement for competency of testing laboratories for which INAB is the certification body.
"Our on-going investment programme in instrumentation allows us to gain more accreditation and add more tests to our portfolio," Murray comments. Alongside the investment in expertise, this has given ELS a competitive advantage.
While local government forms its main customer base, ELS also provides services to the pharmaceutical and healthcare sectors, both of which depend heavily on water quality. Murray emphasises the importance of accreditation. He is keen to explain that all customers (including pharmaceuticals, local authorities and consumers) should take into account which specific tests are accredited. Many drinking water laboratories carry out testing but the extent to which laboratories are accredited to ISO17025 is the differentiating factor.
The opening of ELS East, in Dublin, and ELS West, in Galway, allows the laboratory to serve all local authorities in the State and the company's staff numbers have grown by 20 per cent in recent years.
"At ELS, we are looking at some of the testing that is currently not provided in Ireland i.e. provided elsewhere or not at all," he says.
In business terms, the State should not have to invest more into local authority laboratories during a time of austerity, especially as this work can be externally delivered to the required standard by laboratories in the commercial sector. However, customers must still assure themselves that sufficient accreditation is being provided.
"We have set in place technologies to deal with increased demand," Murray says in conclusion. Indeed, he believes that water services should be demanding and forward-looking as this important phase of reform takes shape.
Head Office: ELS-South
Acorn Business Campus
Mahon Industrial Park
Blackrock, Cork
Other office locations:
ELS-West Galway, ELS-East Dublin
Tel: Lo Call 1890 25 25 26
Email: info@elsltd.com
Web: www.elsltd.com