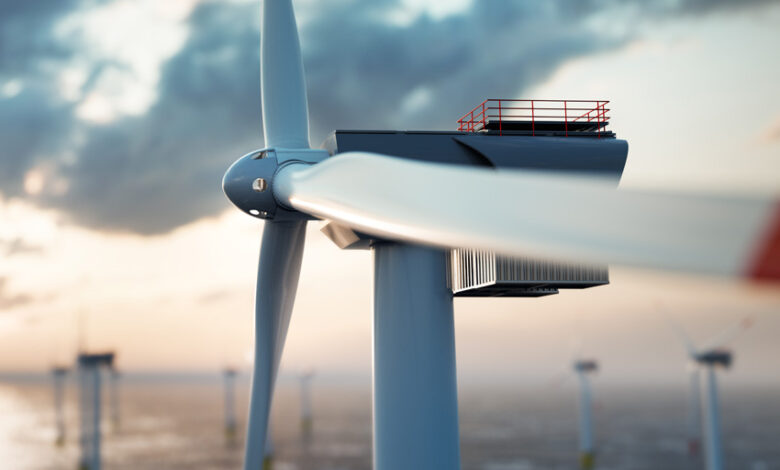 The North's Department for the Economy (DfE) and The Crown Estate have announced a statement of intent to establish offshore wind leasing off the north coast.
The announcement, made on 16 January 2023, seeks to build on the Northern Ireland Energy Strategy, which establishes a commitment to diversify renewable energy generation beyond the current mix, with an initial focus on offshore wind and marine renewables.
The North's Climate Change Act 2022 establishes a target of meeting at least 80 per cent of electricity consumption from renewables by 2030. Latest figures to September 2022 show a 49.3 per cent rate, the majority of which is derived from onshore wind.
Currently over 80 per cent of all renewable electricity in the North is generated from onshore wind, but the Energy Strategy Action Plan, published on 16 January 2022, includes Action 14 to "develop an action plan to deliver 1GW of offshore wind from 2030".
The progression of offshore wind infrastructure in the North has been hampered in the past by the fact that the territorial waters are operated under the auspices of The Crown Estate, creating a stringent leasing process.
In 2011, the UK Government and Irish Government signed a memorandum of understanding which clarified the marine jurisdiction of both states in waters around the North. The Crown Estate, which owns and manages the UK seabed, subsequently announced two leasing rounds for offshore wind and tidal stream in the North's waters.
However, no projects came to fruition. In 2019, a DfE report stated that the northern coastline was not suitable for offshore wind farm development due to likely objections, leading to the North being excluded from the 2019 leasing round by The Crown Estate.
Following the release of the Energy Strategy Action Plan, Peter Russell, Director of Electricity and Security of Supply at DfE said: "Our ambition of delivering 1GW of offshore wind energy is Northern Ireland's most ambitious energy infrastructure plan, with the potential to supply enough energy to power one million homes.
"The statement of intent is a milestone for the Department for the Economy and The Crown Estate towards unlocking the potential of the Northern Ireland seabed and achieving the energy strategy vision of self-sufficiency in affordable renewable energy."
Gus Jaspert, Managing Director of Marine at The Crown Estate said: "We are highly committed to working in partnership to sustainably manage the seabed and the natural environment for its many users, and to unlocking its potential to support the transition to a net zero energy future. This statement of intent mars an important step forwards, laying the groundwork for building the right conditions for offshore wind leasing and realising the potential benefits for offshore wind leasing and realising the potential benefits for the people of Northern Ireland – a local economic investment, low-carbon electricity, and a more sustainable and secure long-term energy supply."