Wind energy is one of the cheapest forms of renewable power in the world and is increasingly competitive with fossil fuel generation. Proposals to increase the cost of wind energy will cause difficulties for the Climate Action Plan and electricity consumers warns David Connolly, CEO of the Irish Wind Energy Association.
This year we have seen the Corporate Power Purchase Agreement (PPA) market take off in Ireland. In April, and again in July, Amazon announced deals with Invis Energy to buy the power produced by wind farms in Donegal and Cork.
These are the first wind farms which will be built using a Corporate PPA as the primary route to market, an increasingly common feature of the European energy market.
Minister Richard Bruton TD is rightly ambitious to develop this sector and the Climate Action Plan commits to providing 15 per cent of electricity demand in 2030 through renewable energy projects contracted under Corporate PPAs. With onshore wind expected to remain the cheapest form of renewable energy, and the most attractive for corporate investors, this means we need approximately 2,500 MW of Corporate PPA projects to meet the electricity demand EirGrid expects in 2030. 
The two Amazon deals will provide around 114 MW but that still leaves us a long way off, and this brings us to a central contradiction. It is Government policy to encourage private investment to stimulate the development of renewable energy, but simultaneously Government policy is making this more difficult by driving up the prices our industry can offer investors.
Rising prices
The wind industry is seeing an array of planned and potential policy changes that will increase the electricity prices we can offer at auction and on the Corporate PPA market. One of these increases, a requirement that wind farms supported by the Renewable Electricity Support Scheme (RESS) set aside €2/MWh to support communities living near wind farms, is a welcome one.
We are conscious of our responsibility – even opportunity – to assist communities to benefit from the energy transition led by Ireland's wind farms. However, other potential increases, driven by new Wind Energy Development Guidelines and rising commercial rates, pose a serious threat to our ambition to provide not just the cleanest energy, but the cheapest.
Later this year the Government will publish draft wind energy development guidelines to update the existing 2006 guidelines. They will make several changes that seek to strike a balance between the need to develop wind energy and the concerns some have regarding the development of larger wind farms.
The existing noise limits for wind farms are already among the strictest in Europe but in 2017 the Government set out potential, stricter, new limits which we have been testing in recent months. The results have been very worrying.
Detailed acoustic sampling on 10 wind farm sites indicates we would see electricity production on those sites curtailed by between 10-12 per cent under the proposed limits. This poses a threat on two levels, driving electricity prices up by forcing wind farm operators to unprecedented levels of curtailment or forcing developers, facing curtailment rates of this scale, to abandon projects or significantly reduce their size.
More fossil fuels
Either choice means less renewable energy and a greater – and longer – dependence on importing expensive fossil fuels to power our electricity system.
Simultaneously, existing wind farms are also being hit by staggering increases in their commercial rates liability through the rates revaluation programme run by the Valuation Office.
Under the revaluation most wind farms will see their rates liability rise from approximately €5-7,000 per MW of installed capacity to €15-20,000. We are alarmed to see that, as part of Revaluation 2019, liabilities are now exceeding €20,000 per MW in some cases. At the same time as the rates liability of our members is being more than doubled, fossil fuel generators are protected from any increase in their rates liability.
We are living in a climate change emergency. As I write scientists are confirming that July was the hottest month on record, wildfires are raging across Siberia and the Arctic, and Greenland's ice cap is melting at a rate scientists did not expect to see until 2070. Yet in Ireland our rates system is making it harder and more expensive to develop wind farms while insulating fossil fuel generators.
To be fair to the Valuation Office, with whom we have had a number of constructive meetings, they are restricted by the Valuation Act, a piece of legislation that belongs to a different era, before climate change became the single most important political, economic and social challenge we face.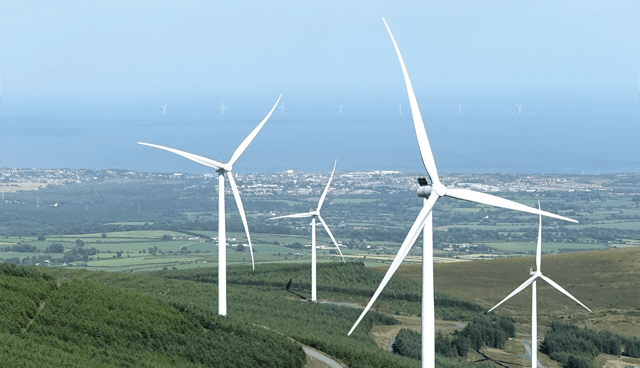 Economic impact
So, what will be the economic impact of these increases? The average annual price of electricity on the Irish market over the past 10 years was around €60/MWh. The first RESS auctions have yet to take place but in recent years onshore wind has delivered prices of less than €50/MWh in Spain and Germany.
Let us say, for the sake of argument, that an onshore wind farm in Ireland was able to match that of our counterparts and produce power at approximately €50/MWh. Now, on top of that, we need to add €2/MWh as the contribution the wind farm will make to supporting local communities which brings us to €52. We're going to add another 10 per cent to the cost because of overly restrictive noise limits and then another 10 per cent again to meet the growing rates bill. Together, these changes push the price our hypothetical wind farm can offer in RESS auctions or to corporate investors from €50/MWh to over €60/MWh — that's a significant increase.
It also needs to be borne in mind that Irish wind farms are not just competing with each other. As the Corporate PPA market develops and trans-border PPAs become more common Irish wind farms will be going up against wind farms in Denmark, solar farms in Spain and hydro plants in Norway. To deliver the 2,500 MW that the Climate Action Plan requires we need to be enabled to compete aggressively in the European market with the lowest prices we can offer.
Climate emergency
Ireland declared a climate emergency in May of this year. Responding adequately to the threat of climate change will require us to radically change our economy and society. Minister Bruton's Climate Action Plan sets out a roadmap to achieve this. He has brought a new determination and focus to tackling climate change.
Central to making the plan a success will be developing new renewable sources of energy to power our homes, farms and businesses. Wind is already providing more renewable energy – and avoiding more CO2 emissions – than every other renewable energy source in Ireland combined.
We can, and must, do more but we have to do so in a way that is most cost-effective for Irish domestic and business electricity consumers. We must ensure that wind energy stays the cheapest source of renewable energy and can attract the private sector investment that the Climate Action Plan hopes to see.
To achieve this, we need government departments and State agencies to be more aware of the impact their decisions could have on the price of wind energy and, ultimately, electricity. If we are to see a genuine 'whole of Government' approach to tackling climate change it must urgently focus on what policymakers can do to develop renewable energy as quickly and cheaply as possible.
E: david@iwea.com
W: www.iwea.com