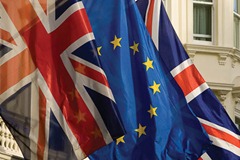 The potential referendum on UK membership of the European Union could have long-lasting implications for Ireland.
Economist and University College Dublin academic Colm McCarthy has warned policy-makers to prepare for a possible British departure from its membership of the European Union. Appearing before the Joint Oireachtas Committee on EU Affairs, McCarthy acknowledged that while a British exit or BrExit is "not the most likely outcome" in the immediate future, it is "not a remote possibility."
David Cameron has committed to a referendum on EU membership in either 2016 or 2017. The upcoming UK general election will determine its likelihood.
Current opinion polls suggest that the Conservatives are unlikely to form a majority government. Moreover, in the event, there is no guarantee that Britain would vote to leave the EU.
However, referring to this potential ballot as "a pretty serious development," McCarthy asserted: "I do not know of any other country that is contemplating exit in the way the United Kingdom is." If BrExit plans did come to fruition, he stated: "There would be serious consequences for Ireland."
Ireland's internal border would be transformed into the only land border between an EU member state and the UK. McCarthy emphasised: "If an external border of the EU were to exist between Dundalk and Newry, people would need to be very careful to negotiate arrangements which would permit our current situation to survive."
Crucially, the United Kingdom remains Ireland's main trading partner. Current Anglo-Irish trade is conducted on a tariff-free basis, without quotas, custom inspections or delay. This would be difficult to maintain, especially in agricultural trade, following a BrExit.
Notably, the City of London currently retains its status as Europe's financial hub. Dublin's IFSC has benefited from its geographical proximity, operating as a satellite base for the financial markets in the City. Any post-BrExit attempts by Paris or Frankfurt to wrest this standing from London could produce a damaging ripple effect in the IFSC.
However, McCarthy has suggested that there would be an option for Ireland to follow the British course of action. Existence as a European country outside of the EU "would not necessarily be that bad with the right trade deal and the right deals on the free movement of capital and labour," he affirmed.
Meanwhile, there are opportunities for Ireland to capitalise upon should it remain in the EU following a British departure. Ireland would also remain as the only primarily English-speaking member state left within the EU. With English rapidly establishing itself as the language of global business, this could have advantages.
Whatever lies ahead, Colm McCarthy warned that the Government must be proactive in anticipation: "This is a vital national interest and we need to get involved as the earliest opportunity if a referendum appears likely."