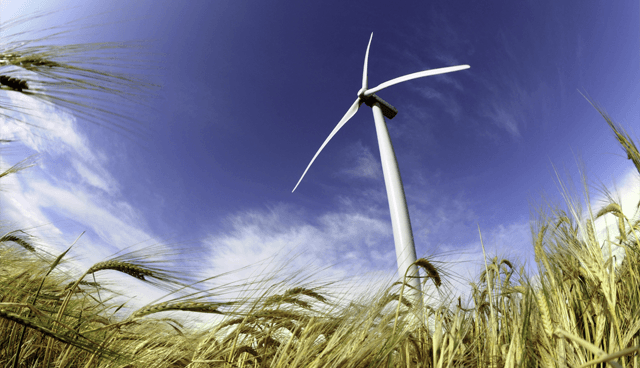 Amazon is committing to offtake the power from two renewable energy projects in Ireland. This forms part of our long-term goal to power all Amazon Web Services (AWS) global infrastructure with renewable energy. The new projects, in Esk, County Cork and Meenbog, County Donegal, will together deliver 114.4MW of renewable energy to the Irish grid by 2021, writes Kenneth Matthews, Head of Energy (EMEA), Amazon Web Services.
What makes these wind farms different, from all the other wind farms in operation around Ireland, is that they will be built and operated without any form of public subsidy, so there is no cost to Ireland's energy consumers in developing or operating them. This is a first for Ireland and demonstrates that wind is a viable, cost effective energy source that can now be delivered at market prices.
Under EU Renewable Energy Directive (2009/28/EC), Ireland has committed to 40 per cent renewable electricity production by 2020. Developing the wind industry to address this increasing demand has required public funding and support. This public support comes from the Public Service Obligation (PSO) levy, where a guaranteed minimum price is offered to wind farms to give them long term financial stability. The PSO appears as a line item on every energy bill in the country. It has been essential to allow the energy industry to develop wind technology, to grow and become competitive enough to challenge fossil fuels, giving Ireland the ability to meet its renewable electricity targets.
It's greener in the cloud
In addition to continued investment in wind and solar energy projects around the world, Amazon also incorporates sustainability considerations into its data centre design. When companies move to the AWS Cloud from on-premises infrastructure, they typically reduce their carbon emissions by 88 per cent because AWS's data centres can offer environmental economies of scale. Organisations generally use 77 per cent fewer servers, 84 per cent less power, and tap into a 28 per cent cleaner mix of solar and wind power in the AWS Cloud versus using their own data centres.
This massive improvement in energy efficiency drives a huge reduction in climate impact because less energy consumed means fewer carbon emissions. The climate impact improvements get even better when you factor in that the average corporate data centre has a dirtier power mix than the typical large-scale cloud provider. Large-scale cloud providers (AWS included) use a power mix that is 28 per cent less carbon intense than the global average.
Combining the fraction of energy required with a less carbon-intense power mix, customers can end up with a reduction in carbon emissions of 88 per cent by moving to AWS.
The investments in Cork and Donegal, where Amazon is committing to offtake 100 per cent of the energy, will enable these wind farms to be built, and helps to deliver on Ireland's recently announced Climate Action Plan, which sets the road map for government policies on climate change. The Climate Action Plan calls for 15 per cent of the 70 per cent of electricity demand by renewable sources to be contracted under deals such as these, known as Corporate Power Purchase Agreements (PPA).
One important benefit to Ireland is that the 23.2 MW Cork wind farm will deliver power from September next year, supporting Ireland's 2020 renewable energy targets. The 91.2 MW wind farm in Donegal is expected to deliver clean energy to the grid in early 2021 and will contribute to meeting Ireland's ambitious 2030 target.
While these investments in Ireland are a first of a kind, Amazon has delivered wind and solar projects to support its operations since 2014. These two new projects bring the total number of solar and wind projects Amazon has enabled around the world to 66, with more to come across EMEA and globally.
Beyond investments in wind and solar, Amazon has a long history of commitment to sustainability through innovative programs such as Shipment Zero, Frustration-Free Packaging, Ships in Own Container, investments in the circular economy with the Closed Loop Fund, and numerous other initiatives happening every day by teams across Amazon. Amazon has also implemented the District Energy Project that uses recycled energy to heat and cool more than three million square feet of office space. Amazon is putting our inventive culture to work on sustainability, because it's great for our customers, our communities, our business, and the planet.
---
AWS in Ireland
Our presence in Ireland has grown significantly in recent years with a new HQ building and a commitment to hire 1,000 additional highly skilled people bringing our total employment number to 2,500 and we don't intend to stop there. The wind farm projects in Cork and Donegal are only the latest in a long series of investments in Ireland to ensure that as we expand, we are focused on sustainability. The energy from these wind farms will help power our extensive cloud infrastructure around the world. It will deliver new energy efficiency gains as organisations shut down their inefficient on-premises servers and transfer to the cloud, which is far more energy efficient.
Working towards our goal of 100 per cent renewable energy usage for our global infrastructure footprint
August 2019: Two new renewable energy projects launched. A wind farm project in the EU located in Cork, Ireland, and a solar project in Pittsylvania County, Virginia. Both projects are expected to begin producing clean energy in 2020.
April 2019: AWS announced three new wind farms – one in Ireland, one in Sweden, and one in the United States. When complete, these projects are expected to generate 670,000 megawatt hours (MWh) of renewable energy annually.
2018: AWS exceeded 50 per cent renewable energy usage for 2018.
December 2017: Five solar farms that AWS previously announced are now in operation in the Commonwealth of Virginia. Together with Amazon Solar Farm US East, the six solar farms bring 260 MW of renewable energy capacity onto the grid.
November 2016: AWS announced five new solar farms across the Commonwealth of Virginia – these solar farms join the company's existing project, Amazon Solar Farm US East, which went into production in October 2016. Amazon worked with developers Virginia Solar LLC and Community Energy Solar on the projects and will further collaborate with an affiliate of Dominion Resources, Inc. to own and operate the solar farms.
October 2016: Amazon Solar Farm US East is now in production in Accomack County, Virginia. The 80 MW solar farm is expected to generate approximately 170,000 MWh of solar power annually.
June 2016: AWS and Dominion Virginia Power join forces on a landmark renewable energy delivery deal. With this, Dominion Virginia Power will manage and integrate the energy produced from various Amazon wind and solar farm projects onto the grid that serves AWS data centres.
April 2016: Amazon joined Apple, Google, and Microsoft in filing an Amicus Brief that supports the continued implementation of the U.S. Environmental Protection Agency's Clean Power Plan (CPP) and discusses the technology industry's growing desire for affordable renewable energy across the U.S.
January 2016: As of January 1, 2016, Amazon Wind Farm Fowler Ridge is live and producing electricity! This marks the first of our four announced renewable energy projects to move into full operation.
For more information on Amazon's sustainability initiatives, visit www.amazon.com/sustainability