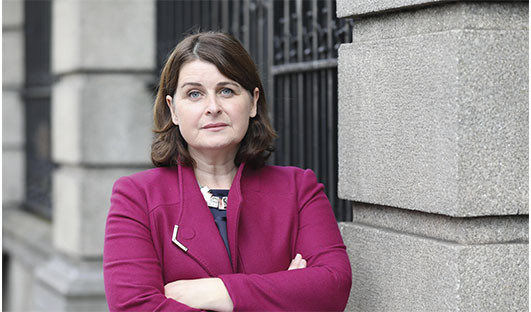 First elected to represent the Wicklow constituency in Dáil Éireann in February 2020, Jennifer Whitmore TD is the Social Democrats' spokesperson on Climate and Biodiversity and Communications Networks, and on Children and Youth Affairs. She is also a member of the Oireachtas Committee on Climate Action.
How did your political career begin?
My background is in marine biology, fisheries and environmental law, so my political career really came as a bit of a shock to me to be honest. I saw politics as something that other people did, and not something for me. So, I see myself as a bit of an accidental politician.
My family and I moved back from Australia after living there for 10 years and moved to Greystones to settle down. It was then that I realised, for a growing town, Greystones and the Delgany area lacked basic community facilities such as a proper playground, and that there was a distinct lack of female representation at council level. I decided to run for council, and I was fortunate to get elected first time. It was then that I began a strong community-based campaign for an all-inclusive playground that would facilitate play for all children, including those with disabilities. The campaign was successful due to incredible work of the committee and the South Beach Playground has become a template for other counties wanting to build an all-inclusive outdoor play area.
As an environmentalist, I was obviously very concerned about our climate and biodiversity crises and the Government's lack of action in this regard. It was not just that, however. Seeing Fine Gael in government and bringing with that a string of crises in housing and healthcare, I knew it was time to offer an alternative. Consequently, I was a founding member of the Social Democrats and ran in the 2020 elections in the constituency of Wicklow.
What are your most notable achievements in the Oireachtas to date?
As the Social Democrats' Spokesperson for Climate Action and Biodiversity, and a member of the Joint Oireachtas Committee on Climate Action, much of my work is spent holding the Government to account on its climate targets and policies. Regrettably, while the Government is strong on climate rhetoric, that is not matched by its climate action. Its approach has also heaped the burden of our transition to a low carbon economy onto the shoulders of the most vulnerable in our society.
I have attempted to correct this approach. For instance, I introduced legislation that would create a Just Transition Commission to provide statutory protection for workers and communities most impacted by industry changes necessitated by the climate crisis.
I have also spent much of my time advocating for the Government to properly address the cost-of-living crisis. Soaring energy costs are a core reason that many workers and families are falling into poverty, and I have long called on the Government to reduce VAT on energy bills as a matter of urgency. This could have been done in October 2021, with the approval of the European Commission, but regrettably it took the Government until April 2022 to act. There is so much more the Government needs to do in this area and I, as the Social Democrats' climate spokesperson, have been centrally involved in devising our multi-layered and targeted alternative.
I was also very pleased that legislation I introduced – designating basking sharks a protected species – was adopted by the Government and, for the first time, basking sharks will now be protected in Irish law.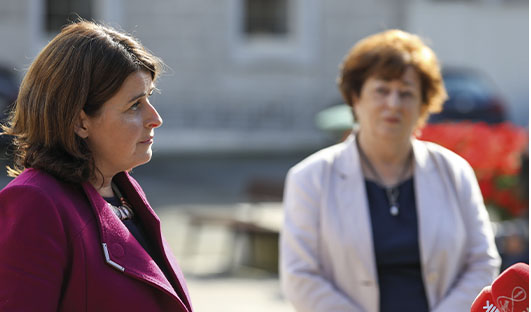 What is unique about representing the Wicklow constituency?
Wicklow is both beautiful and dynamic in every way. It is a large constituency, with each area having its own unique characteristics. When elected, I made a promise to represent the entire county – from rural to urban, from east to west, and I work hard to try to keep that promise.
We are also a commuter county with very poor road infrastructure and little to no public transport outside of Bray. Even where there is public transport, it is at maximum capacity with many rural towns and villages left out of Active Travel measures, where car dependency is very high. I have campaigned tirelessly for Local Link bus services to loop around towns and villages which would be great for our carbon footprint and for stimulating local economies yet, there seems to be little appetite for this at government levels.
The high cost of housing is also a huge issue here, with many people being priced out of the market due a lack of affordable and social housing options. I know many families that have had to uproot their entire lives, move their children out of school and leave their support networks to move to different counties. This really does not lead to cohesive and sustainable communities.
What are your priorities going forward?
We have a lot to do to meet our national and international climate action goals. Unfortunately, the Government is behind on its targets as well as putting in place a just transition mechanism to make sure everyone is brought along the journey in a fair and equal manner. This includes ramping up the National Retrofitting Programme, prioritising those in fuel poverty and supporting community-level climate action initiatives through greater resourcing of local authorities.
Renewable energy needs to be supported but sustainably with marine environments protected first or at least in tandem with developments. Again, the Government missed the boat on this one, so we have to act fast to make sure our marine ecosystems are protected throughout development.
I also want to see greater initiatives to protect working families from rising fuel prices and inflation in the upcoming budget and, as previously mentioned, increased investment in childcare and a bigger focus on solutions to provide more social and affordable housing.
How can the Social Democrats maximise their impact in the lifetime of the 33rd Dáil?
The Social Democrats have been a strong and constructive opposition voice in the Dáil. The purpose of the Opposition is to hold the Government to account, and we have continually and forcefully done that on a wide range of issues. However, the Opposition must also offer solutions, as well as point out deficiencies in the Government's policy approach, and to that end we have introduced a range of legislation – much of which the Government has not opposed – on issues like housing, healthcare, the climate crisis, and education. We intend to continue this work and remain a strong voice, for those who are being left behind by government policies, throughout the term of this Dáil.