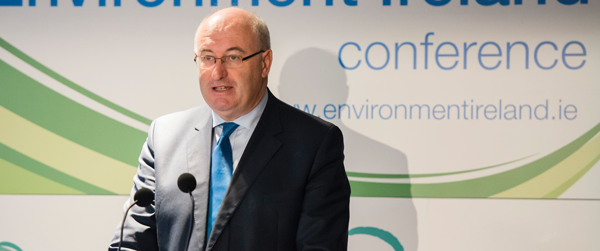 Environment Minister Phil Hogan outlines his plans for local government reform and a low-carbon economy to Stephen Dineen.
On the day after he announced the biggest reform of local government structures in 114 years, Phil Hogan looks particularly pleased. 'Putting People First' proposes a reduction in the number of local authorities from 114 to 31. The concept of municipal districts will be introduced but the number of councillors will fall from 1,627 to no more than 950. Councillors' powers to overturn planning decisions by officials will end.
The document speaks of accountability being the "bedrock of a properly functioning system of local democracy" and "more effective democratic arrangements".
"So in other words: local government will be the first port of call for the implementation of any new policy or any new operational matters that require national implementation," Hogan tells eolas. Implementation, of course, is not the same as formulation of policy. It is clear that he sees local government and agencies taking greater responsibility for delivery. In the roll-out of metering, for example, Hogan is "letting them [Bord Gáis] get on with the job".
On how local government reform will improve environmental protection, the Environment Minister says that the European Union "forces the pace in Ireland" but that "local authorities will drive the implementation of water quality, waste policy and air quality and all of the other major environmental issues in relation to planning."
Community sector groups funded directly by the exchequer are at "arms' length to local government" at present, but will be "more aligned" with that level of government. Local authorities' views will be considered when formulating community development policy. Local government will also become "more involved" in making groups accountable for how they spend funding received from the Department of the Environment, Community and Local Government.
Micro-enterprise support services will be administered locally, with local enterprise offices bound by "a service level agreement with Enterprise Ireland, who will do the policy end of it." The Minister has pledged to transfer other departmental and agency functions to local authorities.
The most significant power to be transferred, perhaps, will be the ability to set property tax rates. The date for devolving this power has not been decided, but will be done so that councils will have "full autonomous control over the raising and spending of as much money as possible at local level."
"Councillors will continue to have the democratic input in formulation of the local area plan and the county and city development plans, and that's at policy level," Hogan says of planning powers. While he believes the 2010 Planning and Development Act has "centralised too much power in the Minister for the Environment," the compulsion on local authorities to adhere to national and regional guidelines, as provided by the Act, will not be removed.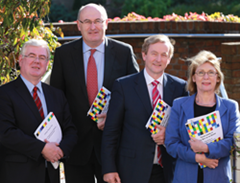 Since assuming office, Hogan and Minister of State for Housing and Planning Jan O'Sullivan have been grappling with deficiencies in local planning around the country, including the report of the Mahon Tribunal. The Government has decided to implement or consider implementing 61 of 64 of its recommendations.
"It could be a sub-set of An Bord Pleanála," he suggests, "so there's work in progress on that. We haven't come to any firm conclusions but I am not in favour of introducing anything that will duplicate whatever is there just for the sake of it." The Carlow-Kilkenny TD adds: "We do not want to clog up the planning system so that no development takes place either."
As well as overseeing local government reforms in time for the 2014 local elections, Hogan must also implement water charges by 1 January 2014. Charging is due to be based on metering but a full roll-out of meters is not due before the end of 2016. On how billing will be done with some but not all houses metered, he says: "You'll have to wait until the Government approves that, probably next spring."
Bord Gáis "understand that they need to roll out this as quickly as they possibly can," he says. "They're working hard at putting those systems in place to make sure that it is a fair pricing model and that it is a water conservation measure as much as a water utilisation measure."
Climate change
Hogan and the coalition have committed to legislating to combat climate change. It will be second time lucky, perhaps, for a Minister for the Environment in steering such a Bill through the Oireachtas. Having watched his predecessor John Gormley produce a Bill that failed to get cross-party consensus, Hogan has decided to consult extensively.
"The roadmap that I set out last January: I've honoured it completely," he states. This involved public consultation from 29 February to 30 April and the commissioning of two reports from the National Economic and Social Council. The first report focused on the development of national climate policy and legislation. The second report, due by the end of the year, will examine a long-term vision to underpin the transition to a low-carbon future by 2050.
"I'm surprised that nobody has noticed that I have kept to all those timelines, and I will publish the heads of a Bill by the end of the year, and we [will] hopefully have legislation implemented in 2013," he states.
"I want to develop policies that will bring Ireland to the leading edge in terms of a competitive, low-carbon economy." These policies "will adopt the principles of resource efficiency as well, which ultimately will create employment."
The "big challenges" in making the transition to a low-carbon economy will come in energy, transport and agriculture. Transport changes, however, will require increased investment in public transport. "It's very difficult to do that at a time when we have retrenchment in the public capital programme," he concedes, "and where the Minister for Transport is expected to put all of his proposals on hold because of the financial situation of the country."
Agriculture, the Fine Gael TD states, will face challenges in reducing emissions due to the Harvest 2020 targets (e.g. increasing exports by 42 per cent between the period 2007-2009 and 2020) and the end of milk quotas in 2015. Agriculture accounted for 32.1 per cent of overall emissions in 2011, the single largest contributor.
"There is a lot more realisation from the sector now on the need to have sustainable production methodologies," he adds, "in order to not only meet our greenhouse gas emissions targets but also as a marketing opportunity for Irish food abroad."
Companies such as Kerry Group and Glanbia recognise that production methods need to change so that "we have a good quality product for markets that are opening up in the Far East and in Africa." With a global demand for such products, Hogan believes that the sector "will respond to that, and that will help us to reduce our greenhouse gas emissions." Hogan adds that he has been highlighting the agriculture sector's role in economic recovery to EU Climate Action Commissioner Connie Hedegaard and at Council of the European Union meetings.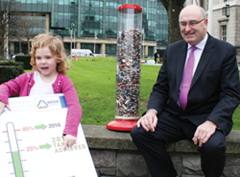 Increasing philanthropy
Through the reconfiguration of departments that occurred in March 2011, Hogan's department took on community and voluntary sector policy. In June 2011, he re-convened the Forum on Philanthropy and Fundaraising, tasking it with trying to increase philanthropic and charitable giving in Ireland.
The forum reported back in May and recommended a national 'giving campaign' to try and increase public philanthropy, greater incentives (e.g. tax) for donations and a national social innovation fund to be supported by government and the philanthropic sector. The group aims to increase the level of annual philanthropy in Ireland from approximately €500 million to €800 million by 2016. It is currently developing an implementation plan, to be rolled out in 2013. Changes to the tax relief on charitable donations will be included in the Finance Act 2013, says Hogan.
"There is certainly a job of work to be done by the forum in explaining to the public what philanthropic causes are," he says. "[Philanthropy] has developed some kind of a misunderstood view in the psychology of our citizens over the years because of maybe a high degree of secrecy that was deployed in relation to the giving of this money, which was always above board."
"People want to know that when they're involved in a national giving campaign that their money is going to good causes," he explains. However, Hogan is wary of introducing "an expensive structure" of regulation that will "actually remove the potential for some of that money to be going directly to the frontline services in the communities that need it most."
One senses from talking to Hogan that he has waited a long time for this chance to reform. His first experience of ministerial office was short-lived. "Seven weeks in office," he says as he remembers his time as a junior Minister at the Department of Finance from December 1994 to February 1995.
"And I did something, I think, unique, where a piece of paper went out on Budget day, in error, and where I took responsibility for it and resigned." He doesn't regret the decision "and I'm sorry that others didn't follow suit subsequently when a lot of Budget details were leaked by even government ministers subsequently."
"This is a more challenging time," he says as he contrasts this administration's experience with the 1994-1997 Fine Gael-Labour-Democratic Left government, "but it's a great opportunity for reform and I have grasped that opportunity fully."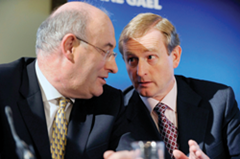 Profile: Phil Hogan TD
From Kilkenny, 62-year old Hogan's political origins stem from "a long history of helping the community" in his family. His father, "a huge influence on my life," was a councillor for 27 years, while his grandfather was on the local board of guardians, an ad hoc authority that administered poor law in Ireland until 1925. When his father died in 1982, the auctioneer and insurance broker was co-opted unto his father's council seat "not expecting to be in national politics by 1987, but that's the way it happened." Hogan failed in his first attempt to get elected to the Dáil in 1987 but served in the Seanad from 1987 to 1989. He was elected a TD in 1989, and has been re-elected at every subsequent election.
"I like people. I like dealing with people," he says on why he chose politics. "I like helping people and their problems and [to] help communities with their issues." Away from politics, Hogan, who is separated and has one son, likes to watch and play golf and "attend as many GAA matches as I possibly can."