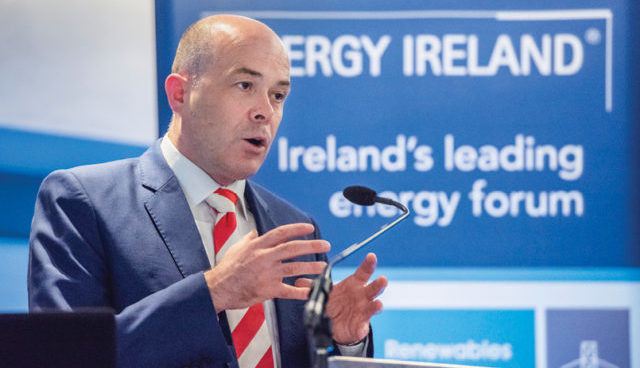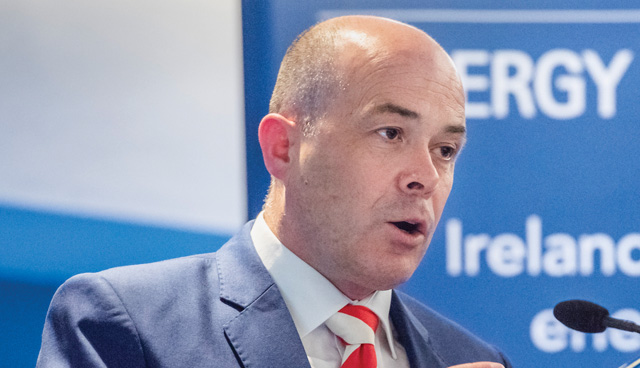 Delivering his address at Energy Ireland 2018, Minister for Communications, Climate Action and Environment Denis Naughten TD emphasises the significance of renewable energy and efficiency in meeting Ireland's wider obligations. Ciarán Galway speaks with the Minister.
Reflecting on his two years in charge of the portfolio, Minister Naughten notes the dramatic changes which have occurred, including within his Department during that period. "We have a lot of work to do in Ireland to meet our energy efficiency targets which have yet to be settled on, and our renewable energy targets which are being set at 32 per cent across the EU. This is not just from a purely climate perspective, but from an economic point of view. The European economy is beginning to slow down now as a direct result of increasing oil prices.
"Changing economic circumstances within the eurozone have been a direct result of rising oil prices. What we must do, in both an Irish and European context, is decouple economic growth from the availability of oil and oil prices. The only way to achieve that is through energy efficiency and through renewable energy," he asserts.
At the recent meeting of the European Council of Energy Ministers, Naughten urged his ministerial colleagues to become as self-sufficient as possible in terms of energy within the European Union, focusing on renewable energy and driving energy efficiency. "This is important not only in achieving our Paris Agreement goals, but also to ensure that EU economies grow on a long-term, sustainable manner. Ireland and Europe must break away from the constraints of fossil fuels," he says.
"I also urge the EU to become more self-sufficient regarding the production of biofuels. We cannot replace oil with unstable, imported palm oil. This undermines our long term economic stability, as well as transferring emissions to another part of the globe as opposed to tackling the problem in a comprehensive manner. We must bring a renewed focus to the development of second-generation biofuels."
Electricity
Across the three energy sectors vital to the economy – heating, transport and electricity – the electricity sector has made the most progress with regard to renewable energy. Preliminary estimates from the SEAI indicate that 30 per cent of electricity consumption came from renewable sources in 2017, doubling the equivalent figure from 2010.
"That's no small achievement for an isolated electricity grid like we have here in Ireland. It's something that we should be very proud of. That will increase exponentially with the Government's continued investment in the DS3 programme.
"We have potentially 50 GW 
of energy and electricity in the offshore, and we are now determined, as a government, to focus on that."
"This is something of major significance, and I think EirGrid should be commended on the effort they've been putting into this. The fact that, in April, they went live in relation to a 65 per cent loading of variable renewable energy on our grid is something that hasn't been achieved anywhere else in the world. That has now become an international benchmark. The objective, by 2020 is to reach 75 per cent, and that is a significant commitment. We are now the global leaders in that area," the Minister states.
Diversification
To date, onshore wind has been the biggest driver of renewable energy in Ireland. The Government, however, has committed to diversifying Ireland's energy mix by 2030. "We have to look at the huge potential that we have regarding our offshore renewables. Solar and offshore wind are now becoming more cost-effective than they ever have been, and there is now a significant interest from developers regarding the construction of such energy projects in Ireland's waters.
"There are huge opportunities in the offshore sector. I believe that offshore renewables are critical if we are to achieve our 2030 objectives. By then, we expect to have 55 per cent renewable electricity on the grid," Naughten claims.
Ireland has been to the forefront of offshore renewable research. "We need to move from the learning by research to the learning by doing," he asserts. "We have potentially 50 GW of energy and electricity in the offshore, and we are now determined, as a government, to focus on that.
"It's not just about generating energy and electricity for Ireland – it's about exporting that electricity as well. EirGrid are currently proposing electricity interconnectors between Ireland and France and will submit and investment request for the Celtic Interconnector project later this year. This will be a direct link between Ireland and the European Union's energy market, improving energy security and allowing for the incorporation of Irish energy into the EU grid."
However, in spite of the huge potential in offshore energy, it is not sufficient. "We must bypass the island of Ireland, through the Atlantic seaboard right into the European grid. The single electricity market is going to be key to Ireland's growth in the long term," Naughten explains.
Community
"We cannot achieve any of this without an adequate funding stream. The Renewable Electricity Support Scheme is key to driving that forward, and we hope to get our own approval in the second half of this year. This will have a direct impact on our 2020 targets. If a project wants to avail of this funding, it will have to fulfil certain criteria such as community engagement and collaboration.
"I'm not just talking about solar panels for community centres or football jerseys for the local GAA teams. I'm talking about citizens having the ability to invest in, own and benefit from renewable energy projects within their own community, bringing that down to both community level and individual level," he indicates.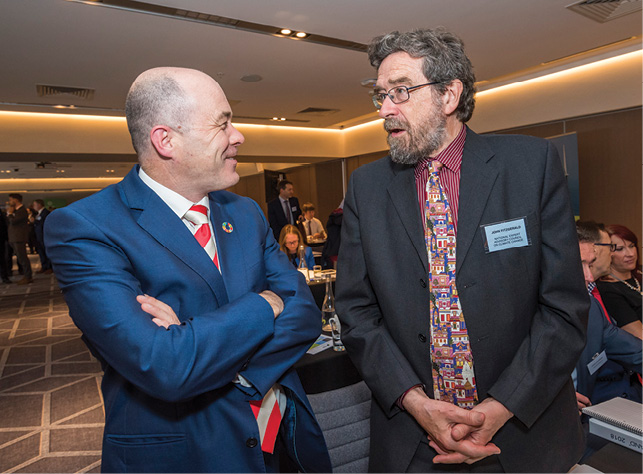 The EU's Energy Directive will support consumers, renewable energy communities and smaller scale projects. This will be facilitated by the Smart Meter Programme, the Smart Grid Programme and pilot projects similar to that supported by ESB in Dingle. The Sustainable Energy Authority of Ireland are currently developing a pilot scheme for microgeneration, which will target solar PV and self-consumption amongst domestic consumers. This scheme is expected to be rolled out imminently.
Aside from local communities and domestic self-consumption, the corporate use of electricity is a priority. "Corporate power purchase agreements provide a potential route for energy users to reduce the cost burden on consumers by finding renewable projects. Globally, corporate source energy through corporate PPAS, and the Government will soon be looking into how PPAs can assist Ireland," Naughten specifies.
"Under the National Development Plan, we are going to replace 170,000 oil fired boilers with electric heat pumps and rooftop solar. We've also secured funding for the renewable heat support scheme for the non-residential sector. My Department is currently engaged with the EU in regard to seeking approval for this. That process typically takes nine months, but we are trying to move this as quickly as possible."
Efficiency
Renewable energy is only one component of plans to meet Ireland's 2030 commitments as per the Paris Agreement. The other significant factor is energy efficiency and associated economic investment, social action and climate action.
"Using energy in a sustainable and cost-effective manner is the best way to drive change. If the money that Ireland spends on energy imports could be redirected into energy efficiency and smarter energy services, it could displace fossil fuels and create more jobs for Irish people. In 2016, Ireland spent €3.4 billion on importing energy. That's €715 for every man, woman and child in this country.
"The public sector must take a leadership role, not just for the environment, but because we need to set an example to businesses and the economy as a whole. Since 2009, Ireland has saved €737 million in energy efficiency – and that's money that can be invested in other government services right across this country," the Minister contends.
"One-in-five euros that the Government and businesses will be investing over the next 10 years will be in climate and energy sustainability projects. That puts Ireland to the fore in global terms.
"However, this is only one leg of a three-legged stool. The other is in relation to regulatory change, and we are exploring in relation to that and hope to have future announcements in this area. The third aspect is taxation, and carbon-related taxes will be on the future agenda," he explains.
The Minister suggests that government alone, through its capital investment, cannot reach the ambitious targets established by the Paris Agreement. "We need the coordination of all individuals across Ireland to do this. 
I would encourage people to put the thinking cap on to think about innovative solutions to stimulate ideas and concrete projects towards achieving our climate goals.
"Our role is put the levers for change into people's hands. Acting in solidarity means redefining our self-interest and our national interest as an essential interest for the survival of the world in which we all live," Naughten concludes.