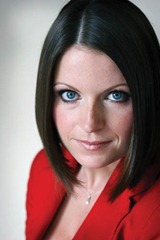 TV3 presenter Siobhan Bastible has been a familiar face for viewers for over ten years now. Here she discusses her unusual route into journalism and the hard work off-air that the audience doesn't see.
What education and career path brought you to this role?
I never intended working in television. I didn't know anyone who did, actually. After school, I studied English and history in Trinity College Dublin and then majored in medieval history so I suppose I didn't enter journalism via the now-traditional route of a media/journalism course. I think journalism is something you learn about from experiencing, really.
After college, I spent eight months in San Francisco, before starting a stage or internship in the European Commission in Brussels. When I came back, I met the economist David McWilliams and ended up working as a researcher on his current affairs show, Agenda, in TV3. When Agenda ended, I worked as a newsreader/reporter in the start-up radio station Newstalk FM. After a brief stint in Today FM, I was screen-tested for TV3 News. That was more than 10 years ago now. I anchor the news and I report, I like the mix.
Who inspires you?
My grandmother Margaret Alston Daly studied medicine in Dublin in the 1930s, along with her sister Patricia who was my godmother. It was pretty unusual for women in those days, but my great-grandmother was very progressive, and encouraged her daughters to be educated on an equal footing with men. My grandmother and her sister practised as doctors for the rest of their lives.
It's women like them who paved the way for our generation although it's still a work in progress. That's why I get so irritated when I hear some women today reject feminism. I think the notion still exists, even today, that feminism is somehow unattractive, or strident but most of the really attractive women I know are pretty opinionated. It's much easier for women today but it's still not equal in the workplace. Women often get paid less for doing the same jobs. It's up to us to change that.
What do you enjoy most about being a presenter?
I think of myself as a broadcast journalist actually. But yes, my role combines presenting, producing, reporting and researching. I do relish the presenting aspect, but it probably only makes up around 20 per cent of my working day. So much preparation goes into it beforehand. When I present the news on Ireland AM, I also write most of my own scripts and produce the bulletin. There are amazing stylists to do my hair, but I do my own make-up. My job is to look polished and professional, not uber-glamorous. Presenting the news on Ireland AM is very busy. Everyone in TV3 multi-tasks and to be honest I prefer it. Time goes faster when you're busy.
What is the most challenging part of your role?
I started reporting from the courts last year, on my reporting days, and it has been the most challenging part of my career so far. I am reporting live on air a lot (no autocue) and I have to really focus when I'm in court, so that I report the details of each case correctly. I found it very stressful at the beginning, but I'm enjoying it now. It was Vincent Browne who encouraged me to get my head around the legal system. I used to present the news for Tonight With Vincent Browne and have often sought advice from Vincent ever since. He's so incredibly bright and a lot of fun.
How is technology changing your role?
You basically have to get your head around it. There's no way out of it now, and that's coming from a former committed Luddite. In TV3, the reporters all self-edit our news packages, check news feeds and wires, and we all tweet etc. It makes news very immediate, it's much faster-paced then when I started out, only 10 years ago. Twitter changed everything, in my opinion.
How do you like to relax?
A glass of wine, good food and meeting up with friends. Pretty dull these days. At the moment, I'm obsessed with Scandinavian TV, especially The Legacy. I'm addicted. My husband and I travel a lot too, especially to New York and London where most of my family is based.