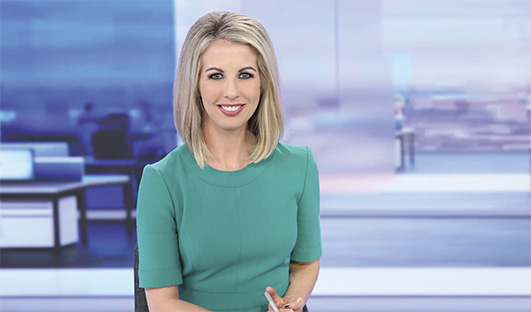 Caitríona Perry is an award-winning broadcast journalist with RTÉ and currently co-anchors the Six One News. A graduate of DCU, Perry previously worked at Newstalk and Today FM, before joining RTÉ in 2007 where she was the national public service broadcaster's Washington Correspondent between 2014 and 2018.
How did you get into journalism?
I always wanted to be a journalist, for as long as I can remember. After school I did the BA in journalism in DCU and as part of the last semester of the four-year degree, there was a placement element. I did mine in what was then a start-up radio station called Newstalk. My three-month placement turned into a permanent job and luckily, I have been gainfully employed in this fine profession ever since.
How do you think the profession is evolving?
Quite dramatically. Like many industries, the arrival of the smartphone has changed journalism utterly. Now everyone is capable of capturing sound and video everywhere at any time. And with social media, and podcasting platforms, everyone can be their own broadcaster at any time of day or night too. This has brought great opportunity in terms of the breadth of what we can do, and how inexpensive it has become, but it has also brought challenges in that the traditional curated and fact-checked content from trusted journalists and outlets can get swamped by inaccurate, and sometimes completely fabricated, content from non-verifiable sources.
What are the challenges of working in broadcast journalism?
With broadcast journalism you only have a certain amount of time – minutes and often just seconds – to communicate information so you have to really distil what you want to say into its most brief form, yet without losing meaning, impact, or context. You learn early on to be really frugal with your words. When you are out on the road, logistics can be challenging. You can be in a field, or on the side of a road, with all kinds of chaos going on, but you have to give the appearance of calm organisation, so the viewer focuses on the information and not the delivery of it.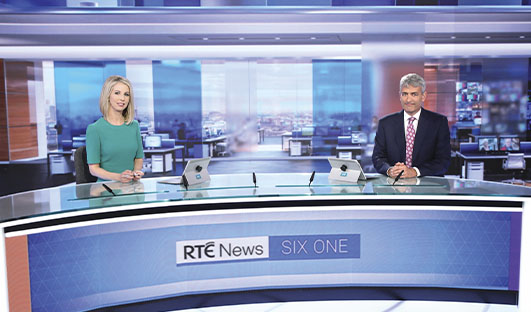 Who do you admire most within the industry and why?
I really admire Lyse Doucet, Orla Guerin, and Lindsey Hilsum. They are fantastic journalists and storytellers. They are brave in their pursuit of the truth and strive for the most authentic and objective reportage they can produce. All three have done outstanding work from Ukraine in recent months. They are the gold standard for broadcast journalism.
What has been your most significant story or project to date?
Probably covering the Covid pandemic. It was a situation nobody had ever lived through before – and hopefully never will again. We had huge numbers of viewers tuning in to the Six One News every evening, and all of the various special programmes that we broadcast. There was a tremendous responsibility to bring information to the audience, but at the same time we were trying to do that while keeping our team safe and delivering the best service we could while limiting everyone's exposure.
How do you spend your time outside of work?
Exercising, I like to keep fit and healthy. The hours in this business can be very long and often a certain amount of stamina is required to keep going on limited sleep and snatched food – the fitter you are, the better able you are to handle those demands. I like to spend as much time as possible socialising with friends too. And travelling. I love being on the move and discovering new places.