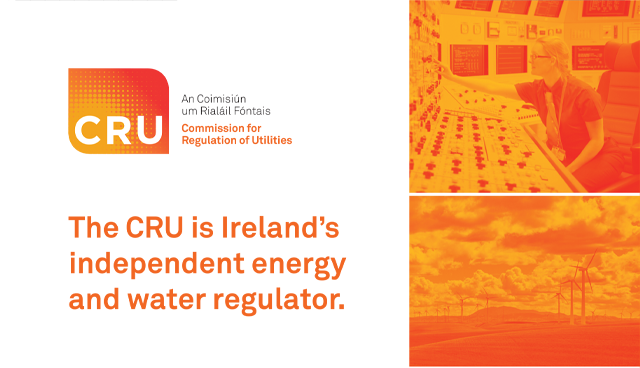 The energy and water sectors in Ireland are critical to the well-being of the citizens of Ireland and the health of the overall economy. In the context of the recently published Government Climate Action Plan, these sectors will play a crucial role in facilitating Ireland's transition to a sustainable, low carbon future.
Climate change is at the heart of the CRU's new strategic plan that was published in January of this year to cover the period 2019 to 2021, with a low carbon future as one of the key strategic priorities for the organisation.
In addition to working towards a durable future that can evolve and respond to the challenges of climate disruption, the CRU's mission remains to protect the public interest in relation to water, energy and energy safety. 
The CRU's vision is to ensure that energy is supplied safely, that there is a sustainable, reliable and efficient future for water in Ireland and that empowered customers pay reasonable prices as we work towards helping to secure a low carbon future for Ireland.

In relation to energy, the role of the CRU will be to ensure that the regulatory framework and the associated policies that will shape infrastructure development facilitate the objectives set out in the Climate Action Plan.
While we have also been set the objectives of delivering market policies that support a low carbon future, the CRU must also continue to support competitiveness and maintain future security of supply. Fundamental to this is the balance between maintaining a resilient regulatory framework that can deliver confidence for investment, but that can also remain agile enough to respond to and support innovation.
Facilitating the development and the adoption of new technologies, such as greater integration of renewables and progress in the use of micro generation is also crucial. In addition, the integration of more gas from renewable sources into the network, thereby increasing its contribution to the decarbonisation of Ireland's electricity market.
The key stakeholder in achieving Ireland's climate action targets and the adoption of new technologies, such as Smart Meters, will be the consumer. Consumers must be fully informed, both as users of electricity but also as possible producers of this same resource. The communication of the rights of the consumer are an important facet, but also the options that are available to them will play an important role in developing and supporting new, more climate conscious behaviours.
To this end, effective communications is a core focus for the CRU, placing greater emphasis on how energy consumers can be better informed through direct engagement and consumer targeted campaigns.
T: +353 1 4000 800
E: info@cru.ie
W: www.cru.ie