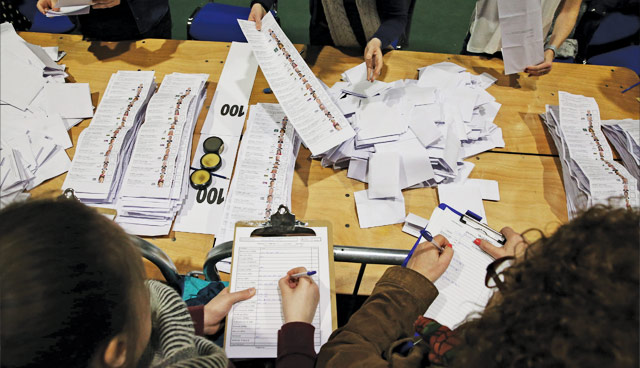 With polling suggesting that Fine Gael will cement their status as the largest party in the State in any upcoming general election, they will be looking to challenge their confidence and supply partners in Fianna Fáil for the mantle of the largest party at local level. eolas analyses the chances of the four biggest parties in the upcoming local elections on 24 May.
Fine Gael
The largest party in the State, Fine Gael are the second largest party at the local level. Having won 235 seats in the 2014 local elections, defections and new members have seen their number of county and city councillors drop to 233.
The party's prospects look positive as they have consistently polled higher than both the 2014 local elections and the 2016 general election. Lower district magnitudes resulting from changing electoral boundaries are expected to benefit the bigger parties; they can expect to make some gains, an unusual expectation for a party in government.
Fianna Fáil
The 2014 local elections saw Fianna Fáil bounce back from the twin disasters of the 2009 local elections and the 2011 general election and regain their place as the biggest party in the State at the local level. They won 267 seats, but like Fine Gael, dealt with defections and new members joining and now sit at 262 seats.
While a majority of Fianna Fáil TDs are said to be against the continuation of the confidence and supply agreement in place with Fine Gael, it was recently ratified within the party and is polling well with the general public at a time when the party themselves had have mixed returns in that arena. While such polling would suggest that it is hard to predict a result for Fianna Fáil, the changing boundaries could well see them gaining alongside Fine Gael.
Sinn Féin
2014 saw Sinn Féin win 160 local seats, a record in the Republic of Ireland for the modern incarnation of the party. However, defections from the party, including a handful to former Sinn Féin TD Peadar Tóibín's new party Aontú, have seen them drop to a current level of 146 seats.
Again, national opinion polls suggest a rise in number is coming for Sinn Féin, with the party having enjoyed a surge in polling recently, but the effect of the new electoral boundaries is harder to predict for a party attempting to disrupt the duopoly enjoyed by Fianna Fáil and Fine Gael since the foundation of the State.
Labour Party
2014 was a nadir for the Labour Party. A dismal showing in the local and European elections saw the party lose its working-class voting base to Sinn Féin after their role in the austerity imposed by the Fine Gael Government with Labour in tow as junior coalition partner. After winning 51 seats, defections have seen Labour's numbers further dwindle to 48 county and city councillors.
2014 led to the resignation of Eamon Gilmore as party leader. With Brendan Howlin TD now leading the party after replacing Gilmore's successor, Joan Burton TD, the upcoming local and European elections will be key to the party's attempt to rebuild. Polling suggests they will find that difficult to do, with the party hovering between 4 and 7 per cent generally. However, there could be some cause for hope that a party with a longer historical record of vote-getting in the Republic could still benefit from the new electoral boundaries.
Female representation
Minister of State for Local Government and Electoral Reform, John Paul Phelan TD has announced a fund aimed at providing financial incentives for parties to select more female candidates. While gender quotas apply to general elections, they do not apply to local elections.
Announcing the €500,000 fund, Phelan explained that parties will receive a payment of €100 per female candidate if they can display an increase in female representation from the 2014 local elections.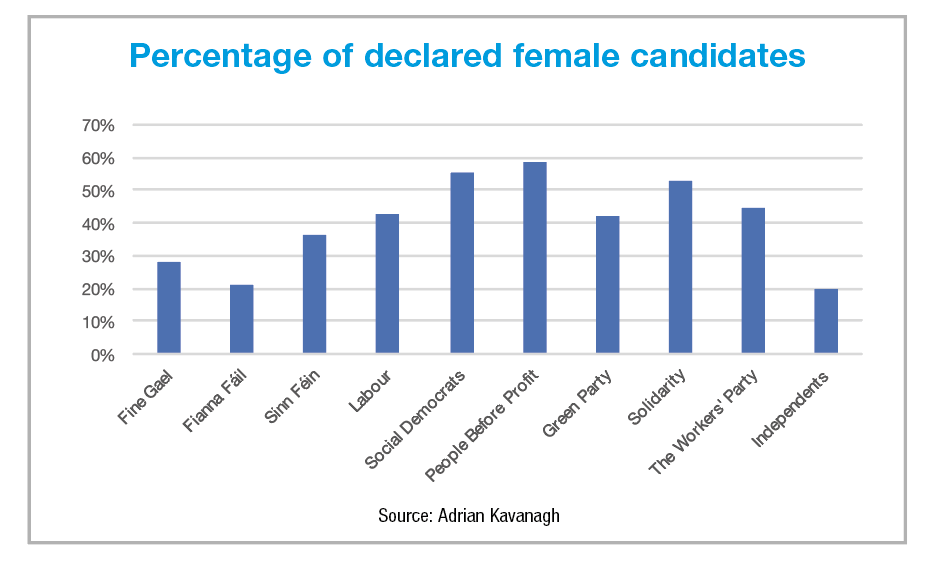 While Phelan said that the Government was using the "carrot" rather than the "stick", Fine Gael's proportionate female representation is second-lowest among the major parties. Of the candidates announced at the time of writing, 92 of Fine Gael's were women, a total of 28 per cent, higher only than Fianna Fáil's 21 per cent, or 74 declared candidates.
The data reads that small, left wing parties are leading the way in addressing gender balance, with nine Solidarity (52.9 per cent), 31 Social Democrat (55.4 per cent) and 27 People Before Profit (58.7 per cent) declared candidates being women. Sinn Féin, the only one of the largest four parties currently led by a woman, have 71 declared female candidates, a share of 36.4 per cent.
In his announcement, Minister Phelan said that local authorities especially have problems attracting female candidates, singling out Offaly County Council, which has 19 seats and no women councillors. He said: "There's something not quite adding up there, Offaly people have shown themselves to vote for female candidates in national elections, but we need to ensure we have a substantial increase in Offaly at the next election, and part of the way of doing that is to increase the number of female candidates."
The Minister said that the fund could be used to provide creche and childcare facilities for councillors as a means of encouraging women with young families to enter local politics.