Issues
Junior Cert reform divides opinion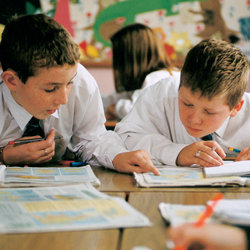 Ruairí Quinn is moving ahead with radical reforms for the junior cycle but teaching unions warn that pressure on staff will increase and standards are at risk.
Education Minister Ruairí Quinn's plans for reforming the Junior Certificate aim to place students rather than exams at the centre of the system but teaching unions claim that qualifications will be devalued.   In one of the most radical changes to exams since the foundation of the State, assessment will shift from state-set final exams to teacher-assessed coursework.
"We already know that significant numbers of first years do not make progress in English and maths: the key building blocks of learning," said Minister Quinn.  "Too many students 'switch off' in second year and never reconnect to learning.  We know that the experience of third year students is dominated by preparations for the Junior Certificate exams where the focus narrows to the performance in the examination rather than the quality of the learning."
In a frank assessment, Quinn continued: "The Junior Certificate is no longer a high stakes exam, yet we continue to treat it as if it were a 'dry run' for the Leaving Cert, to the detriment of many of our students."
The Junior Certificate has been examined since the abolition of the Intermediate Certificate and Group Certificate examinations in 1992 and was first taught in 1989.  The new junior cycle programme broadly reflects proposals from the National Council for Curriculum and Assessment (NCCA), published last November, although the Minister did not accept the council's suggestion that externally assessed exams and national certification should be retained.
Those exams will be replaced with a school-based model of assessment, introduced on a phased basis (see box).  Most students will be examined on eight, nine or 10 full subjects, with the option of substituting two short courses for one full subject, up to a maximum of four short courses.  All students will be required to study English, maths and Irish.
The Department of Education and Skills hopes that short courses will broaden learning e.g. to cover Chinese (where available), digital media literacy or short courses designed by schools.  Those courses could help to educate students on locally relevant topics, such as agriculture in rural areas.
The State Examinations Commission (SEC) will be involved in setting and marking English, Irish and maths exams until standardised tests are introduced, and the three subjects will be examined at higher and ordinary level, with all others assessed at common level.  The SEC and NCCA will work closely on drawing up the new assessment toolkit for schools.  The typical balance for the new Junior Certs will be 60 per cent in final assessments and 40 per cent assessed beforehand.
Second year students will sit standardised tests in English reading (or Irish reading in Irish-medium schools) and maths from 2014, and in science from 2016.  Teachers, in the Minister's view, were "often hamstrung by pressure to teach to the test" and the reforms would "liberate" both teachers and students.  Continuing professional development for teachers and principals will begin in 2013 and Quinn pledged "all the resources necessary" to ensure the new junior cycle's success.
NCCA Chief Executive Anne Looney welcomed the Minister's focus on "developing a school-based model for its own sake."  The benefits of this "new mindset" would "travel with the students into the next phase of their post-primary education."  SEC Chief Executive Aidan Farrell saw an opportunity in the reforms for "a refocusing of efforts at senior cycle towards more varied forms of assessment across all examinations subjects."
Most new Junior Certificates will be certified at NFQ Level 3 and children with special educational needs will receive NFQ Level 2 qualifications.
Association of Secondary Teachers Ireland General Secretary Pat King recognised the "overwhelming consensus" in favour of reform but also emphasised that the current examination and certification system is "credible, independent, objective and fair."
That high status, he said, motivated students to learn and achieve and students from all backgrounds were proud of their achievements. "It would be grossly naïve to presume that a certificate awarded by a school would hold the same status as one awarded by the State," he added.
The Teachers' Union of Ireland went further and suggested that "key elements of this initiative may be driven by a budgetary rather than educational rationale." Schools in deprived areas, General Secretary John MacGabhann said, would be disadvantaged as fee-paying schools and those in affluent communities will be able to raise more funds to support learning.
"Clearly, there is a serious concern about increased workload for teachers as a result of these proposed changes," MacGabhann added.  "This must be looked at in a context where schools have had staffing allocations slashed and have suffered a litany of other cutbacks to vital programmes."
Both unions criticised the Minister for not consulting the sector, in advance.  "Education reform is a serious and sensitive matter which can have significant consequences for young people, parents, schools and teachers," King said. "It is not something that should be used for eliciting shock and awe but should follow meaningful engagement with the relevant parties."
Fianna Fáil welcomed the announcement but questioned the eight-year time-frame for implementation and called for more detail on funding and teacher training. Education Spokesman Charlie McConalogue said that the "protracted roll-out" implied that "this process will be made up as [the Minister] goes along."
Sinn Féin Education Spokesman Jonathan O'Brien TD warned that teachers would face more pressure by being expected to assess their own students' work.
"This is likely to place teachers in a very difficult position both in terms of their increased workload, the time they have to teach and problems with objectivity when assessing their own students' work," he commented. However, the northern education system (overseen by Sinn Féin) also involves the internal assessment of coursework by teachers.
Responding to those criticisms, a departmental spokeswoman reiterated the Minister's promise to prioritise the reform and provide all the resources necessary.  Consultation had occured at the NCCA stage.  She remarked that the Delivering Equality of Opportunity in Schools initiative and continuing professional development will help to give disadvantaged students confidence and support.  The Junior Cert "is no longer a high stakes examination" and the NCCA assessment kits and standardised tests would help to maintain comparable standards across the country.
Timescale for change</STRONG< p>
Year
Phase 1
Phase 2
Phase 3
Phase 4

Introduced to first years

2014-2015

2015-2016

2016-2017

2017-2018

Subjects

English

Business studies
Irish
Science

Art, craft & design
Geography
Home economics
Modern languages
Music

Classics
History
Jewish studies
Mathematics
Religious education
Technology subjects

First certification

Autumn 2017

Autumn 2018

Autumn 2019

Autumn 2020