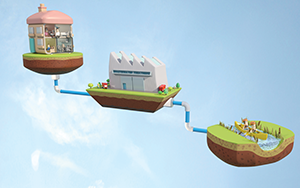 As debate continues daily about Irish Water, it would be easy to lose sight of why the company was set up in the first place. The reason is that Ireland does not have a national water and wastewater service that is fit for purpose. A national utility, part funded by domestic charges, is the answer.
Irish Water has embarked on a national transformation project on a scale not seen since rural electrification. That programme brought electricity to every home in Ireland for the first time in the 1920's, transforming the country socially and economically. Transforming Ireland's water infrastructure to a modern, efficient, reliable, environmentally compliant system is on the same scale and will deliver equally significant benefits for customers, the environment and the whole economy.
First, we must acknowledge the problem. We lose almost 50 per cent of expensively treated clean water before it even makes it to our taps through leakage. One of the reasons for this leakage is due to Victorian pipes that need replacement. In 2014, when Irish Water was created, 30,000 customers in Ireland had to boil water from their public supply before drinking it. Through prioritised work by Irish Water this situation has dramatically reduced this to less than 7,500, and plans are well advanced to eliminate all historical boil water notices.
121 drinking water treatment plants which serve nearly 1 million people require major upgrading to avoid the risk of contamination. More than one in every three of our waste water treatment plants have insufficient capacity – they're just not big enough to treat all the raw sewage that goes through them. Irish Water is now implementing a detailed Capital Investment Programme to fix this decades old problem.
Our capital city operates with a varying spare capacity for drinking water supply of between -5 per cent and +8 per cent and demand is due to increase significantly.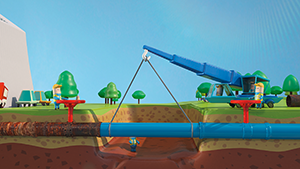 Today we are pumping untreated sewage into water at 44 locations around Ireland. As a result of this, Ireland has received a "Letter of Formal Notice" from the European Court of Justice for continuously and systematically failing to address the issue of pumping raw sewage in to our rivers, lakes and beaches.
The previous model of delivery through 31 separate agencies requires streamlining. It makes no sense in a country the size of Ireland, with a population the size of Manchester, to have 31 different agencies delivering this critical infrastructure and service.
In short – for decades we have not invested sufficiently or efficiently in the provision of water services and the situation will continue to deteriorate unless we take a different approach to managing and funding water services.
Since taking over responsibility for national water services in January 2014 Irish Water has set about developing a seven year plan focused on addressing the critical challenges we face as a nation. The plan sets out clear goals and targets and in short the plan states that by 2021 Irish Water will:
• Invest €5.5bn in our water services
• Eliminate all boil historical water notices
• Ensure no waste water will be discharged without treatment
• Reduce leakage from 50 per cent to 38 per cent (it is 22 per cent in the UK after 20 years)
• Improve the water supply capacity for all major urban centres to international standards
• Upgrade the 121 water plants supplying over 1 million people to eliminate the risk of contamination or failure
• Work with national lead pipe strategy and play its part to address lead in public ownership
• Reduce the energy we use in delivering water services
Irish Water is already making a difference by taking a national approach to maintenance of existing plants. We are rolling out a national disinfection programme to bring the disinfection equipment in every plant up to a consistent standard, reducing the overall risk of infection from drinking water contamination. We are adjusting the pH levels of water to reduce the acidity of the supply in some areas to reduce the levels of lead in water in homes that have old lead internal plumbing that hasn't yet been replaced by the owner.
Our plans are extremely ambitious and seek to do in seven years what has taken almost 20 years for other utilities to achieve. Our parent company Ervia, a commercial semi-state company owned by the state on behalf of the people of Ireland, has overall responsibility for delivering vital strategic gas and water infrastructure and services in Ireland. Ervia builds and operates one of the safest and most modern gas networks in the world through its subsidiary Gas Networks Ireland. Now, as the other subsidiary of Ervia, Irish Water has assumed responsibility for providing water services from 31 local authorities making Ervia Ireland's first multi-utility. For the first time, Ireland, through Irish Water, is taking a national approach to managing national drinking water and waste water services.
The establishment of a new national water utility and the introduction of domestic water charging have been challenging and the subject of much public debate. The simple fact however, is that sustainable water services are critical for a modern economy and these services can not continue to be delivered in the way they have in recent decades. Infrastructure, whether it is roads, sewers, water, electricity, gas or telecommunications, is the basic physical structure of our economy and society. Irish Water's €5.5 billion programme of investment is a nationally vital project designed to give Ireland a safe, world class, affordable supply of our most basic resources – clean water and efficient sanitation. This is an issue that will impact our economic and social development as a nation today, and for decades.
Irish Water is the national water utility and needs to provide safe, clean, reliable and affordable water and waste water services to 1.7 million homes and businesses in Ireland. The great reward for Ireland will be the efficient treatment and supply of a precious natural resource with the capability to recycle waste water cleanly back into the environment for reuse. Water is a vital resource that we can and must deliver for future generations. Irish Water will safeguard Ireland's water as a precious natural resource and deliver water services in a way that protects the environment and meets Irelands needs, now and in the future.
Irish Water. Safeguarding your water for your future.
PO Box 860, Cork City. www.water.ie @irishwater, LoCall: 1890 448 448/
+353 1 707 2824, MiniCom: LoCall
1890 378 378. Please note that charges for 1890 numbers may vary. Calls from mobiles may be more expensive.