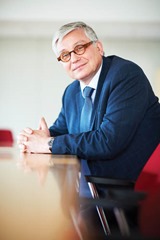 Barriers at Europe's borders need to fall if customers are to benefit from a single electricity market. Eurelectric Secretary General Hans ten Berge talks to Peter Cheney about how reform can be speeded up and delivered.
There is a sense of impatience in Hans ten Berge's tone as he discusses the slow progress in integrating Europe's electricity markets but also enthusiasm about the benefits that it can deliver for the continent's energy customers. Ten Berge heads up Eurelectric, which represents the interests of the electricity industry across 32 European countries.
Integration of the European market is "a crucial point of energy policy," ten Berge contends. European citizens benefit from a continent-wide internal market for products such as cars but "unfortunately that's not the case with the electricity industry."
He adds: "It's not because we don't want to compete but it's because the harmonisation is not done due to a lack of transport between the different nations."
The borders in this case are formed by interconnectors with constrained capacities. Electricity supplies are largely closed to external competition and a twofold or threefold divergence in electricity prices therefore exists between countries.
"Why is there a huge difference in retail prices on electricity but not on milk or on wine?" he remarks. "If I want to buy Portuguese wine in England, no problem. I might pay duties on it but the wine price is roughly the same – with transport costs on top of it. I would like to have that system in electricity also."
The benefits of integration are held back by a shortage of capacity on the borders. He characterises the problem as a Channel Tunnel with two different types of trains and passengers having to transfer between them.
Stable harmonised rules for all cross-border traffic are needed. A supplier who wants to sell electricity from Germany to Belgium needs to have the same volumes, frequencies, gate closures and trading systems on both sides of that border.
After more than 17 years of discussions, the EU is seeking to harmonise the day ahead system for 50 per cent of the market i.e. Western and Northern Europe.
"That means that harmonising the rest of the package – and the software needed to do that – is still in progress," ten Berge comments. At present, Eastern Europe is "out of the game" although Eurelectric's ultimate aim is a market that covers all member states.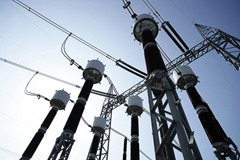 Trading
Money is not the major barrier: "It's just a matter of setting the right protocols on trading and implementing them."
Eurelectric wants to see pan-European trading but "the member states are free to do whatever they want and the process is going slowly." The Commission, in his view, needs to put pressure on governments to ensure that targets, implementation dates and financial penalties are put in place.
"I want this enforced," ten Berge states. "I think it's a hindrance in an internal market if you don't enforce structures which enable this."
Once the rules are laid down, the next step is ensuring that the right capacity is available. Member states have already committed themselves to a 10 per cent interconnection target by 2020 and the organisation is urging them to do their utmost to respect their existing commitments.
As an example, he explains: "It is unacceptable that Germany has a surplus of wind energy that it cannot get rid of anymore because the capacity is not there on a Sunday afternoon and they have to switch it off. If the infrastructure is not built correctly, we will not have a European market."
Eurelectric's third priority in reforming the market is to abolish all national regulations that prohibit trade within Europe. Member states currently protect their own generation industries and compete with their neighbours by offering higher incentives for renewable development.
"Setting these rules in that way is splitting the market – de facto," ten Berge comments. This is forcing the industry to optimise assets where governments "are giving the most favourable conditions" rather than where the natural conditions are most favourable.
While all member states have signed up to a single electricity market, national regulations are a major barrier and if they are not addressed, the benefits will not flow. He encourages governments to "put your money where your mouth is" and back the most logical solution. If Germany has a shortage and the Netherlands has a surplus, the electricity supply should be traded across that border rather than Germany paying for a strategic reserve.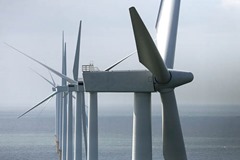 A reformed market also depends on a pro-active attitude from consumers. Ten Berge explains: "We have to make sure that the customer goes on board, that he gets involved in this more dynamic, volatile environment of renewables, that he gets the chance to adapt to this environment and that he gets the benefits of lower variable cost out of it, and that then he also gets confronted with the higher fixed cost which is systemised."
The future bill would come in two parts: variable and fixed. The variable part would pay for the volume of electricity supplied to the customer whereas the fixed amount will be necessary to maintain the infrastructure. In this way, electricity bills should therefore become more similar to mobile phone bills with a basic monthly tariff and then additional costs depending to usage.
Targets
The EU is meeting its 2020 climate and energy targets but, in his view, failing to achieve the "underlying aims" of the targets. Global carbon dioxide emissions have continued to increase.
Eurelectric expects 35 per cent of electricity to come from renewables in 2020 but "at the expense of destroying the European market" due to an unaffordable subsidy system. Ten Berge senses that no-one wants to pay the bill for renewable energy development and points to Spain's retrospective withdrawal of subsidies.
The system is also inefficient. The CO2 saved by insuring a household in the UK is valued at more than €100 per tonne due to the high costs involved in generating renewable energy. The customer is then forced to pay that price. If CO2 could be taken out at a rate of €5 per tonne, the saving could be multiplied by a factor of twenty for a €100 insulation project.
European Commission officials understand the message and want to focus on a single "currency" – the emissions trading system – which will drive Europe towards a certain level of renewables and energy efficiency. Eurelectric will subscribe to the new targets as long as CO2 reductions – whether achieved through renewables growth or energy efficiency – are determined by the emissions trading system. It also proposes that the most cost-efficient mix of targets should be set, based on the experience of the most efficient energy systems. The organisation is "firmly opposed" to setting unachievable targets for renewables and efficiency.
A target on its own does not guarantee that progress will be made. "You need a system approach," ten Berge affirms. "You can put as many windmills in place [as you wish]. If you don't have demand-side logic to respond to it, it's not going to work. If you don't incorporate it in a portfolio of mixed energy, it's very hard to trade it to the customer."
The intermittency of solar and wind does not appeal to citizens but reliability increases when hydro-electricity is added to the mix. Eurelectric members want the freedom to operate in a system where the mix can be managed, an end to subsidies which favour one particular technology, and less legislation and micro-management.
"Give us one set of general rules," he comments. "We have to operate in the market, we have to satisfy the needs of the customer and we have to create a portfolio which meets that."
Ten Berge is also keen to highlight that less than 10 per cent of gas and oil are consumed by the electricity sector while the "the lion's share of emissions" is in transport (80-85 per cent of oil) and decentralised heating and coal.
A serious decarbonisation effort will therefore involve a shift from oil to electricity in transport. At present, only 0.4 per cent of European cars are electrified and there is little progress on replacing traditional heating systems with low carbon alternatives.
Targets for 2030 are currently being discussed at EU level and a decision is due in October. The Commission has proposed a 43 per cent reduction in CO2 emissions from sectors covered by the emissions trading system. Ten Berge suggests that policy-makers "should look a little bit more" at emissions from transport, heating and cooling, while maintaining that the targets for electricity should be upheld: "I'm asking for a balanced approach which means a catch-up in the other sectors also."
In summary, while he does not expect to see the final outcome of these climate and energy policies, he would rather have "the insurance for my kids that this would be taken care of, even if the premium that I have to pay nowadays is a higher electricity price."
Chinese progress
European leaders tend to present the continent as being the world leader in climate and energy policy but Hans ten Berge points out that Europe should also learn from its competitors.
"The Americans with shale gas have reduced more carbon than Europe: no policy – nevertheless success," he states. "The Chinese have overpassed the Europeans in wind and solar installations."
China is building long distance high voltage grids to supply its growing cities and plans to pilot carbon trading in seven or eight regions. The country also recognises the need to tackle widespread air pollution in its cities and reduce the carbon intensity of its industries although action will follow when it reaches a break-even point with Europe. On a visit to Beijing, he noticed that all motorbikes were electrified: "Where are we in Europe on that?"
European coal is less efficient than Chinese coal but is increasingly being used as a back-up fuel for renewable energy. China's new coal-fired plants also compare well with Europe's older and more expensive plants.