Western sensitivities aside, in an era of climate crisis, insects have the potential to provide a viable source of sustainable protein for both humans and animals. Ciarán Galway visits the Meath headquarters of biotech start-up Hexafly to discuss the future of protein with Chief Executive Alvan Hunt and Chief Scientific Officer (CSO) Laura Healy.
At a glance, the rurally located Hexafly site in County Meath could easily be mistaken for a conventional factory farm, with two large sheds replete with appended silos. Inside, however, the company's employees undertake an alternative and radical form of animal husbandry.
The origins of Hexafly, an Irish biotechnology start-up with a stated objective to "bring an insect farming revolution to the world and find smart ways to feed the planet", can be traced back to 2013. Alvan Hunt and John Lynam, graduates of business and management and chemistry respectively, emerged from college determined to establish a sustainable protein production business. Laura Healy was the first to join Hunt and Lynan's Hexafly team, coming on board in 2017 after first meeting the two cofounders at their pilot facility in Kells.
"Initially, we had read a couple of UN reports which indicated that the global demand for protein would increase exponentially over the next 50 years while also highlighting the shortfalls in protein production.
"We examined the options and the alternatives on the table to solve that problem. For example, GM crops, algae and things like that. We began looking at insects because they have the right amino acid profile, their nutritional content is exceptional and it was relatively unexplored at the time," Hunt explains.
Black soldier fly
Rich in protein, a significant majority of the world's population commonly consumes insects as a component of its diet. For instance, as any traveler to South East Asia can attest, whole insects and larvae are commonly available for human consumption. This provided some degree of inspiration for the Hexafly cofounders. However, while black soldier flies are raised in South East Asia to compost food waste and as a deterrent to other pests, such as house flies, there was no obvious existing business model for mass production.
"Our thought process then turned to animal feed – could we look at insect protein from that perspective?" Hunt states. Thereafter, the pair began breeding insects on a part time basis, perfecting the technology and the lifecycle.
Discussing the practicalities of such work, Laura Healy, the company's CSO, stresses the docile nature of this particular insect. "Black soldier flies are very easy to handle and don't carry any diseases, unlike mealworm, which is known to carry a number of diseases," she emphasises.
CSO role
Hexafly's production process is reliant on ensuring the successful lifecycle of each generation of fly population. Healy's role, therefore, is to create and monitor the conditions pertaining to the health and survival of the flies latterly employing this data to establish the most efficient way to scale up. "We are farming a tropical insect in Ireland. As such, we must ensure that the temperature and humidity is optimal in order to mimic a tropical climate. While they are resilient animals, we have to look at colony health and diversity in the long-term," she explains.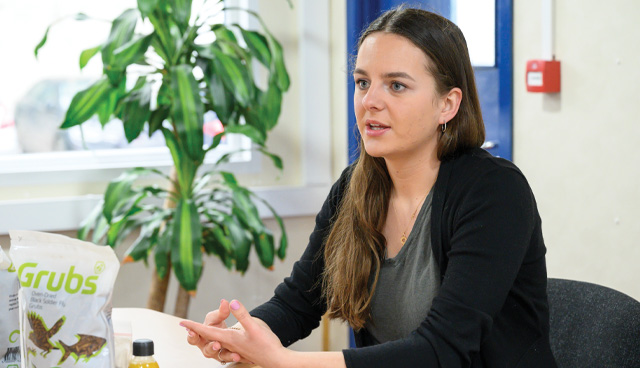 The breeding programme undertaken by the biotech company relies on eggs being harvested and then grown to optimum conditions. "All feed that is being provided must be measured accordingly. Our aim is to grow the strongest larvae we can, ensuring resilience throughout their entire lifecycle.
"As the larvae progress through pupation into flies, most are transferred to production while the remainder are allowed to progress into adulthood and breed. This is a crucial stage that must be monitored closely because this is where we acquire our eggs from, keeping the whole cycle going," Healy outlines.
Rationale
Global dietary habits aside, the decision to farm insect protein was multifaceted, as the Hexafly cofounder is keen to summarise. "Firstly, insects are one of the most robust bioconverters on the planet. They can consume pretty much any type of feed stock, though there are different ones that they prefer. They have a relatively quick life-cycle, particularly the black soldier fly whose turnaround from egg to adult is under three weeks," he says.
Most importantly perhaps, the black soldier fly, with its very high protein and calcium content, was a good option from a nutritional perspective. The meal which is produced from the insects possesses a number of immune boosting benefits as well as gut health benefits.
"One of the reasons it is highly regarded by the pet food industry is that there are a number of dog breeds which shed hair or exhibit other symptoms when they are eating products with low nutritional value and will have an allergic reaction to some of the ingredients. Conversely, insect protein is very mild on the stomach for pets and animals while also being hyper allergenic," Hunt establishes, adding: "Unlike plant protein, which is missing various amino acids, insect protein is comparable to animal protein and meats. However, it's not just a simple protein, it's a powerful health supplement."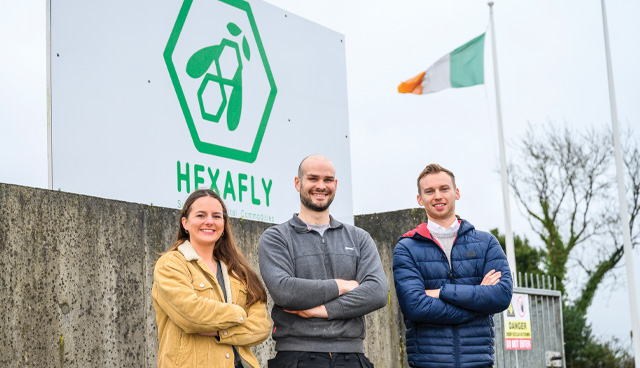 Upscaling
A significant milestone for Hexafly was to approach Enterprise Ireland with an unconventional but ultimately successful proposal for investment. Following this, the start-up's big break came in 2016, when it was accepted to RebelBio, a global biotech accelerator programme. Of 2,000 companies that applied, Hexafly was one of 10 shortlisted. The reward was a $100,000 dollar investment from Seán O'Sullivan Ventures (SOSV) and a 10 month-long bootcamp of intense mentorship for companies at early development stage.
"We emerged from that with all guns blazing and built a small pilot plant in Kells, County Meath where we refined the technology further with the investment we received," Hunt explains. Having subsequently proved the concept at modular level, demonstrating customer satisfaction and verifying demand for the product, Hexafly began to secure additional funds.
"In total, to date, we have raised €4.2 million in investment. We have also received a number of different grants totalling around €300,000 and additional prize monies. That has boosted us enormously," says the company's CEO.
In late 2018, Hexafly upscaled to its current facility between Slane and Ashbourne, facing the notable challenge of assembling the necessary machinery and equipment in the absence of a template for building an insect-processing bioconversion plant.
"When you're starting something like this completely from scratch there are going to be challenges. Innovation problems, production problems and technical challenges all emerge as you scale. We also fall under the remit of various EU legislation, so quality control must be of the highest standard throughout the process.
"That was a steep learning curve but we've perfected the process now and received our licences from the Department of Agriculture in August 2019 – including a Category 3 Animal By Products processing licence and a Feed Business Operators licence. Since then, we have been making some final improvements to the plant and increasing production. We now employ a total of 24 staff and over the next six-to-12 months, we will increase both our production and our revenue as we begin launching new products onto the market," Hunt affirms.
Sustainability
Sustainability is central to the Hexafly's business model and the company operates as a circular economy. "We're taking a waste stream that would typically be underutilised, the insects are then bioconverting this into a fertiliser and then we're growing and processing the insects themselves into several different products with one input. We operate a zero waste facility – everything produced here is utilised, including the skin which the larvae shed as they grow.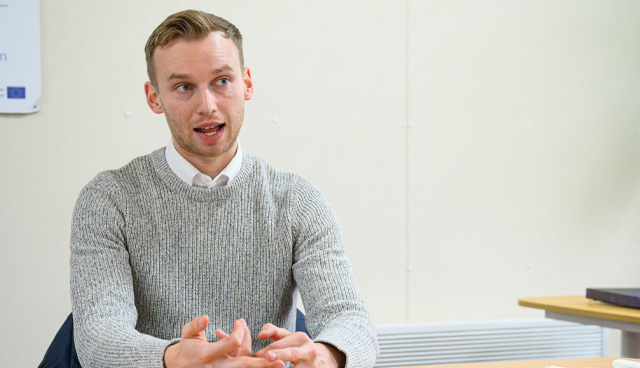 "From an emissions perspective we're almost carbon neutral. If you compare different agricultural systems, the percentage of protein produced by square foot here is thousands of times the multiple of what you have when compared with a beef or poultry farm. Combined with that there is minimal water usage and no antibiotic usage. Basically, Hexafly is a protein factory with a miniscule carbon footprint," the Hexafly CEO elaborates.
Human consumption
Hunt recognises the growing demand for an alternative protein source for humans. Though he acknowledges that insect protein is unlikely to entirely replace conventional proteins such as meats and plant proteins, global population growth and the climate crisis dictate that food systems must change to mitigate the damage of intensive agriculture practices across the world.
"I do believe that the door is going to open up for human consumption. There are long regulatory approval processes in Europe. In order to produce a novel ingredient and launch it onto the market, a novel food licence is required. Each application for a novel food licence costs €50,000. For example, any food company that wishes to use insect flour to make cakes, biscuits or protein bars, must make an application to the EU.
"At the minute, there are a number of applications submitted and though we don't have a timeline, we expect that these will be approved eventually. In countries such as Finland, Switzerland and The Netherlands, it is possible to buy insect products for humans," he explains.
Products
Hexafly's flagship product is the insect-based HexaMeal, a natural feed replacement with a protein content of over 50 per cent. "HexaMeal is offered for the aquaculture and pet food market as a new protein ingredient to replace soya meal and fish meal which are both massively unsustainable ingredients and contribute to overharvesting of the ocean and rainforests. We need an alternative and that's what insect protein is," Hunt asserts.
Meanwhile, HexaOil, a sustainable insect-oil, is derived from the fat of the black soldier fly and is almost identical to coconut oil in its nutritional content. "We're looking at this from the perspective of producing soaps, candles and other oleochemical products such as biofuel. It can also be used as a gut supplement for pigs as well," he says.
The three variants of HexaGrubs products (oven-dried grubs, live grubs and 'grubs in small tubs') are targeted towards pet store chains and online retailers as offering a locally-sourced high protein diet for wild birds, pets, poultry and fish.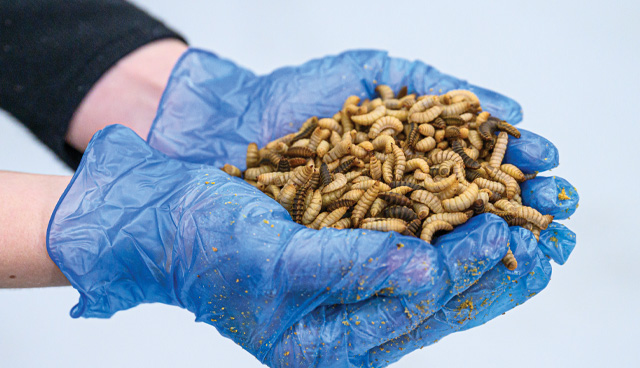 "A lot of similar products currently available in the UK and Ireland are mealworm based, which is no real comparison in terms of nutrition. It is also commonly imported from China where there is lower quality control, whereas what we are producing is clean, quality controlled and contains better nutritional content. We are able to offer a fresh live product which can be delivered locally as opposed to something which has to be imported from halfway across the world," Hunt contends.
One significant by-product of the Hexafly operation is an organic fertiliser marketed as HexaFrass. Competing with other low bulk volume organic fertilisers currently available, Hunt is keen to accentuate the multiple benefits of HexaFrass. As well as containing soil amendments which improve the quality and health of soil, the fertiliser also acting as a natural insecticide repelling aphids and other pests.
Vision
"We see Hexafly as one component of a larger sustainable movement globally. We would hope that as we grow we would be able to replicate this plant on a larger scale, at 100,000 or 120,000 square feet and actually establish multiple sites in Ireland, the UK and Europe before expanding globally.
"What we want to be able to do is to produce and supply sustainable protein locally in Ireland and Europe, reducing the need for feed and fertiliser imports. We want to make a dent in the dependency on soya and palm oil production. We offer a direct alternative," Hunt concludes.