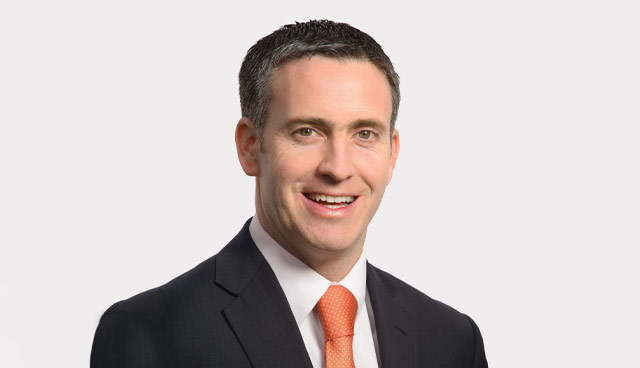 With homelessness figures rising and Rebuilding Ireland now in its third year, eolas speaks with Minister of State for Housing and Urban Development, Damien English TD about replenishing Ireland's housing supply, short-term lets and Rent Pressure Zones.
"The big focus was to restart construction but to do so in a sustainable way. When we came into Government, there was very little activity in terms of construction other than one-off private houses; there was probably less than 5,000 houses being built per year in the country and that had been the case for a number of years," English says from his departmental office in Customs House. "We had to put in place something that would deliver housing over 20 or 30 years to ensure that we wouldn't ever have a housing shortage again. It wasn't just a quick fix to find homes for people who hadn't got them, it was to put in place a sector that companies could invest in and that enables local authorities to build up their teams and portfolios to become a permanent force in social housing."
Ireland recorded 10,338 homeless people in August 2019, the second highest figure ever recorded in Ireland and the seventh consecutive recording of figures above 10,000, a previously unthinkable number. Such figures facing into the winter, the worst time of year for homeless deaths, are especially worrying. However, the record high homelessness numbers don't even tell the full story of Ireland's housing situation; in the same month, 31,196 households were on the social housing waiting lists in County Dublin alone, a figure made all the more perplexing by the constant presence of over 100 cranes in the Dublin skies. An almost complete collapse in Ireland's construction industry meant that construction numbers bottomed out after experiencing extreme peaks and troughs as the Celtic Tiger era crashed to an end. Rebuilding Ireland's goals, as such, could only be achieved through an overhaul of the industry and a commitment to the rebuild of Ireland's near empty social housing stock.
"It's not sustainable to build 80,000 houses in one year and 10,000 the next; all the jobs disappear and that's what happened when the construction sector fell during the recession," English says. "Through Project Ireland 2040 and Rebuilding Ireland, we worked out that we need to be delivering in and around 30,000-35,000 houses every year to deal with population increases. Rebuilding Ireland was the start, to get to 28,000 houses per year by 2021. We were hoping that by year three (2019), we wouldn't be far off the 20,000 target and it looks like we are on track. June 2019 showed about 21,000 built in a 12-month period. We hope that the 12 months of 2019 will show close to 23,000 based on the data out there at the minute.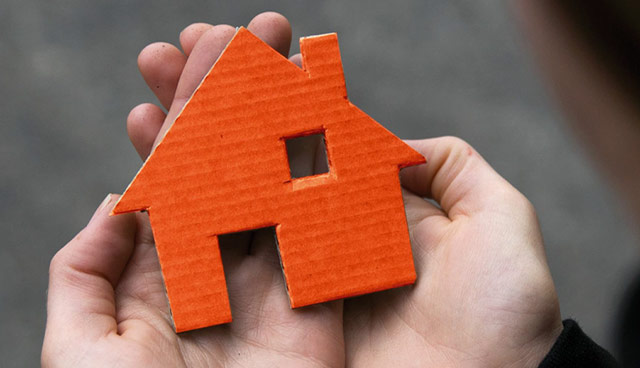 "A major part of Rebuilding Ireland was putting in place a social housing build programme. Local authorities had merely stopped building social housing and boom years policy changes shifted the reliance to the private sector. We were very clear that we wanted the local authorities front and centre in driving a social housing build programme. The aim is that as a state we should deliver at least 10,000 social houses per year. We knew that we couldn't go from zero to 10,000 in one year, so our aim was to get there by year three. When I look across all our sites, we will reach that mark this year. That's a combination across all the schemes: new build, Part V, the voids programme, long term leasing and acquisition. We'll do the same next year and probably more. The funding has been set aside under Project Ireland 2040 to take us beyond 10,000 per year and up to 12,000 as we move on from 2021."
Construction numbers have seen an uptick. 18,072 new dwellings were completed in the 12 months of 2018, a 25 per cent rise on the previous year. However, with the homeless numbers and the fact that 16 counties have at least 1,000 households on the social housing waitlist, these rises are not enough and are not happening fast enough. English admits as much: "For too long this country didn't build and invest in social housing. I believe that's corrected now; it's on the right track, but not happening quick enough for every family immediately.
"We know that if we keep up that 10,000 per year that we won't have families waiting for housing in family hubs or hotels. Building on the success of last year, we will have a situation where every family has a home. If we can continue these kinds of numbers, there won't be housing difficulties in Ireland again and I would ask whatever government comes into power – because governments come and go – to stick to a housing strategy that delivers those numbers every year."
While progress has been slow, English takes a little consolation in the reduction of time that a family can expect to be homeless should they become homeless, English says. "There are about 1,700 families in emergency accommodation. The only positive you could say to them is that if you look back at 2018, over 5,000 adults left homelessness and went into a house. In the first six months of this year, about 3,000 adults and all their children left homelessness. So, for that 1,700, there's no reason why we can't move most of them into a home over the next six to eight months. Before we started Rebuilding Ireland, it wasn't unusual for someone to spend over two years as homeless, now the majority have found a solution within six months," he says.
"We knew that we couldn't go from zero to 10,000 in one year, so our aim was to get there by year three."
In the meantime, as Ireland waits for its housing supply to catch up with its demand, English is keen to draw attention to the other government schemes that families have availed of to access housing: "Naturally, you want to find homes for homeless people, but that might not always be a council house, it can also be done through the HAP scheme for example. We work with the private sector through a range of schemes and that gets some criticism out there but at this moment in time over 40,000 families avail of the HAP scheme. What else can you do when waiting to build social houses? Families have to be housed and I think it's wrong of anyone to say these schemes shouldn't be used. By the end of 2019, over 90,000 families will have availed of a scheme to find a home."
Despite English's positivity, a three-day snapshot study of Daft.ie housing stock by Simon Communities found that only 8 per cent of housing was available within the HAP scheme's levels in November 2018. This figure was 6 per cent and 8.5 per cent in August 2018 and November 2017 respectively.
Announced in April as part of the rebuild of the social housing stock was the first bundle of Ireland's first ever social housing private-public partnership (PPP). The PPP deal will see 1,500 new homes delivered across three bundles at a cost of €260 million. The housing will be managed by Choice Housing, part of the Comhar consortium, under a 25-year financing agreement and construction managed by a private company. The consortium will build and maintain the housing for 25 years before it is returned "in prime condition" to the State.
"We'll get good value from that," English says of the model. "The PPP model has worked brilliantly for schools, which I saw while working in the Department of Education. If it's well managed and well controlled, it's a model that works well. Why we like it for housing is that the financing of it is off balance sheet. When you're trying to spend taxpayers' money and stretch the budget as far as you can while recognising that we need to keep things within certain limits under EU rules, financing housing projects off balance sheet is very worthwhile. All the models of delivery are working quite well; long-term leasing, turnkey projects, acquisitions etc. The aim of Rebuilding Ireland was that you wouldn't put all your eggs in one basket, to have a lot of different ways to deliver housing. I'm happy with how it's going."
One obstacle that has stood firmly in the way of housing families and individuals in need has been the proliferation of a worldwide short-term let market as seen on websites such as AirBnB. In October 2019, there were 9,512 listings on AirBnB for County Dublin, 50.4 per cent of those being entire houses or apartments, with Dublin 1, 2, 7 and 8 particularly popular. The presence of such short-term markets has been known to keep rents at a premium and its negative effects on cities in need of housing stock has seen AirBnB be cracked down upon in places such as Los Angeles, Paris and Barcelona. Ireland's intense focus on tourism as an economic stimulant and the need to house those in need of housing has led to a clash that the Fine Gael Government attempted to address this summer. Homeowners now looking to operate short-term lets in Rent Pressure Zones (RPZs) must abide by an annual cap of 90 days, which includes the provision that they can rent out their homes for 14 days or less at a time.
"These buildings weren't designed or planned for short-term lets," English says of Dublin's short-term lease market. "We are short of housing supply and those houses would be better off in the long-term market. The main change, which came in July this year, restricts the usage of those properties like that to bring them back into the system. It's not a blanket rule in every county; each local authority will take their own approach. Some authorities, where there are no RPZs, probably won't need to use this legislation, or they'll have a more relaxed approach to it, and that's fine. Counties like Leitrim have an average rent of less than €600, it won't be an issue there, but it's in places like Galway and Dublin where it's a problem. Authorities need to work to find the balance between having a tourism offering and having a full housing supply."
This is all part of a more significant shift, English says, a shift towards a more professional renting market in the model of Germany or Austria: "In Ireland, up to the mid-2000s, we were very much a home ownership country. That's changing, some don't want a mortgage over their heads and others aren't in a position to get one, which means we need a proper rental sector.
"Most of the landlords, 70-80 per cent, at this moment in time are people who own one or two homes. We're trying to put in place a sector with more professional landlords, which means more rules and regulations for both tenants and landlords. Recent legislation in the Dáil has been to protect tenants and give them more rights. We recognise that we have made it more difficult for landlords, but we'll bring more legislation through the Dáil to balance the relationship and over time, develop a professional market.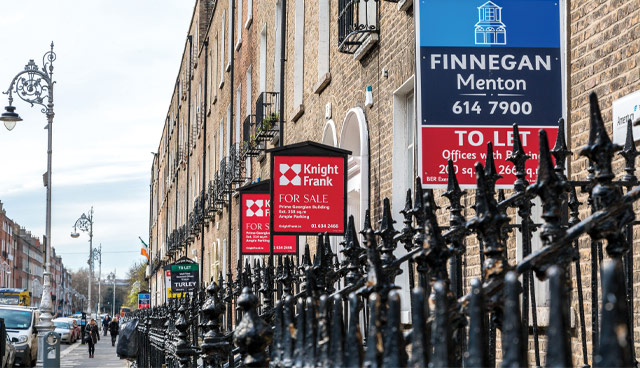 "If you're in Dublin, Cork or Galway, we wanted to bring some predictability into the market while we increase the supply, hence the rent rise cap of 4 per cent."
"If you're in Dublin, Cork or Galway, we wanted to bring some predictability into the market while we increase the supply, hence the rent rise cap of 4 per cent. The RPZs have been in place since 2017 and we believe they're beginning to have an impact. Rents are still rising in Dublin and the overall price is still far too high, but the rate of increase has begun to come down. You can't overextend and interfere too much in the rental market because you'll scare off landlords. We're trying to put in place a system that still encourages investment."
Concluding, English circles back around to one short-term goal that should be immediately achievable and would relieve some of the pressure on the Government: "Getting back under 10,000 homeless people is about supply of housing, specifically council and social houses being built. We secured a five-year housing budget to go with Rebuilding Ireland and every year, Minister Eoghan Murphy has secured an increase every year at budget time. Once that's spent, it's about €2.5 billion every year; if that's spent correctly, delivering 10,000 houses this year, that will give us the homes we need.
"For 10 years, this country didn't build any houses because we got walloped in 2008 and it was mainly in the construction sector. The difficulty now is that almost the exact same number of those finding homes are becoming homeless every month and it's only once we increase the supply of housing that we'll be able to combat that. The majority of the 10,000 social houses coming in this year will come in during the second half of the year, so we should be really well equipped to bring those numbers down by the end of the year. When the crash happened, the State wasn't equipped to intervene as quickly as it should have been able to, whereas now if a family realise that they're not going to be able to pay next month's rent, they can contact their local authority and we can help them early doors. People suffered for far too long but we're able to step in now far quicker."