Education
HEAnet: underpinning digital transformation in the education sector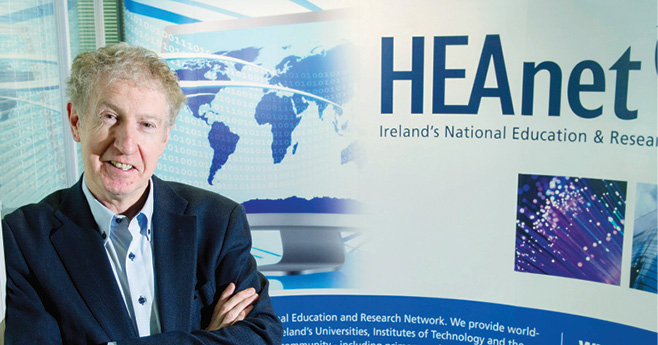 HEAnet, Ireland's national education and research network, provides internet connectivity and associated services to education and research organisations throughout the country. eolas speaks with Chief Executive John Boland.
"We are a shared service organisation providing ICT infrastructure and services to support higher education and research in Ireland. Our clients encompass Higher Education Institutions (HEIs) including all the universities, institutes of technology, third-level colleges and research organisations, as well as all primary and post-primary schools. Our job is to underpin their digital transformation journey, and that's very much central to our strategic thinking," outlines John Boland.
Historically HEAnet operated as the network provider for the third-level sector. Boland explains: "We have an advanced high-bandwidth network in place to support the top end of research. It has to be both resilient and reliable because HEIs depend on us on a 24/7 basis."
These days HEAnet applies its commercial and technological expertise to achieve optimal solutions for its HEI clients. Essentially it operates as a one stop shop for the procurement of networking on behalf of the whole 
third-level sector.
"We work with most of the bigger Telcos in the country", says Boland. "Taking over 200 circuits from them to deliver our national education and research network. The network is supremely important; it has to work because nothing else will function if it isn't there underpinning everything. We have been proven to provide real value for money for both the State and the third-level sector, and now HEIs are asking 'what services will you layer on top of the network and what else can you do for us?'"
Boland goes on to say: "This has led to the digital transformation journey which HEIs have embarked upon in recent times. The HEAnet network is the absolutely critical starting point. Virtual learning environment (VLE) is another critical step. VLEs are how students access lecture notes and uploaded lectures and where assignments and exams can be submitted, all online. More and more HEIs are looking to have their VLEs hosted off-campus and in the cloud. Our network, combined with Edugate, HEAnet's secure identity and access management service (IAM), ensures 24/7 access to VLEs, regardless of where they are hosted."
Benefits of cloud based services
"An increasing number of applications and services are being migrated to the cloud, Boland said. "This enables lecturers to upload presentations, assignments and live lecture feeds while campus IT staff can focus on the core business of the HEI. All the while, students can download the research materials they need, work on assignments and submit them at any time. That's the real transformation. Traditionally you had labs full of computers on campus. Now, students work from home, from a café or wherever they happen to be. All of this calls for 24/7 connectivity and availability. In other words, anytime, anywhere, anyhow."
Transnational education
Another aspect of the digital transformation journey is the growing demand to facilitate transnational education (TNE). Boland explains the concept. "HEIs are increasingly attracting students from abroad and several have moved to establish campuses, or what they refer to as international hubs, in locations such as Singapore, China and Bahrain. In fact, some of these locations already have an outreach campus where local students can attend. This strategic move by HEIs is intended to transform the whole student experience towards a global campus. Such a move comes with its own challenges of course, an obvious one being having to navigate multiple time zones. HEAnet's 24/7 network availability fundamentally underpins this global campus strategy."
Underpinning digital transformation
On top of HEAnet's national education and research network, it provides value added services such as data centre infrastructure and the aforementioned Edugate, their secure identity and access management service (IAM). Boland says: "As you can imagine, a student has separate login details for their email, the library management system, VLEs, as well as e-journals, online databases and exam systems. Edugate, HEAnet's IAM service, means each student requires only a single authenticated sign-on. Once they login through Edugate, they have on-line access to everything they need. This is a huge benefit for students and staff alike as it removes traditional location and time constraint barriers and reduces the heavy load on campus IT staff in managing password reset requests."
"Cyber security is another critical step", continues Boland. "One which everyone including ourselves is focused on at the moment. For HEAnet this covers a multitude of services including the protection of data, campus networks, and client organisations from distributed-denial-of-service (DDoS) attacks. DDoS is a day-to-day reality for our HEI clients and we now include 24/7 monitoring and mitigation as part of our security services portfolio."
Boland goes on to say, "Our role in supporting this digital transformation journey also extends to brokering licencing and framework agreements. One example is the campus agreement HEAnet brokered with Microsoft on behalf of the third-level sector. Along with many other benefits it provides free access to the Microsoft Office Suite for students and staff. We are also working with other software and cloud providers such as Adobe, Amazon Web Services and Oracle to broker deals for the third-level sector".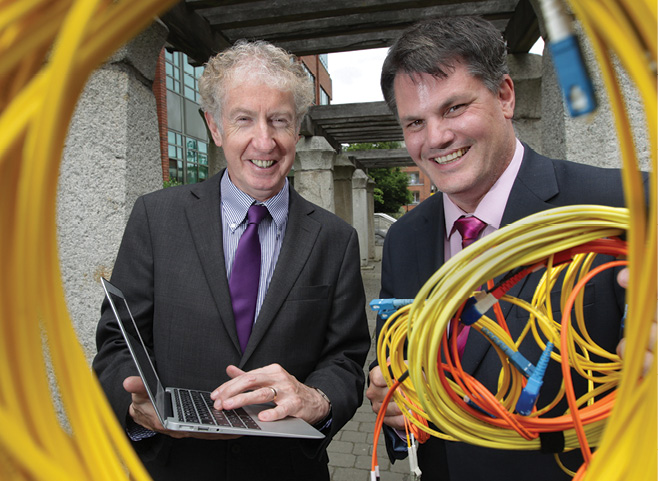 Utilising the network
HEAnet are engaged in several collaborative projects. Boland details: "Utilising our existing national education and research network, we also connect approximately 4,000 primary and post-primary schools under the Government's Broadband for Schools Programme. The resulting Schools Network represents a real value added shared service as it leverages the investment already made by Government in the third-level sector, for the benefit of first and second level education."
Every post-primary school in the country now has a 100 Mbps high-speed broadband connection, rolled out on behalf of the Government by HEAnet. Boland asserts: "This gives teachers the opportunity to use electronic white boards and the Internet for teaching. It is one thing for the teacher to describe from a book the ceiling of the Sistine Chapel but it is another to navigate around it on the white board."
Boland continues, "Having broadband access to the Internet is a vital part of making our students an attractive proposition for multinationals seeking to employ them in the future".
Vision
Outlining HEAnet's vision for the future, the CEO notes: "Fundamentally we must maintain a highly sophisticated and reliable network which underpins everything we do. For example, when students are using VLEs to access on-line data from e-journals or databases across the globe – it is our network connectivity which underpins this. Not just because our clients rely on us as a trusted and neutral network provider, but because we can seek innovative solutions and broker deals on behalf of education and research community as a whole."
He concludes: "HEAnet is all about collaboration – facilitating our clients on their digital transformation journey. 
That is the bottom line."
John Boland is Chief Executive of HEAnet Ltd, Ireland's National Education and Research Network.

Tel: +353 (0) 1 660 9040

Web: www.heanet.ie

---
Profile: John Boland

John stared his career working in industry with international companies including Marconi Communications Systems in the UK, Motorola Information Systems in the UK and the US and Westinghouse in Australia.

John was appointed as CEO of HEAnet in October 1997. Prior to this he worked as the Systems and Networks Manager in the Computer Services Department at Dublin City University. He holds a BE in electronic engineering from University College Dublin.

John represents HEAnet at the GÉANT General Assembly, a collaboration between the European National Research Networks and the European Commission, delivering advanced pan-European research and education networking.