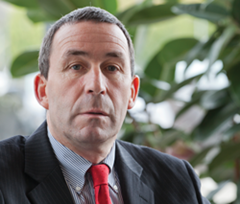 Establishing Irish Water is a significant and historic reform opportunity that will provide Ireland with a world class water service for the future, says John Barry, Bord Gáis Networks Managing Director and Programme Director for the establishment of Irish Water.
It was a huge privilege for Bord Gáis to be tasked with the responsibility to establish Ireland's first water utility, and we must now honour that vote of confidence. Not only must Bord Gáis play its part in the reform programme, it must begin to articulate why reform is necessary and the benefits it will bring. Reform of the water sector is necessary to ensure we have the right level of funding to develop the water infrastructure needed for the future. As people prepare to pay for water, they will rightly have high expectations of the service that the new utility will provide.
When Bord Gáis was tasked with the responsbility to establish the new utility in April, its stated aim was to deliver, through a public utility, sustainable, high quality and efficient water and wastewater services for the benefit of the citizens of Ireland. We aim to create a water sector with secure supply, significant efficiencies in capital and operating expenditure, reduced leakage, whilst ensuring that our Water Framework Directive requirements are met, building on the expertise that exists in the local government sector and leveraging off its own utility experience.
To do this, we plan on meeting the following objectives:
• participating in the reform of existing water services;
• building consumer confidence by meeting customers' needs;
• leveraging the experience of the Department of the Environment, Community and Local Government, local authorities and other bodies, in addition to our own;
• accountability and social responsibility;
• efficiency by working together to deliver value for money;
• creation of a funding model to enable capital expenditure to meet our customers' needs; and
• water conservation.
There are many risks involved in the major reforms at hand, not least the transition phase. We are currently focused on the immediate objectives of establishing a company with a solid governance structure, a phase that should take 18-24 months. Communicating the changes to the public and working with the Commission for Energy Regulation to develop a framework that provides money and supports future investment are also current objectives. Legislation to establish the utility should be enacted before the end of the year.
The roll-out of water metering is challenging, and forms a key part of the reform programme. A domestic water connections survey will be carried out by the local authorities. The Department of the Environment, Community and Local Government will decide the specifications for the boundary boxes. Irish Water will work with whichever entity wins the contract to supply the boundary boxes and will also take responsibility for public communications about metering. The utility will also work closely with the local and regional contractors who will oversee the roll-out of metering.
We want to ensure that metering is done safely and efficiently, causing the least disruption. Customer support structures will be necessary to cope with the volume of inquiries as the meters are rolled out and we are committed to creating these structures.
Milestones
The Government hasn't made a final decision on when domestic billing will commence, but has indicated it will commence from 2014. Irish Water will be able to deliver billing capability in early 2014. Irish Water's programme of delivery will contain certain milestones on which we are already focused:
• before billing commences, Irish Water will launch an 'above the line campaign' to inform customers of the establishment of Irish Water and the benefits of it, and will also establish a customer database;
• billing day one: bills sent to domestic customers;
• the installation of water meters will commence in July 2013; and
• Irish Water will take ownership of assets from 2014.
One of the reasons for which Bord Gáis was awarded the responsibility to establish Irish Water was the significant utility success it has had in the energy sector, success that can be leveraged for the new utility. Bord Gáis now has two considerable operations.
With 13,229km of gas pipelines and two sub-sea interconnectors, Bord Gáis Networks is responsible for new connections, and work on service pipes and meters at customers' premises throughout the country. The company's full 24-hour emergency response service handles almost 20,000 call-outs each year with an average response time of 24 minutes.
Bord Gáis Energy operates over 700 megawatts of conventional and renewable electricity generation plant, procuring and delivering gas and electricity services to over 800,000 customers. This high performance utility model will be brought to the new company. From the time that Bord Gáis was tasked with establishing Irish Water, it has seconded subject experts from its core business to work on the implementation plan.
Core values will be at the heart of water and wastewater services delivery. During 2005-2006, Bord Gáis devised five values: safety, honesty and integrity, performing, pro-active, and empathetic. Between 2006 and 2008, we brought those values alive, making them as relevant for the person who fits the gas meter as the person who negotiates a regulatory contract.
These values were seen in action through our staff's dedication during the severe cold spell in winter 2010, with our fitters restoring gas supply to homes throughout the country on Christmas Eve and Christmas Day. We want to ensure that the high levels of customer satisfaction currently experienced by our customers (over 80 per cent of customers say that they have noticed these values in Bord Gáis) will be found in the new water utility. Customer confidence is crucial to developing services that people will soon have to pay for. The values approach will supplement the dedication and commitment of the staff that currently work in the sector.
The high standards we have set ourselves could not have been achieved without efficient procedures and policies such as streamlining of capital expenditure approval processes, centralised procurement and the use of state-of-the-art technology. We will utilise this systems knowledge, improving procedures such as those for capital projects approval, where necessary, in the establishment of Irish Water.
The water reform programme over the next 4-5 years will be unprecedented and very challenging. A collaborative approach with all of the industry is needed to assist Irish Water in delivering it. We want to work with all the industry players.
At Bord Gáis, we have the vision. Our eyes are on the end game of sustainable, high quality and efficient water and wastewater services for the public. We have a plan and a strategy for implementation, all aimed at providing a utility to deliver value for customers, as well as infrastructure and services to serve generations of citizens into the future.