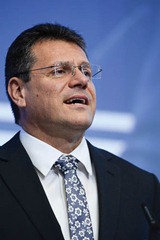 European Commission Vice-President Maroš Šefčovič (pictured) has announced plans to establish a single energy union. Delivering on President Juncker's priority guidelines, the energy union will be established in conjunction with comprehensive climate change policy.
Šefčovič stated: "Today, we launch the most ambitious European energy project since the Coal and Steel Community. A project that will integrate our 28 European energy markets into one energy union."
The Commission intends to move the EU away from its status as the largest energy importer in the world (53 per cent of its energy at an annual cost of approximately €400 billion). It also aims to facilitate the free flow of energy across EU borders. Moreover, the Commission targets further increases in efficiency in energy consumption, preservation of domestic energy sources, a domestic reduction in greenhouse gas emissions (40 per cent less by 2030 compared to 1990), and the establishment of a technological lead in alternative energies.