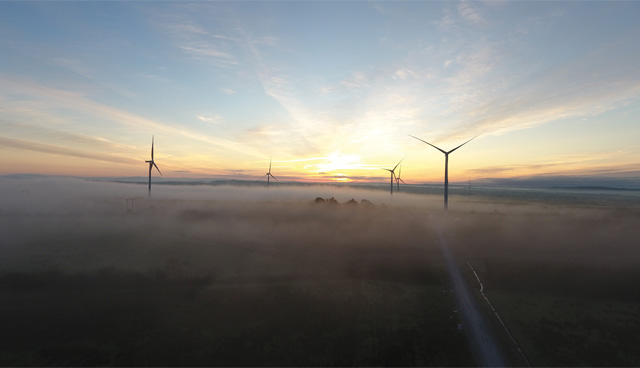 In June 2019, the Irish government launched its Climate Action Plan which outlined Ireland's path to decarbonisation. This Plan marks a major step forward in plotting Ireland's response to climate change. There is no question that we all have a part to play in the fight against climate change, but energy companies are on the front lines when it comes to Ireland's transition to a low carbon and ultimately net zero society.
There are a number of measures still required to fully realise the ambitions of the Climate Action Plan, which will include legislative and budgetary mechanisms. These will likely become key issues for the next government to consider, but largely there has been a growing consensus that we all need to support radical action on climate change.
Around the world, people are becoming increasingly aware of their own personal impact on the environment and are questioning their habits and behaviours in the hope of making more sustainable decisions. As a result, consumers increasingly – and rightly – are demanding more of large companies and their offerings; seeking assurances that the products and services they provide are greener and more sustainable than ever before. It's no longer good enough for governments and businesses to stick to the rules and engage in isolated acts of philanthropy, they must live and breathe values which embody a social responsibility, and a focus on sustainability.
So, what does all of this mean for the energy industry? In short, it means a concerted effort toward means a concerted effort toward generating cleaner energy, and supplying greener energy to our customers. Beyond that, it also means working with policy makers, businesses and consumers to find the best overall route to a greener Ireland by providing them with sustainable solutions to their energy needs. It means working in communities to enhance green options available to homes and partnering with businesses to develop sustainable relationships which have wider benefits for society. These are lofty ambitions indeed, but we believe they are not only necessary – but achievable.
Realising Ireland's decarbonisation ambitions
The EU has recently formalised its ambition to reach net zero greenhouse gas emissions by 2050 at the latest. This sets clear targets for governments to develop their pathways to decarbonisation. In Ireland, the clear and ambitious recommendations of the Citizens' Assembly and Joint Oireachtas Committee on Climate Action show the critical importance attached to tackling the climate emergency and acknowledging the need of the need for change across society at large.
Whilst a challenge, the transition to a climate neutral economy provides an opportunity to increase economic growth, promote employment and improve quality of life and public health. Ireland should seek to build on its strengths by pursuing ambitious renewable electricity goals, and committing to the delivery of at least 70 per cent renewable electricity by 2030. This can then drive the decarbonisation of other areas of the economy, such as heat and transport. An energy system based on renewables is undoubtedly the most efficient and competitive way to achieve decarbonisation across the economy.
In helping to decarbonise the economy, policymakers must provide the supports that homes and businesses need, to change their habits and adopt more sustainable ones. This requires investment in the enabling infrastructure. Electrification of heating for example has significant potential to reduce emissions from the built environment by decarbonising the electricity system more widely.
Energy efficiency must also continue to be a critical infrastructure priority, and it is clear that continued collaboration between utilities, the Sustainable Energy Authority of Ireland (SEAI), local authorities, and, given the scale of energy savings required, a partnership approach will be vital to the development of Ireland's 'one-stop-shop'. Utilities can play an important role in achieving these targets and will be willing partners in this process. New efficiencies and incentives should be encouraged, through the development of policy frameworks for schemes such as District Heating; grant schemes and low-cost private finance measures developed to stimulate consumer demand. To ensure the level of take up is at the levels required, and that there is a real shift towards efficiency, it is vital that policymakers ensure consumer's energy bills do not become over-burdened with policy costs as energy efficiency schemes are developed.
Greening our industries
The electrification of transport is one of the most important steps that we can take toward achieving Ireland's climate targets. A reduction in the number of fossil fuelled vehicles on our roads will improve local air quality, reduce carbon emissions and help integrate renewables into the electricity system. Ireland's Climate Action Plan foresees an additional one million Electric Vehicles (EVs) on the road by 2030, but the infrastructure is key to realising this ambition.
The extensive roll-out of charging infrastructure will be necessary to stimulate the consumer demand for EVs at the scale required. SSE believes that local authorities, transport authorities and electricity companies are best placed to lead the competitive delivery of EV charging via a new partnership model. Greater collaboration will be required to plan and deliver the necessary on-street charging infrastructure and it is vital that this process gets underway sooner rather than later.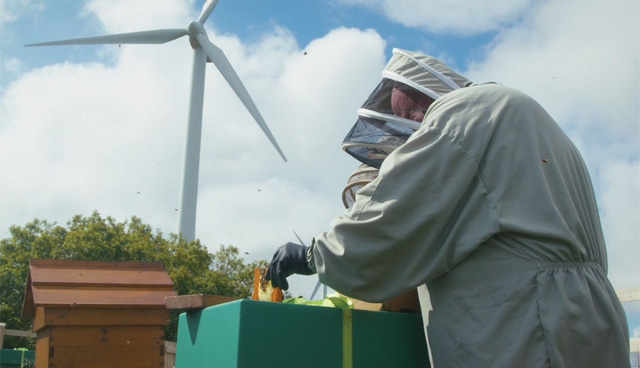 The agricultural sector is one of the most innovative in the economy. The continued development of sustainable relationships with partners in this sector, while supporting farmers and suppliers in achieving their most sustainable ways of working, is key to helping the agriculture sector reduce its carbon emissions. Investment in and enabling microgeneration can play an important part in ensuring that as many citizens and enterprises as possible can actively participate in Ireland's transition to a low carbon economy.
SSE Airtricity's FarmGen, product developed with Glanbia, is one such example of the kind of innovative supports that can enable the integration of greater sustainability measures within the agricultural sector. FarmGen is a bespoke renewable solar energy solution that allows farmers reduce their costs and their energy consumption, boosting the green credentials of the dairy and agriculture industry. The opportunities and benefits that microgeneration can provide for the agricultural sector are significant but these schemes need more supports and greater collaboration from policymakers at European and national level. Through the integration of smart metering with microgeneration, energy suppliers can help consumers and citizens make better choices, choices that will benefit them and the wider community.
All of this may sound like idealism and unrealistic expectations, but when you look at the innovations developed by utilities in the previous decade in progressing Ireland's green agenda, the pathway to decarbonisation has in many ways already been laid – we now just need to continue down that path with greater conviction, and more urgency.
Proud to make a difference
Since 2008, SSE has been helping homes, businesses and communities around Ireland to decarbonise and go green. Today, SSE Airtricity is proud to supply over 720,000 homes and businesses with 100 per cent green energy, supplied from clean energy sources such as SSE Renewables' 29 onshore wind farms around Ireland. Each of these sites has a community fund which benefits projects from community groups that are located close to our wind farms. To date, the SSE Airtricity Community Fund has awarded almost €7 million to over 2,600 community groups across the island, helping them with sustainable projects that will have benefits for years to come. These projects are vital to the decarbonisation of communities around Ireland.
Through partnerships with government bodies like the SEAI, we also work on projects that have delivered millions of euro worth of energy upgrades and savings to community buildings and fuel-poor homes across Ireland, often with charity partners such as St. Vincent de Paul.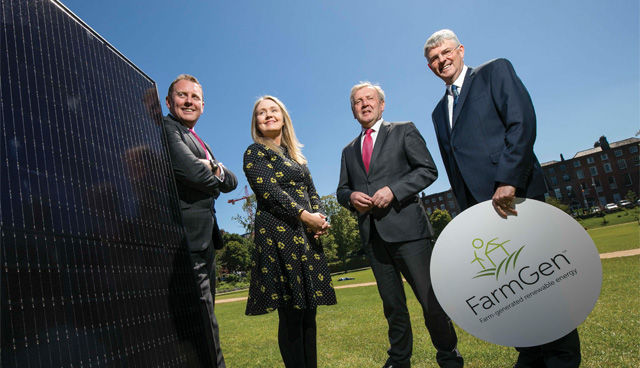 The growing threat of climate change, and the move to a more decentralised energy system, requires a whole of society approach and education will play a significant role in ensuring that our climate targets are met.
In 2019 SSE Airtricity worked with SVP to deliver an ambitious energy efficient retrofit project to properties in Garryowen, Co. Limerick. The properties benefitting from this project were built in the 1960s and had low energy ratings. The majority of tenants came from the nearby SVP emergency homeless hostel accommodation and these houses had no energy upgrades since they were built 60 years ago. Following the project's completion, the homes received a BER uplift from G to A3, saving thousands of euro in annual energy costs and making the homes much warmer, safer and healthier to live in.
One of our proudest collaborations in recent years was a partnership with Microsoft to deliver an ambitious energy saving project in Collinstown Park Community College in Dublin. The project, co-funded by Microsoft and the SEAI, involved an extensive retrofit of the school campus resulting in 110,000 kWH of energy savings per year, and cutting the school's annual electricity bill by more than 50 per cent. But it's not just the physical upgrades that benefit the school and community. Part of the project focused on an education piece for students which highlighted the importance of where and how energy is generated and used.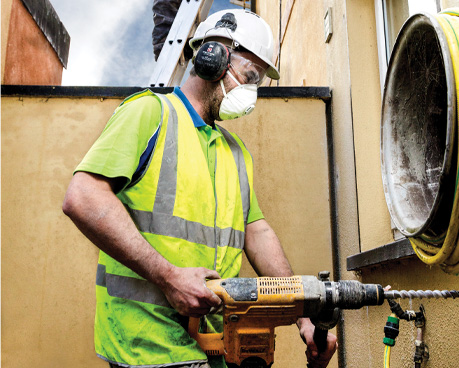 For us, these projects highlighted that citizens of all ages should be informed, engaged and empowered at all levels of energy policy. The growing threat of climate change, and the move to a more decentralised energy system, requires a whole of society approach and education will play a significant role in ensuring that our climate targets are met.
At SSE Airtricity, we truly believe that this is Generation Green. Now, more than ever, consumers, businesses and policymakers are acknowledging the need for, and the urgency around decarbonisation, and the important role the energy sector will play in supporting this. For us, Generation Green is a philosophy and a movement, one that captures the welcome momentum behind the need for sustainability. As a company we are actively making a difference in helping Ireland reach its climate action targets. We do this by supplying 100 per cent green energy, and a range of energy efficiency solutions to support our customers on their path to decarbonisation, while also engaging with communities to make a lasting difference on their journey to a greener Ireland.
Whilst the targets set out in the Climate Action Plan are ambitious, we believe that they simply have to be, and that they are ultimately achievable – if we are all brave enough to work together and take the necessary steps now.
T: 01 655 6888
E: media.ireland@sse.com
W: www.ireland.sse.com