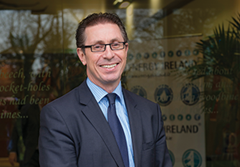 Mainstream Renewable Power's Andy Kinsella talks to Owen McQuade about the renewable energy developer's ambitious plans to export wind energy into the UK market.
"It is now accepted that Ireland is in a leading position when it comes to renewable energy. As I travel the world it comes up over and over again and it is huge credit to the policy-makers and all those who made that happen," says Andy Kinsella, who is CEO of Mainstream's offshore wind business and responsible for the company's Energy Bridge project.
Mainstream Renewable Power is a continuity play from Airtricity, the wind energy company founded by entrepreneur Eddie O'Connor and sold for €2 billion five years ago. Mainstream was set up almost immediately and in the five years since then it has quickly become a global leader in renewable energy. The company has been built on what Kinsella calls "three pillars for growth":
• North America, the biggest energy market in the world;
• offshore in the North Sea, with the recognition that offshore wind will be the biggest renewable energy technology deployed over the next few years; and
• developing markets "as we do not see this as just something for OECD countries."
The company has roughly 1GW of onshore developments in Canada and 1GW in the US, where its first project was built in mid-2012. Two more projects are going into construction in Canada this year.
As for developing markets, Mainstream has nearly 3GW of developments in Chile and will start the construction of three new projects in the country this year.
"Like our American project, they are joint ventures with Goldwind from China and China Development Bank," he explains. In South Africa, Mainstream is the sector leader with 18 per cent of projects awarded under the first round renewable energy support scheme i.e. the Jeffries Bay 138MW wind farm and the De Ar and droogfontein solar PV projects (each 50MW). In offshore wind, it is the biggest independent developer in the world, with 4.45 GW in the UK and 1.2GW in Germany.
Kinsella recalls that when the company was founded five years ago, its founding principle was: "The world is on a once-off transition from fossil fuels to sustainability. Mainstream exists to be a leader of this transition."
He contends that the "power of ideas" motivates people and gets things done. "We can argue about peak oil and gas but everybody recognises that it is only an issue of timing," he says. "Fossil fuels are not here forever and this transition is going to happen. I believe it is going to happen quicker than many people expect."
This once-off transition was highlighted in Barack Obama's inauguration speech in January. He said: "The path towards sustainable energy sources will be long and sometimes difficult but America cannot resist this transition. We must lead it."
Obama went on to emphasise the economic opportunity in the transition: "We cannot cede to other nations the technology that will power new jobs and new industries. We must claim that promise. That is how we will maintain our economic vitality and our national treasure: our forests and waterways, our croplands and snow-capped peaks."
This is as true for Ireland as it is for the world's largest economy.
Opportunity
Ireland is well on its way to meeting its 2020 targets of 40 per cent of electricity from renewables but making progress has been more challenging for the UK. "The build out of wind has been much slower than predicted," Kinsella explains. "They have very big challenges in the heating and transport sectors so they may well look to the electricity sector to make up the shortfall in those sectors."
In addition, 15GW of coal-fired plants will close under the Large Combustion Plant Directive by 2022. This will lead to a major dip in capacity in the UK around 2017-2018, which creates an opportunity for Ireland.
"There is a phrase well-known in Irish history: 'England's difficulty is Ireland's opportunity,'" Kinsella surmises. "I see it more as current mutual difficulties that present us with mutual opportunities; Ireland has a severe economic crisis but has a vast renewable energy resource in wind. The UK is heading towards a challenging energy capacity situation. There is a huge opportunity for Ireland to attract major investment, to create jobs and create exports."
He usually can see both sides of an argument but the protectionist case in energy does not stack up for Ireland. Instead, the export opportunity can be compared to agriculture.
"As a country, we are four million people and we export enough agricultural produce to feed 30 million," he states. "So should we just produce enough agricultural products for four million and not export? Renewable energy is a national resource and the UK needs it to meet its climate change targets, and to meet its energy deficit in the run-up to 2020."
Developing the Energy Bridge project will also have no negative impact on the Irish wind industry, which has focused on the west coast to date. "We are proposing to develop the overlooked resources in the midlands of Ireland (centred on County Offaly), using turbines for lower wind speeds, and low is relative," he comments. Offaly's wind speeds are low relative to the west of Ireland but not to Germany which already has 20GW installed: "So we can economically put large scale wind farms in the midlands even though wind speeds may be a little bit lower."
A first phase of 1.2GW is proposed for 2017-2018. Mainstream has already signed up enough landowners to develop 0.8GW and its target is to have enough land to install 1.2GW plus 30 per cent, to account for any changes in land use in the meantime, by April of this year. This work is "well on target".
He continues: "We will then develop two clusters of wind farms connected to two converters and then run underground cables to the coast for dispatch to the UK." The company has signed a 5GW inter-connection agreement with the British National Grid, which can be taken up in four phases between 2017 and 2018.
"We have some history in this respect in that on the east coast, of England, we have 2.45GW of connections signed up for the last three years," Kinsella points out. Another 2GW is ready to be signed and will therefore give Mainstream nearly 4.5GW on the east coast as well as 5GW with Energy Bridge on the west coast.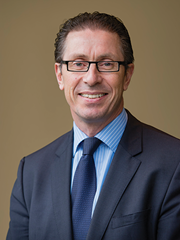 Benefits
"Following the money is always interesting," he says. "We believe that 5GW of exports to the UK each year will be worth €1 billion. Investment in power generation will be worth between
€7.5 billion and €14 billion, depending on the source i.e. onshore, offshore or a combination of both. Separately, the project will require around €6 billion of investment in transmission facilities. Over its life-time, he expects that it will provide around €12.5 billion in tax revenues to the State, initially delivering €1.4 billion by 2020.
"For local communities, we all know the effects of the current crisis have had, particularly on rural areas," Kinsella adds. "The midlands and the north west are worst impacted, with unemployment rates of over 20 per cent. €900 million will be paid in rates to local authorities, with €8.4 million annually per phase, and this will bring significant local benefits."
He is, though, reluctant to be drawn on a figure for jobs as there is "a lot of hyperbole" about those numbers. "The only thing I would say is that it will be significant," he remarks. Direct jobs in infrastructure, manufacturing, design and legal services, in the first phase, will bring about 1,800 jobs into the local community.
"If we build out to 5GW you could get a different figure," he adds. "Currently in Ireland, we employ about 1.5 people per MW installed."
The European Wind Energy Association has analysed economies which have maximised their advantage in the full value chain. Germany and Denmark have 15 man years of employment per MW.
"For 5GW, that equates to between 7,500 and 75,000 man years," Kinsella says, "The number we end up with depends on the level of effort people like ourselves and government put into developing the supply chain in Ireland to ensure we get the R&D and manufacturing elements."
Conservatively, Mainstream has said that 5GW will result in 40,000 man years over seven years but, in conclusion, he emphasises that this all depends on the value chain being in place. "As a sustainable business, it depends on getting the R&D and the manufacturing, and continuing to build wind farms to export this resource to the UK and beyond and having a related manufacturing business also focused on exporting."
Profile: Andy Kinsella
A native of Arklow, County Wicklow, Kinsella graduated in engineering from University College Dublin. He worked for ESB Power Generation for two years before moving to General Electric, which took him to its HQ in Schenectady, upstate New York. After his training came a 'world tour' on large scale gas turbine projects. Kinsella then joined ESB International, where he was on the senior management team for three years, and then left to join the board of Siemens, heading up their energy and transportation businesses in Ireland.
He then returned to ESB international as a Director, before moving to the senior management team of ESB Power Generation and subsequently setting up Mainstream He runs a couple of half marathons every year, and is an avid hiker (conquests include Mont Blanc and Kilimanjaro) and a level two kayaker: "Anything outdoors is a real passion." He also enjoys painting, cooking and reading. He met his wife Angela while skiing in France.