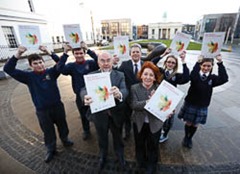 Meeting parents' expectations in the context of austerity has been a difficult task but several reforms have proved successful. eolas assesses the progress made against the Programme for Government commitments for the sector.
The 4,009 schools in the State are staffed by 58,000 teachers and educate 903,000 children and young people. A further 165,000 students attend third level education institutions.
During its time in office to date, the Government has maintained the free pre-school year and last year allocated €4.5 million for a learner fund to help staff meet new qualification requirements (introduced in September), a quality support service for the sector, and the recruitment of more early years inspectors.
It is also working towards reducing the number of teacher training centres to six. At present, initial teacher education courses are offered on 22 campuses across the State. From January, teachers employed in State-funded positions have been required to register with the Teaching Council in order to be paid from State funds.
The self-evaluation model (introduced in 2012) and curriculum reforms (ongoing) will make schools more accountable for educational outcomes. The first school improvement plans and annual reports using the model were produced in the 2013-2014 academic year. These plans cover three years, as opposed to the five years envisaged in the Programme for Government. External inspections of schools have become more frequent.
Budget 2014 created 1,400 new teaching posts and the Government expects the Haddington Road Agreement to save €600 million in education between 2013 and 2016. The Forum on Patronage and Pluralism in the Primary Sector reported in April 2012. The department is finalising a white paper on the issues involved and the Education (Admissions to Schools) Bill. Research indicates demand for a change in patronage in 28 out of 43 areas surveyed.
Outcomes
The OECD's Programme for International Student Assessment for 2012 ranked Ireland's 15-year olds as 4th in reading, 9th in science and 13th in maths. The respective positions in 2009 were 17th, 14th and 26th and the current rankings cover 34 developed economies.
At primary level, fourth class pupils were 10th in the PIRLS reading test (45 countries) and 17th out in the TIMSS maths test (50 countries). The tests are conducted by Boston College and the most recent results cover 2011. The current Government cannot take full credit for the results but is hopeful that progress will continue when the OECD, PIRLS and TIMSS next tests are conducted in 2015 and 2016.
The junior cycle student award commenced this September with a new English syllabus, which will be followed by a new science curriculum next September and other subjects incrementally in the years up to 2022. A professional diploma in mathematics for teaching has been launched. Participation in higher level science in the junior cycle increased from 76 per cent in 2012 to 79 per cent in 2013. The uptake of higher level maths increased from 48 per cent to 52 per cent in the same period.
The National Literacy and Numeracy Strategy (2011-2020) continues to be implemented e.g. through dedicated workshops for teachers, the Family Project programme on RTÉ One, and postgraduate literacy programmes. The Professional Development Service for Teachers employs 54 literacy and numeracy advisors.
The Department of Education and Skills is drawing up a digital strategy for schools and has awarded contracts to connect 234 schools to high speed broadband. Another 269 schools are to be connected by the end of 2014.
The National Centre for Technology in Education was merged into the Professional Development Service for Teachers (PDST) in June 2012. Since then, the service has updated and expanded the www.scoilnet.ie portal.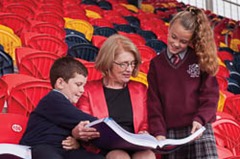 Equality
A review of the Delivering Equality of Opportunity in Schools (DEIS) programme has reported a significant overall improvement in test scores between 2007 and 2013. An additional 390 special needs assistant posts were approved by the Government in 2013. The National Council for Special Education has published detailed policy advice on supporting children with special educational needs. The National Disability Authority has consulted on how to improve education for children with autism and an action plan on bullying (January 2013) has been followed up with new procedures for all primary and post-primary schools.
Forty-four major school projects were completed in 2013 and 70 are planned for this year. The Government wants to establish a national inventory of education infrastructure and has piloted the idea in Tuam, Navan, Clonmel, Portlaoise and Limerick. Shared educational campuses have been prioritised in areas with growing populations, starting in Dublin, Monaghan and Portlaoise and with new projects for 2014 undertaken in Navan, Greystones and Luttrellstown.
Third level
The Higher Education Authority has been asked to establish three regional clusters of institutions, with a view to removing unnecessary duplication and establishing clear transfer and progression pathways for students. The general scheme of the Technological Universities Bill (to merge and upgrade institutes of technology) has also been published. The training awards councils have been merged into the National Qualifications Authority.
Ireland's six priority markets for international education are Brazil, China, India, Malaysia, Saudi Arabia and the USA. The Government hopes to double the number of international students from a baseline of 10,265 in 2010-2011. That cohort had increased to 13,160 in 2012-2013.
Labour had pledged to reverse rises in third level fees but these will now rise from €2,000 to €3,000 over the course of the Government's term, in line with the Hunt report's call to increase investment in the sector.