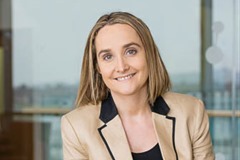 Vodafone's Enterprise Director, Anne Sheehan, discusses the integration of ICT and telecoms with Owen McQuade and highlights the network's importance in delivering new solutions.
What's often seen as the most basic part of telecoms infrastructure is powering Vodafone's growth in Ireland as it moves forward into 4G and the increasing convergence with ICT.
Sheehan sets out the company's two strategic network priorities.
"The first is to bring 3G data nationwide everywhere we currently have voice services and in tandem, we are rolling out 4G across the country," she remarks.
"That's really, really important because, for us, it's all about constantly enhancing the experience for our customer. Over 60 per cent of our customers now have smartphones and we're seeing the data explosion just grow."
Data usage has increased by 46 per cent per annum in recent years and is a high priority for our enterprise customers. However, it's also important to note that this customer base stretches across urban and rural areas – and 3G data can therefore help to attract foreign direct investment to locations outside the main cities.
"We announced 4G in the past few months, which has been very exciting for our customers," Sheehan adds. "We're now in six cities and 31 towns so it's a very, very aggressive roll-out from a 4G perspective. What 4G means to our customers really is about speed and it's also about being more productive."
With 4G employees can work more productively outside the office. Many organisations are "seeing business benefits" on the bottom line as their workforces can access company registrations and apps when they are out and about.
"In the South East region, we've done a lot of work with Dawn Meats," she relates. "They have different plants in different locations and, for them, 4G has been a huge advantage. They certainly were early adopters and that was enhanced by a network upgrade, starting in the South East and due to complete in the South West by the end of April."
Dawn Meats also extensively uses video-conferencing between its plants, which has been helped by the enhanced network. Sheehan expects the take-up of 4G to "just accelerate day after day, week after week" and enterprise customers find the network "absolutely critical."
Overall, Vodafone's customer service feedback shows that a completely different experience is being rolled out with 4G. Eighty-three per cent of respondents reported higher speeds, 77 per cent have better coverage and 74 per cent have taken up the larger allowances for data.
"Having a superior network is about attracting companies into Ireland and also that they don't have to always locate in the urban regions so this is important for Ireland Inc as well," Sheehan re-affirms. "Ireland needs a network infrastructure and service provider that can give businesses here the right platforms and tools to be successful and set them up for the ever-changing future business environment i.e. business consolidation, removing geographical barriers to growing your business, having an internationally focused business with various locations that need connectivity etc."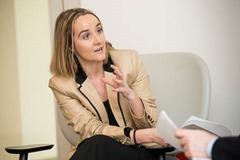 Cloud
With more companies moving to the cloud, this makes the network even more important. Most organisations that are looking at applications (e.g. Salesforce or CRM-based applications) are "purchasing and procuring them from a cloud perspective." Sheehan adds: "People don't want to buy large server estates anymore; they just want to use the application and pay on a per-month basis."
This helps customers to take cost out but a network is needed to enable them to do that. Investment in 3G and 4G "seriously accelerates the use of these applications from a cloud-based perspective."
Where people can use apps on their handset or iPad, 4G is "really enhancing" their productivity. A salesperson who accesses their CRM system on the road can feedback to the office via a tablet: "I've done my call. The customer's interested. I need the following for my customer."
That is a "huge advancement" from the traditional model of people going back to the office and updating their systems "and the network facilitates that." The same applies to public servants, who are often mobile workers and benefit from the ability to access apps and get live streaming.
Sheehan continues: "It makes people more productive and means that they can access the information quicker. Everybody becomes more productive and at the end of the day, from a public perspective, it's the citizen that benefits."
Vodafone is building a fibre-based bandwidth network for government that will provide speeds of up to 10GB per second. As part of a seven-year agreement, it will connect government departments and public sector agencies across the State: "This will accelerate the Government's implementation of cloud computing, to deliver a digital infrastructure and that again will improve public services and drive a more efficient public sector." The same can be said for big data and shared services.
Convergence
With a "huge amount of convergence" between ICT and telecoms, customers are expecting Vodafone to be a "one-stop shop" and unified communications is highly important for the company this year. Vodafone holds a Cisco gold partnership and a platinum partnership with Avaya, which allows the company to provide mobile and fixed line communications to the customer.
Our acquisitions of indigenous Irish companies Interfusion in 2011 and Complete Telecom in 2012 as well as, at a global level, Cable & Wireless last year, have provided the additional technical and engineering expertise required to serve the total communications needs of both medium and large enterprises in Ireland."
Vodafone recently sold its share in US-based Verizon Wireless which resulted in a major cash injection into the organisation: "Vodafone Ireland was very ambitious in what we asked for in terms of what we needed to invest in our network and business in Ireland, and we've done very, very well at that."
This has resulted in more investment in the network and more job creation. "We're very clear on our strategy and very consistent in its execution," she continues. "We're very clear that we now are – and will continue to expand as – a total communications company."
That ambition brings "a lot of comfort" to Vodafone's customers. Indeed, its first converged product for SMEs (One Net Express) has been launched and the company has developed the same product for the corporate space: "It's great to be able to do that locally."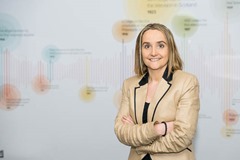 Profile: Anne Sheehan
Anne worked at IBM for 17 years, firstly in ICT and then as Sales Director for Ireland and Vice-President (Sales) for the Nordic Countries. She sees a "very fine line" between telecoms and ICT and moving between the two industries "isn't as big a move as some people think it is". Anne also has a background in delivering complex projects. She joined Vodafone last autumn and loves the "dynamic" nature of the teleco marketplace: "There's never a dull moment, it's never static and it's really, really exciting."
From Ennis, County Clare, she watches any sport and is a "big hurling fan … didn't just join the bandwagon because they won the all-Ireland." Anne is married to Robert with a six-year old son (Adam) who is thrilled to have her "back on Irish soil."