Public Affairs
Committee Secretariat: Supporting the Oireachtas committee system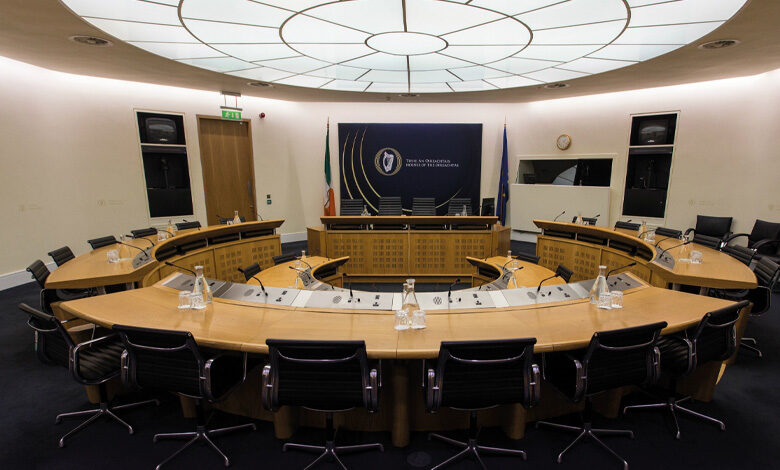 Ciarán Galway sits down with three principal officers Kieran Lenihan, Barry Comerford, and Tom Malone to explore the role and remit, priorities, and evolution of the Houses of the Oireachtas Service's Committee Secretariat.
What is the role and remit of the Oireachtas Committee Secretariat?
Barry Comerford
The primary role of the Committee Secretariat is to provide procedural, administrative, and liaison support for Oireachtas committees. Each committee has a committee clerk supported by a team of two or three others. A key function of the clerk is to provide independent advice based on the committee's orders of reference, standing orders of the Houses, and rules of Dáil Eireann and Seanad Eireann relating to chairing and precedent. The Committee Secretariat also helps individual committees design and execute their work programme, makes all the necessary arrangements for meetings, and takes whatever steps are necessary to implement decisions made by committees.
An important part of the Committee Secretariat's role is to have regular contact with government departments and stakeholders that relate to the remit of the committee. For example, the clerk and his team on the Justice Committee will have regular contact with the Department of Justice to arrange attendance of the Minister of Justice, and/or her officials to request briefings and other information on whatever the matter to be examined may be. The team would also have regular contact with the support services within the Houses of the Oireachtas which make the committee meetings happen and support committee activity, including the Communications and Broadcasting Units, the Office of the Parliamentary Legal Adviser, and the Library and Research service.
Tom Malone
Our role as principal officers is to support the committee clerks and their teams, who advise and provide the service to committees and committee cathaoirligh or chairs. We try to promote and maintain a consistent and high level of service across committees.
Barry Comerford
A clerk is a clerk to the committee, but on a practical basis, he or she collaborates very closely with the Committee Cathaoirleach. Relationship management both with the Cathaoirleach and individual members is an important and interesting part of the job.
Kieran Lenihan
Committees are committees of the Houses of the Oireachtas. Both the Dáil and the Seanad have delegated functions to the committees. The job of each committee is to fulfil these functions. Our job, in the Committee Secretariat, is to ensure that those committees have adequate resources and support to do so.
How is the Committee Secretariat structured?
Barry Comerford
The Committee Secretariat is responsible for 24 committees, each of which are supported by between three and four staff members including a clerk, who is an Assistant Principal Officer; a policy adviser, normally at Administrative or Higher Executive Officer level; an Executive Officer; and a Clerical Officer.
As Principal Officers, we each oversee approximately eight committees each. We group the committees to ensure that our oversight is broadly thematic. For example, I have remit over the International-themed, as well as the Environmental-themed committees, Tom [Malone] assumes remit of most financial committees, and Kieran [Lenihan] has remit over the Social and Cultural themed committees.
The Committee Secretariat also has a Coordination Unit which Kieran manages. The Coordination team has two Assistant Principal Officers and other staff who help to coordinate operations across all the different committees.
Normally, committees meet between Tuesday and Thursday and each committee has an allocated meeting time. At times, they may request an additional or alternative slot depending on their work programme and witness availability.
Tom Malone
When the Dáil is sitting and committees are meeting, it can be very intense but interesting. There can be long, busy days and our staff demonstrate a great ability to respond to unexpected events.
What are the Committee Secretariat's current priorities?
Barry Comerford
The main priority is to ensure that the committees are facilitated in their meetings and are provided with the procedural and administrative support they require. As such, the Committee Secretariat has a priority to support and develop the procedural knowledge of its staff so that they can provide the best advice always.
Kieran Lenihan
In order to respond to the needs of the current parliament, there has been considerable procedural innovation and changes in standing orders, which are the parliament's rules and norms. Keeping staff and members informed of those developments is important.
As a result of several recent retirements and promotions, the Committee Secretariat has also prioritised the induction of new staff and knowledge transfer. We have worked hard to establish systems to manage knowledge, ensuring that there is not an overreliance on one or two individuals to know everything.
With more Oireachtas Committees than ever, there is a challenge there to ensure that there is a consistent approach to supporting the work of the committees. As such, much of our work is about trying our best to ensure that we have a consistency in approach and develop our staff to meet the standards and deliver the quality service required.
What are the biggest challenges faced by the Committee Secretariat in undertaking its function?
Kieran Lenihan
There are several prominent challenges. Firstly, improving procedural knowledge throughout the Secretariat. Secondly, ensuring a consistent approach in how we deliver our services. Thirdly, incorporating new staff so that they quickly understand and can deliver in their role. Finally, having enough staff – which is a challenge right across the public service. The number of staff has increased with the number of committees and their workloads. In 2019 there were approximately 60 staff in the secretariat and that is now approaching 100. In the last Dáil there were fewer committees who met less frequently on average than the current committees
Barry Comerford
The size of each committee's team has not noticeably grown. Meanwhile, there has been an increase in committee activity over the past three years. Now, for instance, a committee might hold two public meetings and a private meeting a week compared to just a single meeting weekly or fortnightly. Simultaneously, the statistics indicate that the number of staff in meetings and the hours spent in meetings has increased. That has partially been due to digital transformation and the facilitation of hybrid meetings.
Tom Malone
The increase in staffing numbers has not correlated with the increase in individual committee activity. The number of staff has increased mainly due to the increase in the number of committees.
Kieran Lenihan
The Committee Secretariat is lucky to have a flexible staff which takes immense pride in how the service runs. A committee meeting will never not take place for staffing reasons. Our staff are very aware of the importance of the service they provide and the national interest in what happens in committees. Seeing the relevance of your work being played out in public debate and across the media makes it very interesting work. You feel part of current affairs.
Tom Malone
Prior to Covid, there was a well-established ethos within the Committee Secretariat. Covid presented us with some challenges in articulating the values of that ethos in a way new recruits would understand. However, we have done very well with the staff we have obtained over the last number of years.
How effective is the average Oireachtas committee?
Kieran Lenihan
It is easy to see the positive output produced by committees it is not always easy to define or measure effectiveness. If you asked all three of us individually, we would probably all come up with slightly different answers.
Barry Comerford
One element of the Committee Secretariat's work programme for 2023 is to examine committee effectiveness and to spend some time considering the first principles, from an academic view, of what makes an effective committee. A key question is, how do we match up to that aspiration, and what conclusions do we draw from that?
By 2025, when the next election must be called, and the next Committee system set up, we will make proposals for changes based on the results of that examination. It is important to be aware that we can make proposals, but that political buy-in is required to effect change. If members are happy to keep things as they are, we will be happy to support that as well.
Tom Malone
We must continue to highlight and fund improved processes, laying out how committees might achieve a better result.
Kieran Lenihan
We would observe that it is a very effective use of committee time to plan any examination carefully at the outset, agree clear objectives and then identify the information required and relevant stakeholders that can help achieve those objectives.
To what extent has the role of the Committee Secretariat evolved over the years?

Tom Malone
The trend towards a committee system has its origins in the mid-1980s. When I joined the service in 1983, we had two non-procedural committees each with a staff of three alongside one voting consultant. They were the Joint Committee on Secondary Legislation of the European Community, and the Joint Committee on State-Sponsored Bodies. That was it. Every other committee was an internal 'housekeeping' or procedural committee staffed by one of the existing procedural sections.
Today, the work of the Oireachtas, its support structures, and the complexity of its work have changed utterly. That has been reflected in the way the organisation has expanded. Growth is frequently a response to pressure rather than in anticipation of pressures. As a result, the growth of the organisation has been largely organic.
Kieran Lenihan
Committees have now become a useful vehicle for the Oireachtas, often on request of the Government, in which to channel controversial or complex issues. For instance, there have been several special committees on topics including international surrogacy and gender equality, while a new committee on assisted dying will be established in early 2023. Such special committees can seek to establish a political consensus around a particular subject.
The Committee Secretariat must assist in creating space for opinions to be heard and support committee members in producing their report. In most instances, this report has a tangible influence on policy and legislation. For example, with international surrogacy we witnessed the publication of a report with several committee recommendations which led to specific amendments in the legislation going through the Oireachtas.
Tom Malone
Within the Oireachtas Service, the Committee Secretariat tends to be at the leading edge of digital developments. We have virtually eliminated paper over the last couple of years. We no longer produce hard copies of meeting preparations; everything is done through our digital platforms. Being paperless creates a much cleaner environment for our staff to work in, so we have got a good set of new policies which are enhancing the role of digital in how we store our items. This also helps to facilitate our staff who mostly now have blended work.
What is your shared vision for the Committee Secretariat?
Barry Comerford
We would like to work towards an agreed understanding of what an effective committee system is and facilitate committees to achieve their best possible outcomes, particularly in terms of influencing policy and legislation.
Tom Malone
An effective committee system must be mutually agreed by members and the Committee Secretariat; there is little point in us having a view on what constitutes an effective committee system and working to achieve that end without buy-in from members. There must be buy-in and there must be a shared vision. Otherwise, it will not work. It will be necessary to adopt a vision that is relevant and appeals to members and is capable of being delivered on by the Committee Secretariat.
Barry Comerford
Any shared vision must consider the confines within which our politicians are elected. Members function in a particular environment, and we must acknowledge that and attempt to understand their perspective to the best of our ability.
There is also a need for us to create a place where civil servants can come to work and continue to feel valued, have job satisfaction, and are contributing to a process which truly makes a difference.
Kieran Lenihan
There is no end point to our development. If we reflect on the last 10 or 15 years, we can see that the committee system is well-established and well-integrated at this stage. As we go forward, I would like to see a Committee Secretariat which is standards-driven but continues to be flexible and adaptable and capable of supporting the political process and its emerging priorities.