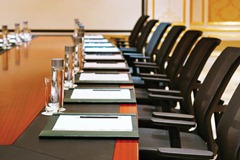 Always a controversial issue, appointments to public bodies have once again been in the spotlight. eolas looks at the measures being considered to ensure a more transparent system.
The Michael Lowry note incident in the Dáil has once again cast the spotlight on the potential for cronyism in public body appointments. In the note, Lowry lobbied the Taoiseach to reappoint his former press advisor to a state board.
When the note made its way into the public domain via the media, all parties involved quickly moved to distance themselves from the offending item. However whilst many were shocked, very few were surprised.
The Lowry affair evoked memories of the Celia Larkin/Bertie Ahern controversy when Larkin was appointed to the interim board of the National Consumer Agency back in 2005. With a long history of politically-linked appointments to public bodies, this was a significant area which was ripe for reform. Key to this was the formation of the Public Appointments Service, a shared provider of recruitment, assessment and selection services for the Civil Service and Public Service.
Ideas for change
The left-leaning Think-tank for Action on Social Change (TASC), chaired by former Labour MEP Proinsias De Rossa, has published several reports on this particular subject. It contends that more meritocracy, transparency and diversity is required.
In its paper entitled 'Public Appointments: Options for Reform', published in July 2011, TASC presented three models as examples of how a formal process for public appointments has been developed elsewhere, guided by the principles of transparency, accountability and independence from political patronage.
Model A maintains the role of the Minister in making appointments and relies on parliamentary committees or similar bodies for oversight. It also includes appointment protocols and codes of practice, the publication of selection criteria and potential conflicts of interest, and advertising available positions widely.
Model B, essentially the UK model, develops the first approach by concentrating on the establishment of a central oversight body (an agency or parliamentary committee) to scrutinise processes and appointments.
Model C strengthens Model B by establishing an independent statutory central authority which manages the appointment process from start to finish. For example, the Commissioner for Ethical Standards in Public Life in Scotland has more independence than the UK Commissioner for Public Appointments, and is closer to this model.
TASC did not propose that one specific model should be adopted by Ireland in a rigid fashion. Instead, it suggested that it would be "appropriate to adopt aspects of different models."
The political establishment has been keen to pour cold water on these allegations and has taken a number of very public steps to illustrate how it is trying to reform the system. One such example occurred on the first day of the 2011 election campaign when Fianna Fáil publicly introduced new rules surrounding appointments to state boards, as well as undertaking not to make any more appointments before vacancies occur.
In Labour's 2011 election manifesto, the party promised to review the number of state bodies and reduce their numbers where appropriate. In addition, the party stated that it would ensure that state bodies are subject to the same reporting requirements as their parent departments.
Fine Gael's election manifesto included promises to cut the number of quangos by at least 150. It pledged to require the chairpersons of all state boards, agencies and regulators to submit their resignations within one year of the Oireachtas passing a Public Appointments Transparency Bill.
It also stated that previous chairpersons would be permitted to reapply to serve on state boards, but that they would be scrutinised by the relevant Dáil committees.
Sinn Féin pledged to make all state boards "answerable to the Oireachtas through relevant committees and ministers, with transparency and efficiency in decision-making."
It stated that it would complete the review of the cross-border implementation bodies with particular consideration of the case for additional bodies.
Sinn Féin's manifesto included a pledge to end political appointments, stating that there needs to be an open and transparent system of appointments. Sinn Féin MEP Lynn Boylan, though, previously held office as Chair of the Safefood Advisory Board at the same time as being a party member.
The fact that the issue of public appointments is being raised by the political parties highlights how significant it has become. It's also a key issue for independent politicians who are keen to challenge the status quo.
The future
Whilst Minister for Public Expenditure and Reform Brendan Howlin has been extremely vocal regarding his plans to implement change in the appointments system, it could be argued that it has taken some time to see any real policy movement on this issue. Last autumn, the Government announced a revised model for ministerial appointments to state boards which meant that from
1 November all such appointments must be advertised openly on www.stateboards.ie – a portal operated by the Public Appointments Service.
Following on from this, a new protocol on the application of the new state board's appointments process to NewERA companies was published in February. This protocol was developed by PAS and NewERA at the request of the Government.
The most significant variations from the published guidelines are that NewERA chairs the shortlisting board and that the shortlist is sent to the relevant Minister accompanied by a report from NewERA. The main features of the new process such as detailed specification of roles, open advertisement and independent evaluation are retained.
Commenting on the publication, Howlin said: "I am confident that the establishment of a transparent, credible and robust process operated by the independent Public Appointments Service has a clear potential to yield a wide and deep pool of suitable candidates for appointment to state boards. This represents a further concrete example of political reform in action: reform that will strengthen public governance right across the state sector."
The changes have also been welcomed by TASC. "The Government's reforms are a long awaited and welcome move to a system of public appointments based on merit, diversity and transparency," says Director Paula Clancy.
However, it is important to note that, as the new guidelines are not underpinned by legislation, a change in culture is required to raise the currently low level of public trust in public life and state activities.
Clancy concludes: "The new guidelines rely on the integrity of ministers to not seek to bend the new rules, and TASC will continue to monitor developments in this area."