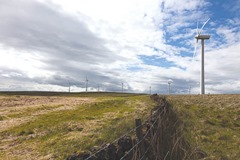 National Economic and Social Council policy analyst Jeanne Moore explains how genuine consultation with communities can help Ireland's energy sector to maximise its potential.
Ireland faces the extraordinary challenge of transforming its energy system away from one dominated by imported fossil fuels. Becoming a low carbon society will require building an energy system dominated by renewable energies, of which our plentiful wind will need to play a central role.
Irish people have been supportive of wind energy, with 180 wind farms now operating in communities across Ireland. However, a more critical public mood is now evident.
We are not alone in this regard. Even countries with a long track record in wind energy, such as Denmark, have experienced periods of debate and opposition. Indeed, the leading renewable energy countries are distinguished by the way they respond to these societal challenges. Denmark, for example, introduced a series of measures to build social support, including a 20 per cent equity share offer to the local community for large wind developments.
These issues, and the need for change in Irish policy and practice, are examined in NESC's latest report 'Wind Energy in Ireland: Building Community Engagement and Social Support'.
In this work, the council sought to examine how social support for the transformation of Irish energy, and wind in particular, can be better understood and achieved. The report draws from research commissioned from SLR Consulting to examine the challenge of community engagement and social acceptance in Ireland and in three other jurisdictions.
Building support
Our report addresses some of the questions posed by the Irish Government in its recent green paper on energy policy in Ireland. The green paper proposes that citizens play a more active role in the generation and use of energy and refers to the 'energy citizen'. It also recognises the importance of building social acceptance and asks for suggestions on how this can be achieved.
International experience points to the critical role of three components, which we outline in the report, necessary for further developing effective community engagement and social support. First is the development of an overarching energy transition strategy and process that facilitates and guides society-wide efforts to transform energy systems. Such an intentional, participatory and problem-solving policy process underpins German and Danish experience.
Second is an effective and inclusive process of public participation that helps to shape and share local value. A genuine and open participatory process for wind energy that brings expertise together, facilitates exploration and executes possibilities is critical.
Third is the key role of intermediary actors or agencies, both nationally and internationally, which support the kind of problem-solving and entrepreneurialism necessary to initiate renewable energy developments.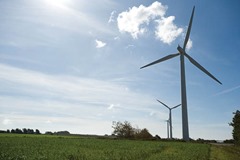 Building on these three components, we believe that it is timely and necessary for national policy to create a participatory framework to underpin Ireland's national energy transition at both national and local levels. Such a framework would open possibilities at local level, through a community engagement process which assisted exploration of energy possibilities.
We propose such a 'renewable energy community engagement' process which would commence at the earliest stage of developing projects in a particular community. It would have the following key features.
The process would be mandatory but also participative and problem-solving in nature, so that all participants including developers and those in the community have a voice and opportunity to shape the discussion.
It would focus on a broad substantive agenda informed by the need for progressive solutions in relation to Ireland's energy transition strategy but very much locally determined. This means incorporating energy efficiency and broader renewable energies into the local discussion and exploration, and in the final outcome wherever possible. In addition, the community's overall economic and social development would be the key over-arching objective.
And it would include reaching a settlement or plan that specifies how value would be shared between the various stakeholders. This could include mechanisms such as:
• community benefit (where a community receives an agreed amount every year);
• equity share options (where communities own shares of the development); or
• joint venture (with communities sharing both ownership and risk).
Intermediary
It may also be a suitable outcome to draw up a local area energy plan or establish an energy co-operative. If successfully concluded, any settlement would be registered with an appropriate body – such as the Sustainable Energy Authority of Ireland (SEAI) in the Republic – and would feed into a national process of benchmarking and learning.
The role of a certified intermediary body is critical in this process and it would bring key tools, supported by guidelines and protocols, to the discussion. Existing and newly-formed intermediary bodies (such as energy agencies or energy co-operatives) would be certified by an appropriate agency such as SEAI to provide facilitation services, expert advice and mediation skills where necessary. Ireland has examples of intermediary bodies already working to achieve renewable energy projects such as the Tipperary Energy Agency and the Aran Islands Energy Co-operative.
This process and policy framework would not be achievable without support from state agencies and departments, public and private organisations, the wind industry as well as communities and households. But with that support, we believe it is possible to build social support for wind and other renewable energies with appropriate measures. We also believe it is necessary to enable continued development of wind-energy and energy infrastructure, and beneficial to Ireland's energy transition and society, given the job potential, social and environmental benefits of a low carbon future.