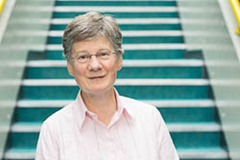 Owen McQuade visits St Aidan's Community School, Tallaght, to find out about the breadth and depth of education it provides and its constant focus on academic achievement.
"We're in our thirtieth year and it's been a wonderful 30 years of education in the Brookfield area," says principal Sister Ann O'Donoghue. The school's trustees are the Loreto Congregation, of which she is a member, and the Dublin and Dun Laoghaire Education and Training Board. The Sisters of Mercy were also involved in its earlier years.
"I'm thrilled that we, as Loreto, are very much involved in a very disadvantaged area," she adds. St Aidan's is in a Category One area under the Delivering Equality of Opportunity in Schools (DEIS) programme. Regardless of the hardships faced, the students have "brilliant potential."
"Sometimes there's a school of thought out there that because somebody is living in an area perhaps not as advantaged as other areas, that there is less academic ability," Sister O'Donoghue continues. "That's not the case for here because we have a number of students here who are extremely bright. We have students who are back teaching in the school. A lot of our special needs assistants are also back working in the school and our part-time staff in the office are past pupils."
Like every other community in Ireland, Tallaght has the challenge of anti-social behaviour. St Aidan's and five other local schools had just experienced break-ins and the problems of drugs, crime and suicide are "more concentrated" than in other areas.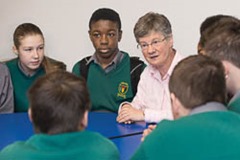 "Our job is education," she affirms. "One of the phrases in our school policy is 'our business is learning' and learning and teaching are the focus of what we do here and I work with a group of absolutely dedicated and committed teachers."
Sister O'Donoghue sees herself as a team leader and views teamwork as essential in a school such as St Aidan's: "When you work as a group, we're stronger and we're better and we're able to produce a better service for the students."
From a religious perspective, she values the idea of service and feels that the school gives a "brilliant educational service" to the local community.
St Aidan's works with Business in the Community which provides mock interviews for students and introduces them to the world of work at the Luas depot.
"While we offer very high academic standards in this school, we also make life very practical for our students," the principal remarks. She gets the impression that students feel safe in the school and that they can be listened to. A morning club puts on a healthy breakfast for 70-80 students each weekday – cereals, fruit, juice, toast etc. There are challenges in the community but the school feels like it has "a grip on them to some extent" because it requires manners, attendance and punctuality from its students.
"We're preparing students for exams," Sister O'Donoghue continues, "but we're preparing students also for the world of work and we're making it practical in a caring environment."
The scale of change has been "phenomenal" and positive although she has mixed feelings about the reform of the Junior Cert. Assessment is very helpful for teachers but she questions the rationale for teachers assessing their own students. Some of the new curriculum is already being offered at St Aidan's in accordance with its motto: 'Times change and we change with them'.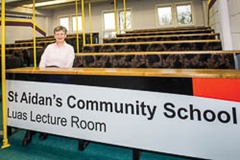 All students, in her view, need the practice of sitting down and taking a written Junior Cert examination: "They need a focus and it focuses them for later on in life and I think that's a very good thing."
Tallaght has changed over time and the school now has 80-90 African students, at least 60 from continental Europe, and 34 from the Travelling community – among its population of 470. "It's a brilliant mix," she adds, "because when I came at the beginning, it was just ourselves and I think when we bring other cultures into the school, it creates a different environment." St Aidan's is thrilled to have been awarded a yellow flag for unity in diversity and also boasts three green flag awards for its environmental work.
"Teachers here have no problem adapting," Sister O'Donoghue comments. "We have always done that from day one in the service that we give, of education, to the students."
League tables mean "absolutely nothing" to her as they cannot record how the school really performs. Some students go to higher education while others take up post-leaving certificate courses and apprenticeships. Most of them will get work or continue in education and students over the years, have become more aware that they need to work hard in school in order to get a job.
The school's Access to College Education (ACE) programme has helped students to enter University College Dublin and they also go on to attend the Institute of Technology at Tallaght and Dublin City University. In a first, one of its past students has just qualified from the Royal College of Surgeons in Ireland. Another has become a physiotherapist and while yet another will qualify in medicine next year.
"Students and parents have seen the value of education and [parents] want their children to go further," the principal explains. "Every year, we meet new first years and parents will say: 'I want my kids to go to college.' We are absolutely and utterly encouraging that." She strongly affirms that parents do care and want the best for their children's education. Many parents are single and struggle from an economic point of view.
Sister O'Donoghue adds: "I have a slight problem with being in a DEIS school with Croke Park hours. I think the teachers here work way over Croke Park hours. They have always been, in this school, totally committed to education and give the extra mile all the time." The challenges are "absolutely huge" and most teachers come in early and many of them go home at least an hour after the kids go home in the evening: "There's a huge dedication and commitment to change and also to making changes in the lives – of all the students – that we touch here in the school."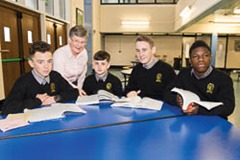 In looking to the future, the principal emphasises the need to keep students focused on their studies. "We deal with all sorts of social issues and difficulties that students would have at home," she explains. "It's vital that we care for students and keep their needs to the forefront. However, parallel to all the emotional, social and other needs, we need to keep the academic challenge going."
Attendance, punctuality and following up on homework constitutes another constant challenge. "People get labels and bad names but our students are really well-behaved," she comments. "Like any other school, we work on behaviour but the biggest challenge for us is to keep the academic before the students' eyes: to make sure that they're doing the work that they want to help them to get the grades that they deserve to get."
Pastorally, the school has a team of counsellors and aims to tackle problems immediately so that students' attention is freed up for study. It has a homework club for Travellers, and basketball and football are both popular.
"Most schools have a famous past-pupil and our famous past-pupil is Robbie Keane," she quips. Another pupil played last year with a junior Spanish team.
"Every principal boasts of their own school but we don't have issues of racism here," Sister O'Donoghue notes. People "get on really well together" and this flows out from a music group (Le Chéile) which brings together 80-90 students from a range of backgrounds.
Profile: Sister Ann O'Donoghue
Originally from Clonmel, County Tipperary, Ann has been with the Loreto Congregation of Mary for 40 years. She joined St Aidan's 27 years ago after teaching in another school in Fermoy, County Cork, for seven years: "I thought I'd only be here for about six months because it was so challenging at the time."
A graduate of Mater Dei Institute of Education, she also holds a masters in pastoral counselling. "I love reading, gardening, hill walking and definitely the cinema when I have time – and an odd meal out."