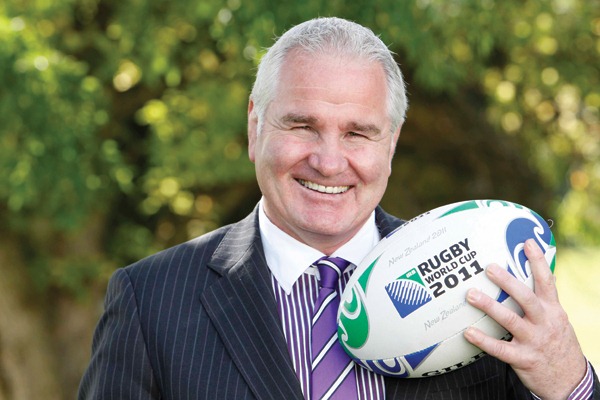 For rugby fans, RTÉ pundit Brent Pope has been part of the TV experience for years. He tells eolas about his other work pursuits, memorable moments and how the game has changed.
Describe your education and career path.
I grew up and was educated in Ashburton, a small rural township about 50 miles south of Christchurch, New Zealand. In Canterbury University I did a bachelor of commerce, then a post-graduate diploma in business management in Otago University. I became a registered property valuer and set up my own commercial property division as part of a major real estate company.
In 1991 I moved to Ireland, played rugby for St Mary's RFC in Dublin and by day loaded drink trucks for Comans. I had no car so I had to take three buses just to get to Belgrade Road, Tallaght. I loved that job: starting at 6am, loading the trucks, then delivering to all the city bars. It was physical work and allowed me to meet so many wonderful people from inner city Dublin. In those days community spirit in working class areas was strong.
Over the next 10 years I completed several post-graduate diplomas and worked as a marketing manager for Brookfield MRI Clinic and for Platinum Property Developers.
In 1995 Niall Cogley, then head of RTÉ sport, brought me in to RTÉ to cover the opening game of the World Cup, the All-Blacks versus Ireland. I was due to go home the very next day, but Cogley and anchor man Bill O'Herlihy convinced me to stay.
What differences did you notice between the coaching of rugby teams in the northern and southern hemisphere when you first came to Ireland?
There were huge differences. New Zealand rugby in the late 1980s and early 1990s, while still amateur, was professional in its approach. It was a lot more advanced than what I encountered in the northern hemisphere, with more emphasis on fitness, conditioning and organisation. The biggest difference was in skill development. Teams in New Zealand spent hours practicing and honing the basics of the game; in the northern hemisphere teams became bored with this and wanted to run before they could walk.
Name the three most memorable sporting occasions you've covered as a rugby pundit.
The first Heineken Cup victory for Munster in Cardiff was amazing. I have never seen support like it. As George [Hook], Tom [McGurk] and I made our way to the stadium we were welcomed like a boy band, cheered every step of the way and then showered with champagne after the match.
The first Ireland versus England game in Croke Park was wonderful. I was actually in tears as the national anthems were sung and I could see what it meant to the older Irish people. The respect given to the English anthem was amazing. I saw people from the North and South hugging each other, barriers broken down and years of hatred washed away through sport. John Hayes' tearful face summed it all up for me. Then that amazing record-breaking result: it just capped off an amazing day for Irish sport and I was proud to be a part of history.
Leinster's Heineken Cup victory was special too, but for drama what about Ronan O'Gara's late drop kick to win the Grand Slam in 2009? Ireland had waited for it for so long.
The golden generation had finally come and the relief was almost palpable. The last minute drama as Stephen Jones' kick dropped just inches below the bar! Drama, passion and tears: that game had it all. We even had the great Jackie Kyle in studio, what a wonderful ambassador for Irish rugby and a gentleman.
Describe your typical working day.
My working day is not your typical 9-5 and I like that. Working from home can often be lonely though, and at times hard to motivate yourself, so discipline is needed. I get up at around 7am, have breakfast, read the papers and check emails.
If it's a rugby day or weekend I go into RTÉ at about 10am for a production meeting. In the afternoon I research and write two rugby columns (for the Evening Herald and the Evening Echo) and update my website, Popenation.
Match days can be very long: up to 10 hours caked in make-up and under hot lights without a break is physically and emotionally draining. A lot of people think it's just a matter of coming on, saying a few words and then leaving. It's not. You have to research the analysis, re-watch the game maybe three times if it's not live, and possibly be in RTÉ three to four hours before the game starts. After the game I often have to write reviews for the papers, go over to RTÉ radio and pick analysis for the next day.
When I get spare time I write children's books or manage my art gallery for outsider art. I attend a lot of evening functions, either as a public and motivational speaker or for the various charities that I'm involved in.
How has the professional game changed between this world cup and the last?
The game itself has not changed that much but there seems to be more emphasis on size nowadays, especially from teams like South Africa. The game has also seen a greater rift between the minnows and the more powerful, financial countries.
This is mainly due to money. Teams from, say, the Pacific islands now struggle to compete because most if not all of their players are plying their trade overseas. The IRB needs to prop up these teams if they want rugby to be a truly global game.
The actual game does not change but interpretations have. Rugby is about speed now, a 15 man game where props need to play like backs and this may be its downfall! Rugby was unique in that there was always a position for different physiques. The 6ft 6 inches skinny kid was a lock, the overweight player a prop, but those days are gone. We are making rugby robots.
Emphasis on the laws have changed, this year the breakdown has become the main feature and the scrum is back in vogue.
How do you like to relax?
I write a lot and enjoy being creative. I don't watch much TV but my favourite programmes involve emotion, like 'Secret Millionaire'. I love the cinema and often go by myself in the afternoons, but sometimes I'm so tired I fall asleep and have to go back to see the film again. I collect contemporary art and when I get a chance I like to go to the weekly auctions and sift around for bargains. I enjoy cooking and try to get to the gym three times a week, depending on recurring injuries.